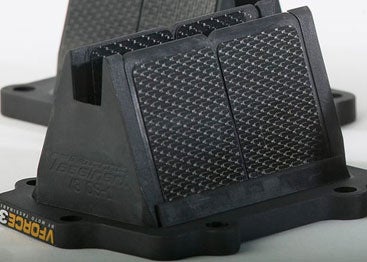 Moto Tassinari uses special carbon fiber recipes to enhance reed valves.
Now that the snow is gone, you have time to think about squeezing more performance out of your 2-stroke motor. One somewhat easy way to accomplish this is to add a reed valve setup to the intake. If you already have a reed valve system, you could look to update it.
Almost since the first 2-stroke engine was fired up, engine designers have looked for ways to improve performance. Almost every backyard mechanic has figured out that the more fuel and air you can push into the cylinder, the more power you should get out. Bigger carburetors, enlarged ports and tuned exhausts are all ways to generate more flow.
If you have a vintage snowmobile, like an early 1970s era Ski-Doo with the engine nearly sitting in your lap, then you know all too well that not all of the carbureted fuel goes into the cylinder – some of it gets spit back at you. Those early Ski-Doo TNTs that used rubber ram tubes on the carburetor intakes seemed to exude fuel as though the engine suffered post-nasal drip. Even today's carbureted fan-cooled engines can blow fuel back if they don't have a good set of reed valves.
Early Power Enhancer
Reed valves most certainly came about right after the 2-stroke's invention. They are basic and can enhance performance simply because they keep the fuel in the engine. Simply stated, a reed valve is a one-way check valve that allows fuel to flow into the engine and then closes, making sure the fuel charge doesn't spit back. The reed valve works off the engine's internal pressure changes. When atmospheric pressure in the 2-stroke engine's crankcase is low, the valve opens and allows fuel to flow in. During compression of the charge the reed valve is closed, keeping the charge in to be combusted.
That is an oversimplification, but it is fundamentally how the system works. The result is improved low end and generally an increase in performance. Many small 2-stroke engines like those used in chainsaws use reed valves to maximize low-end power for cutting.
Not Foolproof
Of course, reed valves are not foolproof. The reed valve usually consists of a set of fluttering reed petals in a housing situated between the carburetor and the cylinder. In the early days of snowmobiles the reeds were made of metal and had a relatively short life before the petal ends snapped into pieces. By the early 1970s Yamaha coated the reed block with neoprene, which helped keep the reeds from self-destructing. The neoprene tips did less damage than pure metal pieces when ingested with the oil-fuel mix. To give the plasticized reeds durability and stiffness, many reed valve systems used metal backup reeds.
In the early 1970s, snowmobile racers modified stock 2-strokes to accept reed cage assemblies. This required fabricating special cylinders or enlarging the cage assembly area on cylinders that came with reed valves. Today many 2-strokes rely on reed valves as a matter of maintaining performance. If you think about it, what we consider low power in a modern sled was quite a lot of power in the early days. For example, racing fabricators of the 1970s were delighted to squeeze 50 horsepower out of a 440cc 2-stroke motor. In 2008 we look askance at the 60 horsepower we get from a stock Polaris 550 IQ Shift.
Evolving Technology
While reed valves have become a customary way to maintain performance in many 2-stroke sleds of today, they are still looked at as a sure way to gain a racing edge. The technology used in reed valves has evolved along with the types of materials available to make the reeds more efficient and durable.
One of the companies leading the way in reed valve development in recent years is Moto Tassinari. Whether for ATVs, motorcycles or snowmobiles, this New Hampshire-based company has taken reed valve development to new levels by incorporating modern materials like carbon fiber into its product designs.
Bolt-On Mod
Moto Tassinari's VForce3 reed valve system is a performance mechanic's ideal as it is a true 'bolt-on' modification. The company states that if you know how to check the reed petals on your motor, then you can install the VForce3 system.
In addition to creating an install-it-yourself system, the VForce3 kit comes with the latest technological advances, like snap together construction, which makes petal replacement incredibly easy and quick. The reeds themselves are unique to Moto Tassinari as they feature twice the reed tip surface so they need to open half as far as earlier designs.
"This is a significant advantage when factoring that a reed petal opens and closes 133 times per second at 8000 rpm," claims Moto Tassinari.
The company claims the advantage comes in increased petal life as petal fatigue has been greatly reduced. The VForce3 reed system is said to improve the entire powerband, most noticeably at bottom end but also with an instant hit of power in the midrange.
Special Recipe
The carbon fiber used in the reeds is Moto Tassinari's own proprietary 'recipe'. The VForce3 system not only uses the company's latest carbon fiber materials but also features a new cage design that houses the reeds deeper into the cage to both cushion the reed tips and further prevent any back-flow. The design of the reed cage uses a proprietary 'Airfoil Technology' (flat on bottom/curved on top) on the reed tip surface to increase the velocity of fuel/air mixture and create optimal fuel atomization.
Backyard tuners needn't be concerned with accidentally mixing an 'inner' or 'outer' reed petal, as VForce3 reed petals are symmetrical to simplify petal changes. To assist your bank account, you even can purchase single replacement petals.
Another 'first' for Moto Tassinari's VForce3 reed valve system is another plus for the tuner as its design is completely screw-free with snap-together construction for quick reed petal replacement.
Race Tested
As in the early days of snowmobile racing, reed valves like those from Moto Tassinari have been tested in the toughest racing venues.  Today's highly competitive snocross racers demand instant throttle response. That's why top teams from Team Arctic Cat to Warnert Racing specify VForce3 reeds for their racers. You'll find these reed valve systems as original equipment on some performance-oriented snowmobiles for 2008-09.
The concept of reed valves may be simple, but its evolution as a 'must have' performance enhancement for today's highest performance 2-stroke snowmobiles has required serious gains in technology and development.
For more information about the VForce3 reed systems or to check out the company's online catalog, go to http://www.mototassinari.com/.