Specialty Springs for Arctic Cat M-Series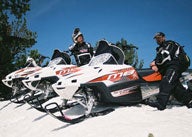 Brett Rasmussen develops three spring packages for the popular M-series
Snowmobile Research Services (SRS), and company owner, Bret Rasmussen, have formed a collaborative business relationship with Renton Coil Springs (RCS) to optimize: "the ride characteristics of Arctic Cat's M-series of mountain sleds."
SRS with master developer, Bret Rasmussen, developed three differing spring packages for the popular Arctic Cat M-series. These packages adapt to Cat's existing front and rear suspensions, as well as the ultra trick aftermarket rear suspension, EZ Ryde, from Great Lakes Sound and Vibration.
Three Packages
The first package softens up the M's rear suspension by swapping out the rear and center shock spring with progressive rate springs. This first package requires a Fox Zero Pro shock to replace the Fox Floats the OEM bolted to the M; these premium shocks can be supplied with this first spring package.
The second package offers the same rear setup as package I, but also includes dual rate springs for the front suspension. Just as with package I, the Sno Pro Ms with Fox Floats will need the change out to Zero Pros.
Package III offers the front springs only from package II, but adds springs for the EZ Ryde, if the M6, M8 or M1000 is equipped with such. The EZ Ryde springs are progressive rate springs. If you don't have the EZ Ryde, one of Rasmussen's suppliers can deliver one, or have it installed on your sled.
The RCS springs adapt to the M's, but they are standard on Arctic Cat's Sno Pro or HCR.
Two Years Development
Rasmussen finalized the spring packages during the fall and winter of 2008 and 2009, and into this past spring; but he had been working out his research and development for the previous two years.
Rasmussen claims the spring packages improve the M's trail mannerisms without sacrificing deep powder function, for which the Ms are famous.
In preview riding with the progressive rate springs, you'll find that the rear suspension moves freely, without hindrance. The rear suspension springs move through a softer more controlled collapse and rebound, which changes the track's approach angle to a more gentle angle to help keep the M Cat flat as it pulls up on top of the snow. Trying to hit all compromises for the broadest range of riders, Arctic Cat uses straight rate shock springs on all corners. But for those knowing riders, these SRS and RCS developed springs carve out the M's tree running and boondocking niche with a finer scalpel.
More Info
If you'd like to get more information about these products, product distribution is via Boondockers for all three shock packages. Check them out online at Boondockers.com or call 877-522-7805 (U.S), or 877-449-2699 (Canada). EZ Ryde, as well as RCS also have full details. In addition, for a list of distributors, and technical information, contact Rasmussen at SRS at 208-221-4294.
Related Reading Arctic Cat Ups the Ante with Suspension 2010 Arctic Cat M8 Review 2009 Arctic Cat M8 HCR Preview