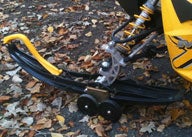 A moving product that works in the rough or in the garage
As I've aged or, perhaps, gotten wiser, the need to perform all those do-it-yourself projects seems less and less important. Of course, compound that need with the reality of experience where do-it-yourself projects never go as smoothly as the product manufacturers and their too often incomplete instructions would lead you to believe. There was the easy to assemble it yourself basketball hoop that was never as easy to put together as claimed. Could anyone ever follow those directions? And there were the simple bolt-on tail light guards for my Jeep Wrangler that came with totally too short bolts that made ease of installation impossible.
When a new product comes along that is of high quality, has been engineered to work as designed  (first time, every time!) and includes easy to understand instructions, we're delighted, especially when once-again we decide to do-it-ourself. Our most recent great-to-have new product evaluation is an upclose and very personal use of Recreational Necessities' Sure Grip Dollies. Back in June we told you about the quad-wheeled dollies that fit under a sled's skis and could allow you to drive your sled around the shop. But, that was based on a press release. How about our own set that we could push by fitting them to our own personal sled, which was stowed outside off our lower lawn? If the dollies didn't work we were confident that we could steer our sled the few hundred feet from backyard to shop floor if need be. Need not!
When we had called Recreational Necessities a few months ago to get basic background information about the product, it was suggested that we try a set and report on them – good or bad! Now, that was confidence in one's product.
In about a week or so, we received a surprisingly hefty but very compact box containing a set of Sure Grip Dollies. Under normal conditions we would have gotten right on our product test. But since this product tester was spending the summer relearning how to walk after having his rather bulky Harley totalled and himself nearly totalled by an inattentive driver who had decided to pop into our traffic lane in the most inappropriate way, we held off the project until we could operate tools on our own two feet. As the months passed, it became more and more imperative to move our sled to the shop… er, garage. We figured we could simply place the dollies under the skis and drive up to the garage. But, first we had to turn the assorted pieces into working dollies.
As we stated, the box containing the two four-wheeled ski dollies and single swivel caster equipped track dolly was incredibly efficiently packed. We were amazed at how expertly Recreational Necessities places the eight wheels, two ski dolly plates, one swivel caster and single track dolly plate, plus assorted cables, nuts and bolts. The box contains everything you need, including simple but efficient instructions complete with a component list and some handy how-to tips for assembly and safety information.
Unlike previous how-to projects, this one is exactly as promised. All the pieces were included according to the component list.There are pictures of how the pieces go together and, once together, how they should look when installed on a sled. Only the terminally incompetent could muck up assembly – and we tried!
The ski dollies feature incredible adjustability to fit narrow or wide width skis. The key, as the manufacturer points out, is to have the ski dollies butt up as tightly as possible to the ski so that steering is as easy and efficient as possible.
When you go to place the specially designed dolly wheels to the dolly plate's axles, you'll find that using a half-inch socket over the push nuts lets you tap the nuts into place efficiently and with a minimum of effort. But, then, that's a how-to tip suggested by the manufacturer. Hmm, it's obvious that the folks at Recreational Necessities have put a few of these kits together themselves.
Once we adjusted the ski dollies properly to fit our sled's ski width, we simply placed them as indicated and drove our sled over lawn, dirt, compost and pavement to our garage. Well, we also rode around the driveway for a few minutes, even reversing the sled to back into the garage.
The sled dollies come with cables that hold the units in place for forward motion, but you have to fit the extra cables to the sled to hold them in place for serious reversing. While we got away with maneuvering in reverse without the added cables, we accept the manufacturer's suggestion "… to use backing cables if backing on non-smooth surface(s)."
Forgive us, but we appreciate the fact Recreational Necessities product is made in the USA and we feel that its rugged construction is a testament of its manufacturing origin. The wheels are free-rolling and tough, but Recreational Necessities recently introduced a new, even more rugged wheel. The plates are solid and should take years of abuse. This is a very solid product that is as easy to piece together as it is to use around the shop.  You'll find that this dolly product will become a must-have whenever you want to move your sled around — indoors or out!
We give  Recreational Necessities' Sure Grip Dollies an A-plus in every possible way. For more information – like getting your own set – and for current pricing check out http://www.suregripdollies.com/.
Related Reading Add-Ons For Your Polaris