Best Snowmobile Lift and Lever Lift Stand Options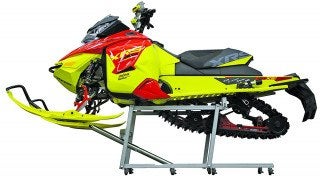 Work on your snowmobile in comfort and safety
We take a look at some of the most effective and reliable snowmobile lift options for you to choose from.
If you're using a snowmobile lift, working on your snowmobile is a whole lot easier. By design, snowmobiles sit low to the ground, making a lot of maintenance a little bit challenging and some of downright impossible without the help of a lift.
There are a variety of different snowmobile lift styles to choose from and this buyer's guide looks at them all so you can find exactly what you need to work on your sled between rides.
Extreme Max 5800.1045 PRO Snowmobile Lift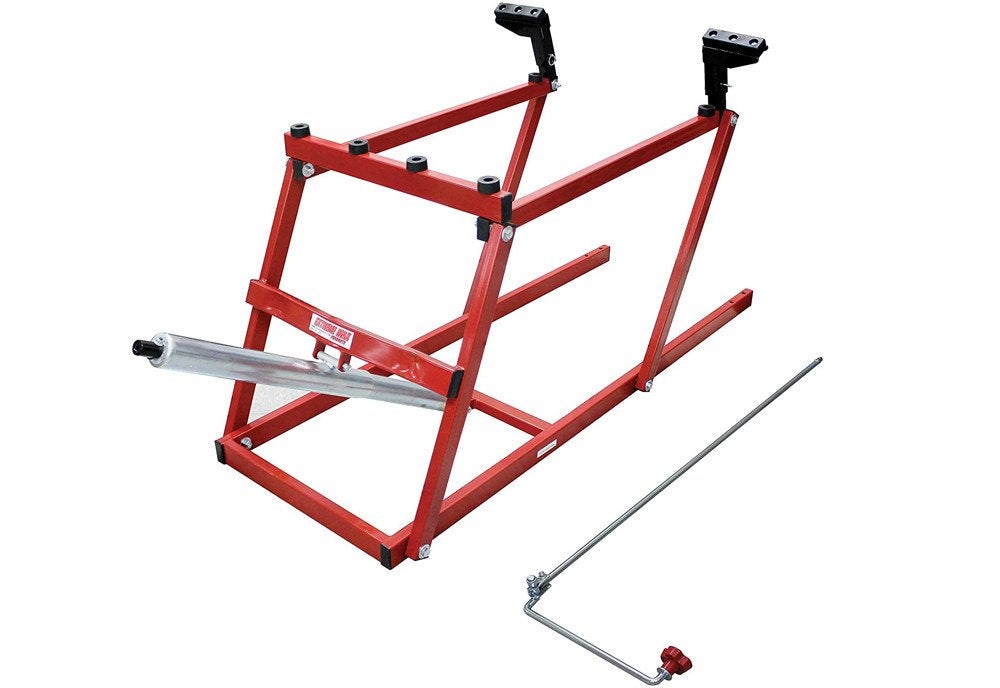 If you have some service work to do on your snowmobile, the Extreme Max should serve you well. This heavy-duty piece of equipment is designed to accommodate weights of up to 1,000 pounds – more than enough for any snowmobile on the market. It also comes with an ultra-heavy-duty jack that can support up to 5,000 pounds.
The Extreme Max allows you to safely lift your sled a maximum of 28 inches to ensure that you have plenty of room to comfortably work on your snowmobile and get a closer look at those hard to reach areas.
For added convenience, the Extreme Max features a 3/8-inch socket. Why is this important? Because you can simply insert a power drill into the socket and raise your snowmobile via the snowmobile lift. However, if you'd rather not use your drill, it does come with a hand crank so you can get the job done manually.
Extreme Max stands behind its product with a two-year replacement warranty should anything go wrong.
Looking at reviews from Extreme Max owners, results are overwhelmingly positive with some pointing out that they originally bought less expensive lifts before moving to the more robust Extreme Max.
Some owners did not that the Extreme Max snowmobile lift wouldn't fit under their sled without having to lift up the front end.
Extreme Max Lever Lift Stand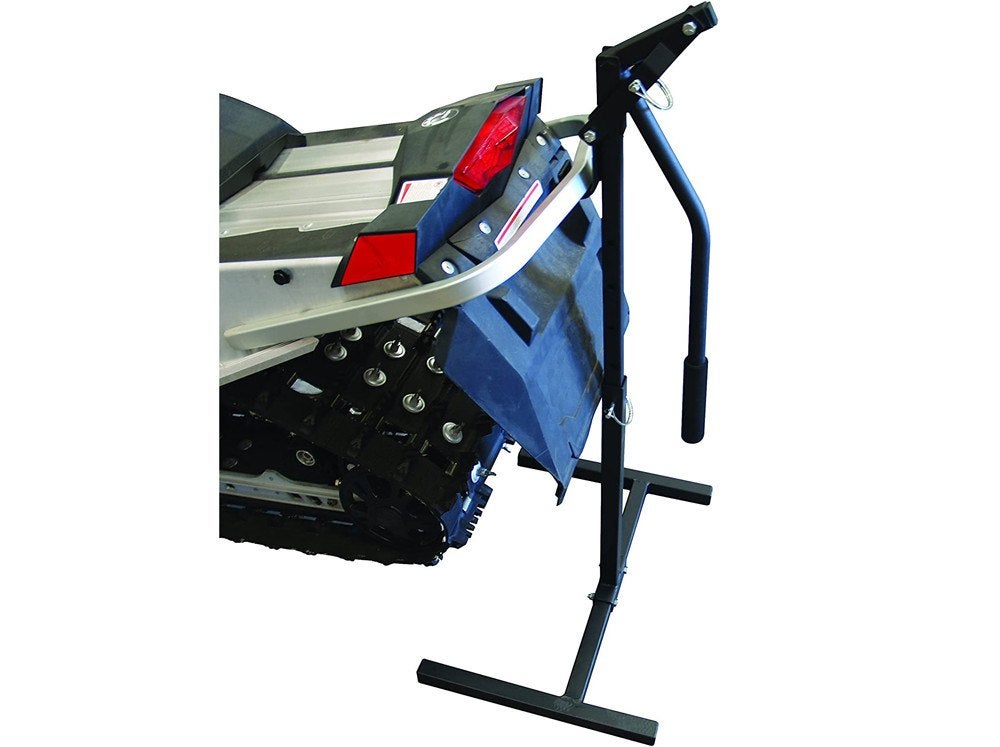 Extreme Max makes the list with back-to-back appearances. This time, its lever-action snowmobile lift stand takes center stage. This lever lift stand is capable of lifting your snowmobile rear to a maximum of 33 inches off of the ground.
Making operation easier and more comfortable is a cushioned handle. It's much less taxing on your body, thanks to this little addition.
The bumper cradle is vinyl dipped, so you don't have to worry about damage to your snowmobile. Assembly is fast and straightforward, featuring hassle-free bolt-together construction.
The build quality is equally sound with powder-coated steel making up the frame. What's more, all of the included hardware is zinc-coated for extra protection and durability.
A two-year replacement warranty is included with the Extreme Max Lever Lift Stand in the event that there is a manufacturer issue.
Another nice plus is that the total weight of this stand is just under 16 pounds. It's a breeze to work with and maneuver around your workplace.
While a lever lift stand won't lift your entire snowmobile off the ground, it takes up much less space in your garage and is much more affordable. And if you combine the lever lift stand with some dollies, you can easily move your sled around your work space.
KASTFORCE KF2014 Snowmobile Dollies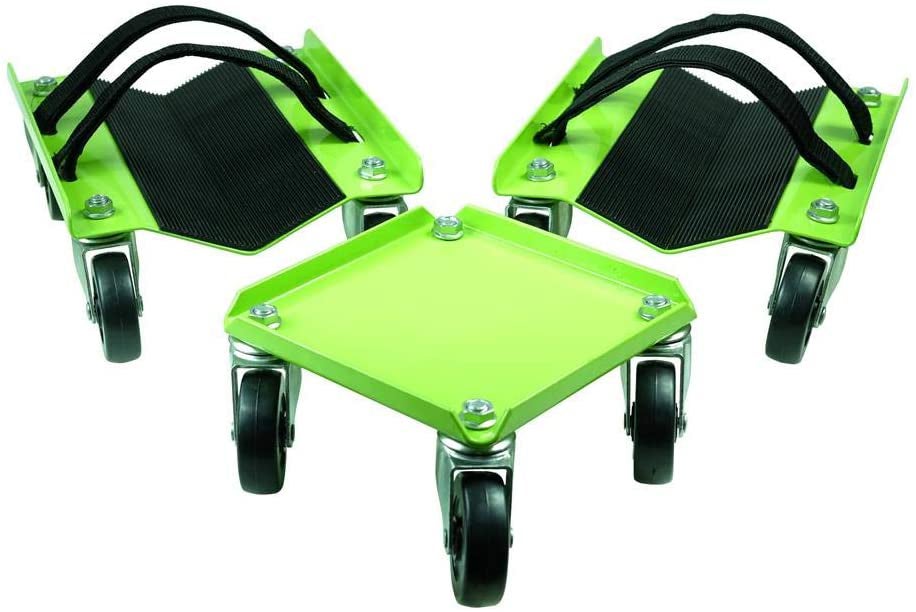 This package includes three snowmobile dollies that are capable of carrying up to 1,500 pounds. Thanks to these handy accessories, you won't have to struggle with moving your sled around for servicing or repairs.
Each dolly is made out of PVC swivel casters that measure 2 ½ inches. They offer an easy 360-degree turning radius to improve maneuverability around the work area.
There have been occasional reports of the casters getting damaged. Fortunately, you can easily replace them by picking up similar casters at your local hardware store.
The KASTFORCE dollies also come equipped with tough nylon tie-down straps. Each one is fully adjustable so you can easily secure your sled in place as it is being moved.
Two of the dollies included in this bundle measure 8 x 10 inches with steel construction. They also sport convenient grooves that make it easy to set your sled down into for added security.
The third dolly in this set is designed to go underneath the rear track. It measures 7 x 7 inches and serves to safely control your snowmobile in transit.
The entire set is both lightweight and easy to operate. The construction is quite sturdy for such a lightweight combination, making it all the more convenient and safe for use.
Black Ice SNO-Dolly Snowmobile Dolly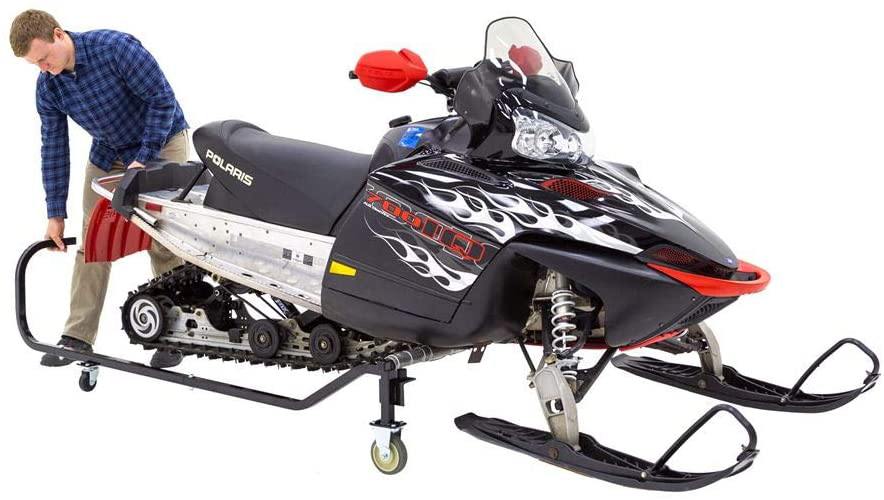 If you prefer something a bit more simplistic in its design, Black Ice's SNO-Dolly has you covered. Instead of using 3 separate dollies to move your sled around the shop, the SNO-Dolly is all a single piece (after assembly).
Simply place your sled on the dolly and roll it around as you see fit. The SNO-Dolly features a lever-powered system for easy operation. And when you're finished using the dolly, it conveniently folds up into a compact size for fast storage.
As you transport your snowmobile using the SNO-Dolly, you can rest easy knowing your sled is protected from potential damage thanks to plastic covers that line the steel construction of the dolly.
There are also rubber pads that keep the dolly protected from the studded tracks on your snowmobile. A total of 3 casters allow for 360-degree maneuverability around the work area.
The front sports two large casters while the rear has one small caster. The overall size of the SNO-Dolly is designed to accommodate virtually every type of snowmobile without issue.
The build quality of this dolly is made using powder-coated steel for long-lasting durability and performance. And if you often struggle to put this kind of equipment together, you will be pleased to know that the SNO-Dolly is designed to be assembled quickly and easily.
Black Ice Snowmobile Jack Body Lift with Wheels and Winch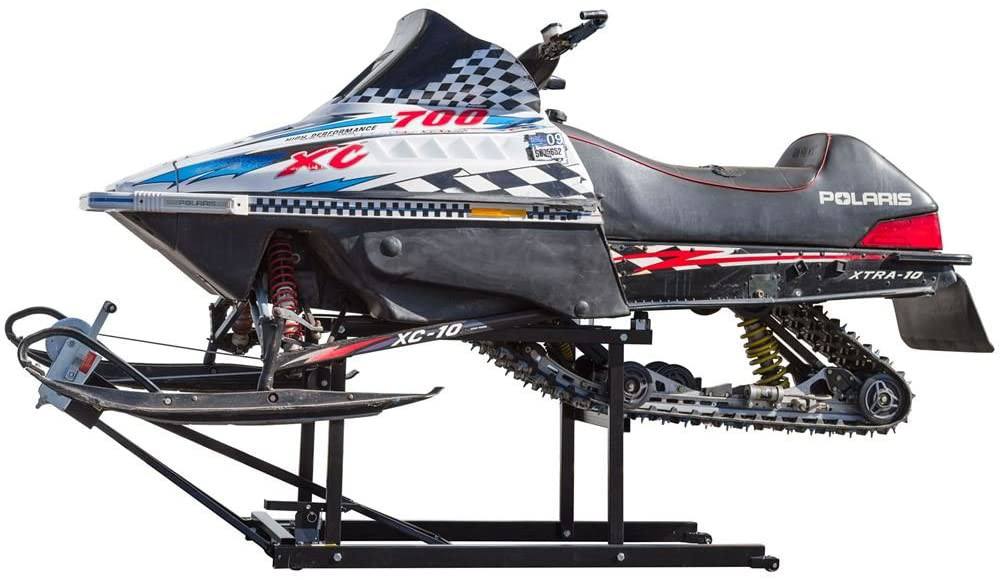 Black Ice also offers a more robust jack body lift that comes complete with dolly wheels and a hand-crank winch – perfect for lifting your snowmobile completely off the ground for repair or just for storage.
According to Black Ice, the hand-crank pulley system reduces the amount of effort needed to lift your snowmobile off the ground and it locks in position with a foot-operated safety latch.
Helping to protect your snowmobile from undue scratches is rubber padding along the top bars and end posts, while four 1.625" steel wheels allow you to move the dolly around your work area.
This Black Ice snowmobile lift hoists your sled 28.25" off the ground, giving you lots of room to work on the underside of your vehicle.
Reviews are largely positive on the Black Ice lift, with owners generally pleased with how it performs as a lift stand. However, some owners did complain about the packaging upon delivery and others had concerns about the build quality.
What are the differences between a snowmobile body lift and a lever lift stand?
Aside from price, there are some notable differences between the two. A snowmobile body lift operates by way of a hand-crank and pulley system. When used, the body lift raises your snowmobile so that you'll have more access for servicing.
There are some snowmobile body lifts that can raise your sled a couple of feet off of the ground, sometimes more. Designed for extensive, in-depth servicing, a body lift is just what you need for such tasks. They can also be used to store your snowmobile off the ground in the off-season.
Conversely, lever lift stands are designed to lift the rear end of your sled off of the ground. Lever lifts are better suited for smaller jobs. But they are a lot smaller and take up a lot less space in your garage.
We are committed to finding, researching, and recommending the best products. We earn commissions from purchases you make using the retail links in our product reviews. Learn more about how this works.