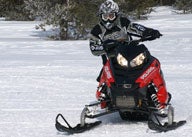 Use this summer to customize your Polaris for better performance and durability
Before you know it winter will return and with it will come those wishes that you had been just a bit more pro-active during the summer upgrading your ride. Well, don't let that happen this summer.
There's plenty of time to do a little Internet shopping for parts and accessories for your favorite Polaris. Use these warm summer days to make next winter's day rides just a bit more sled and rider friendly. While you don't have to be a certified mechanic to do most upgrades, it helps to have a spacious area in which to work, a good set of tools and lots of patience — especially when it comes to reading instructions and following directions.
To help get you thinking about a do-it-yourself project or two this summer, we nosed around the world of online commerce and found a few items that might be nice to have on your Polaris this coming winter, but there are plenty more Polaris-specific products out there. Also,  if a project gets too intense, you can always call on your local Polaris dealer to lend a hand. For project starters, we found the following add-ons that might make for a summer-friendly do-it-yourself project.
Starting Line Products Water Temperature Sensor Hose Splice Adapter
For you information seekers, upgrading to a water temperature gauge might help you keep tabs on just how hard you push your sled's engine on a high-mileage tour or weekend of off-trail snow busting. With this adapter from Starting Line Products, you can add a water temperature gauge without removing the stock sensor or disabling the stock water temperature safety electronics. It's designed to easily install on any one-inch inside diameter hose. Simply cut the water outlet hose and splice it back together with this adapter. The kit includes the adapter and two hose clamps. The SLP adapter is compatible with any 1/8-inch pipe water temp sensor with maximum nose length of ½-inch. The Water temp sensor is not included. The SLP adapter retails for US$29.95.
X-Click Suspension Adjuster Blocks
As long as you're working on summer projects, here's another to consider that will add durability to your Polaris' suspension componentry. These Starting Line Products aluminum adjuster blocks are much stronger and more durable than the stock plastic blocks that came with your sled. They also feature four tension settings — giving you the three stock settings, plus one extra that sets the suspension a degree stiffer than stock. The blocks are sold in pairs, come in a silver coloration and retail for US$44.95.
For more Polaris-specific products from this renowned Idaho-based performance company, check out the company's online catalogs at http://www.startinglineproducts.com/.
Boondocker Performance Snowmobile Control Box
The maker of turbocharger kits for serious deep powder riders, Boondocker also offers control boxes that work on most EFI snowmobiles and allow you full adjustment of your electronic fuel injection system as well as the ability to control fuel feed for pipes, big bore kitted motors, nitrous, superchargers, and or turbocharged applications.
The Boondocker Control Box connects between the sled's ECU (Electronic Control Unit) and the fuel injectors. It does not reprogram or communicate with the ECU.  It modifies the existing signals sent from the ECU to the fuel injectors. By modifying only these signals, it is possible to make fuel changes while retaining the stock fuel map.  This means the ECU can still compensate for engine speed, throttle position, barometric pressure, engine temperature, air temperature, etc.
The Control Box can reduce fuel or increase fuel amounts for certain rpm ranges and load conditions by changing its fuel adjustment settings by using the unit's buttons and LCD display. Boondocker notes that, as with tuning a carburetor, it is possible to go too rich or too lean!
The Control Box also can add fuel when nitrous oxide is injected — but only with Boondocker's optional nitrous kit. The amount of fuel added depends upon the pressure in the nitrous bottle plus user settings.
If you do opt for a Boondocker Control Box, be sure you know how to properly tune an engine before you adjust the fuel settings!  Boondocker recommends the use of oxygen sensor, EGTs and plug and piston readings when tuning. If in doubt, have your dealer help you.
You'll find a Polaris EFI fuel control box nitrous ready model retails for US$418.00. The Boondocker Fuel control box for Polaris CFI models is nitrous capable and can add and subtract fuel at up to seven different RPM ranges with three throttle positions in each RPM Range. The Box is nitrous-ready for Boondocker's Synergy Series Nitrous.
For this and other Polaris-ready products, check out the Idaho Falls, Idaho-based BoonDocker products online at http://www.boondockers.com/.
Carlisle Belts UltiMax XS Snowmobile Drive Belt
Summer is a great time to take a slow and planned underhood look at your Polaris. You have plenty of time to take a thorough look at brake pad wear, check for any fluid leaks, loose bolts or wear on the drive belt. You may want to take this opportunity to change over to a new drive belt and make the current one your emergency spare.
One of the most recognized names in snowmobile drive belts is Ultimax by Carlisle, which refers to its Ultimax XS as the "next generation" of snowmobile belt. The Ultimax XS is specifically designed for high horsepower sleds and is claimed to deliver exceptional strength and dependability.
This new generation of drive belts recognizes that modern high horsepower snowmobile powerplants outperform yesterday's drive belts. Carlisle says that its Ultimax XS continues a tradition of quality and innovation. New construction in the Ultimax XS offers increased strength as it is built with new heat tolerant materials. With a revolutionary new compound, extra strong Aramax cord, and new manufacturing processes, the Ultimax XS is said to run cooler, longer and faster.
As a manufacturer of snowmobile drive belts that are sold to original equipment manufacturers and through distributors, Carlisle does not offer its products for sale over the Internet, but you can readily find Ultimax XS drive belts at online locations such as Dennis Kirk, Hi-Performance Engineering and other online snowmobile product outlets.
Recreational Necessities Sure Grip Dollies
Now here is a serious must-have for the do-it-yourselfer's shop. Unlike a wheeled ATV or motorcycle, your sled can be a big pain in the posterior to move around the shop. Skis and a track don't roll nor do they skid freely. Fortunately, Minnesota-based Recreational Necessities has solved this snowmobile mobility challenge with its all-season, versatile and durable Sure Grip Dollies. They are designed to work like a wheel kit as they are placed under the skis and track, allowing snowmobiles to be easily driven under power. Or, you can easily roll your sled by hand using the sturdy, swivel track dolly, making them a helpful tool for your shop or trailer. Imagine no more heavy lifting, or getting off your sled to swing the back end around because you can't steer. The dollies also eliminate damage from carbides gouging your driveway or shop floor.
Since the first version of its Sure Grips, Recreational Necessities has made five major updates to enhance the usefulness of the dollies. The original design only had two wheels. Going to four wheels added ski stability. The addition of a security cable ensured holding the dollies on the skis while traveling forward on various surfaces, including driving up trailer ramps.
The appearance of skis with dual runners and offset carbide created a need for ski retainers to keep the ski centered between the quad wheels. With reverse gear becoming more of a standard feature on modern sleds, the product again was retooled to accommodate the need for reverse straps while still being capable of fitting all skis.
The current version of Sure Grip Dollies features a wider wheel, ribbed hubs, an increased footprint and a shock-absorbing core. This Minnesota-based manufacturer makes Sure Grip Dollies in the USA and offers a fully warranted, satisfaction guarantee.
Sure Grip dollies are used by the US Marine Corps in California to access the snow line for winter mountain warfare training camps. They have also been found to be an ideal tool for use in the fall to assist the driver portion of various youth snowmobile safety training programs. Sure Grips have proven useful for DNR officers in state and national park services to access trail systems for patrol and rescue when snow cover is marginal.
Sure Grip dollies are designed to accommodate virtually all makes, styles and brands of skis from Ski-Doo's dual carbide models to Simmon's, Polaris, Arctic Cat and others! And, of course, the new model still works just fine with single carbide skis as well. The standard Sure Grips can be adjusted for skis up to 7-1/4-inches wide and for the extra wide mountain skis out to 10-inches wide.
Since 1994, Recreational Necessities, Inc. has delivered a snowmobile dolly that riders worldwide have found continually outperforms expectations. To learn more about Sure Grip dollies, fire up your computer and check out http://www.suregripdolly.com/.
High Performance Engineering Powder Snow Pre-Filter Kit
Hi-Performance Engineering, based in Thief River Falls, MN, offers its Powder Snow Pre-Filter kit for select Polaris snowmobiles. The kit increases the intake surface area for enhanced performance. It also eliminates the stock foam filters that are prone to falling out. The pre-filter securely fastens to the hood to provide a more positive seal for improved cold air intake and reduces snow ingestion through intake vents. Featuring a brushed aluminum grate, the HPE kit uses a pre-filter material that repels both snow and water while maintaining high airflow. You'll find kits for both trail and powder Polaris models.
There are kits to fit all Polaris IQ Models from 2005-2008 ?— excluding the 2008 700 and 800 RMK. You'll also find kits for Polaris IQ Touring, FST and 2009-10 550/600 Shift Short Track. Suggested retail for the Powder Snow Pre-Filter Kits ranges from US$42.95 to US$50.95, depending on the Polaris model. You can visit HPE at http://www.hiperf.com/ to check for availability and current pricing before ordering.
Do It Now
These are simply a few ideas and products that you can add onto your Polaris this summer. When winter comes again, you'll be too excited to hit the trails to want your sled sitting in a self-imposed timeout waiting for you to complete a project. Do it now and ride full time this winter with a personally customized sled.
Related Reading Add-On Pieces for Your Polaris