The Bowman Brothers' Super-Glides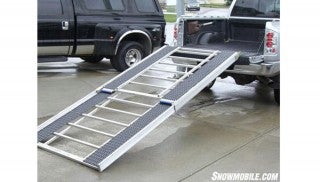 Uniquely innovative products from powersports enthusiasts
Snowmobile trailers offer any number of frustrations. There's always the mysterious short-circuit in the wiring or the occasional wheel bearing failure. Regarding our trailer as a necessary part of snowmobiling, we keep looking for products that can make loading and unloading simple and safe.
Because we've had to coax more than one broken sled up an inclined ramp, we invested in a manual boat-type winch that we mounted to the trailer tongue. That experience convinced us of the value of plastic grooved ski glides to ease sleds forward. Those guides also keep us from having to lift a sled by the bumper to manually position it to fit our tiedowns.
And, then, of course, there have been times when we fell ka-boom on our well-endowed gluteus maximus. Walking down our ramp, we inadvertently stepped on a plasticized glide, quickly losing all decorum and painfully ending up at the bottom of the ramp. Ramps and trailer beds get very slippery, making them treacherous for the unwary.
Imagine our delight when we chatted with Randy Bowman at Super Clamps, maker of Super-Glides. His products go beyond glides, adding actual traction that grips your boots and helps keep you from slip, slidin' away!
As the spokesman for the Alberta-based manufacturer, Randy adamantly explained to us how Super-Glides should be the only guides a trailering sort like ourselves should consider. He also points out that Super-Glides are the only guides designed for use with both snowmobiles and ATVs.
A plastic guide is one thing. It works with sleds, but the smooth surface that lets skis glide works against traction for an ATV's wheel. Because Randy and his brother Don are avid powersports enthusiasts, they worked hard to create a multi-purpose guide that would let them easily load their sleds as well as give them a traction surface to allow them to drive their ATVs and off-road bikes up a trailer ramp. Their answer is Super-Glides.
If you are a snowmobiler, the primary purpose of a trailer guide is making loading and positioning your sled easy. You want to eliminate the chance of the sled's carbide runners ripping up your plywood trailer deck. As you may have learned, if you tried to cheap out by buying inexpensive guides, some guide designs are shallow and keep your sled from tracking straight when loading. Randy claims Super-Glides have a deep profile to keep your sled loading on the straight and narrow. But, what he and his brother's company, Bowdriks Industries, emphasize is that Super-Glides offer an industry first of traction for your feet so you don't slip.
"No competitive design offers this feature," claims Randy, adding, "this makes all other guide slides hazardous."
It is this very feature that allows the dual-purpose usage of the product for sleds and ATVs. The traction pattern built into Super-Glides eliminates tire slippage with plain surface ramp guides. In addition, the Bowman's glides attach with custom shoulder screws and feature oval mounting channels that create room for expansion and contraction from varying temperatures.
You'll find that because the Bowman brothers are powersports users, they knew to make their guides a full 8.5 inches wide to easily accommodate various sleds (with either single or dual runner skis) and ATVs. Randy pointed out that many competitive slides measure only 6 inches wide.
Each Super-Glides kit, which retails for US$114.94, contains 20-feet of glides divided into eight, 30-inch pieces, each measuring 8.5 inches in width.  You also get custom designed shoulder mounting screws and installation instructions.
Super-Glides and the Bowman brothers other innovations grew from their dissatisfaction with existing products. They felt they could do better.
"We were into snowmobiles, dirt bikes, street bikes, cars, you name it!" says Randy. "We have always designed and engineered our own products and taken innovative ideas to the next level."
Applying their knowledge and experience in powersports, the Bowmans founded Bowdriks Industries in 1990. The company currently operates product development and manufacturing out of Lethbridge and Calgary, Alta..
They were the first to apply 'Traction Rails' to the edge of a snowmobile's running boards. By the time Ski-Doo introduced its own version of a traction product on its Summit line eight years later, the Bowmans already had developed their unique, and now widely used, Sno-Slip.
In 1999 Yamaha worked with the brothers and introduced Sno-Slips and Sno-Grips as 'Genuine Yamaha Products'. Bowdriks Industries has worked directly with Yamaha developing Sno-Grips exclusively for various models, including the Mountain Max and 2004 Warrior.
In addition to glides and grips, the brothers developed other trailer-oriented products, including the innovative Superclamp snowmobile tie-down. Where that design secures a sled's skis, the latest tiedown innovation locks the sled's back end — the Superclamp-Rear.
Superclamp uses an innovative tension adjustment knob that allows the design to fit all rear skids. Superclamp-Rear features a newly designed handle, with an advanced over center cam and a built in safety lock system. Simply remove the safety key that comes standard and replace it with a padlock to secure your sled to your trailer and help protect against theft.
Randy Bowman told Snowmobile.com that there are more innovative powersports accessories on their way from Bowdriks Industries. To get more information or locate a Bowdriks products dealer in your area, contact: Bowdriks Industries, 3650 Douglas Woods Heights, Calgary, Alberta, Canada?T2Z-2G4. (Telephone: 1-403-203-2210?or Email: [email protected]). Visit online at http://www.superclamp.net/.