The Evolution of Four-Stroke Snowmobile Engines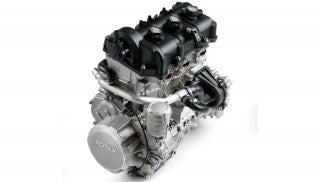 Why not choose a four-stroke over a traditional two-stoke?
Not that many things in the snowmobile-world surprise us anymore. Perhaps we're jaded, but maybe we've just been around so long that what was once old is now new. The danger in being a veteran snowmobiler, whether deliberate or not, is thinking in absolute terms where we won't concede that change has come and it may be for the better.
Many years (decades?) ago during a discussion about the snowmobile industry, Edgar Hetteen, the founder of Polaris and Arctic Cat, once told me: "You know, Jerry, it's not like it used to be. Oh, no!"
I've never forgotten that. He was right. The sleds that he created in the mid-1950s at Hetteen Hoist & Derrick were not the same that his next company, Arctic Cat, produced in the 1960s. The industry evolved greatly from that first Polaris to today. In the 1950s there were no trails, but based on the units sold back then, why did you need any? But by the late 1960s and early 1970s the lack of trails nearly crippled the rapidly growing snowmobile business that was predicted to produce upwards of a million units a season. The 1950s were not like the 1970s.
Nearly as striking is how the snowmobiling public has embraced a major change in snowmobile powerplants. Prior to 2003 two-stroke engines powered virtually all snowmobiles. But since 2003 four-stroke power has become more popular with many riders and caused the snowmobile industry to offer more four-stroke options. It's truly not like it used to be.
During our test rides of the 2016 models, we came away impressed with how good today's four-stroke powered snowmobiles have become. What really impressed us was how both Ski-Doo and Yamaha have embraced the change. Yamaha with its recreational models has for certain completely embraced the changeover from two-strokes to four-strokes.
Maybe riding that hopelessly dull Yellowstone Park certified Venture TF BAT Yellowstone model clued us in. We really don't mean to dump on the Venture Yellowstone; it serves a very useful purpose necessitated by the whimsical demands of the federal government. Indeed, as Yamaha notes:  "The 2016 RS Venture TF BAT marks Yamaha's first model to be certified Best Available Technology (BAT) compliant for use in Yellowstone National Park. The certification allows rental operators to employ the comfort and dependability of the RS Venture TF as part of the rental business servicing the park."
Fortunately we have ridden the real Venture TF and agree completely about the ride and comfort, but know full well that the sled also has the trail character and performance many serious touring riders want. Let's give Yamaha credit for helping snowmobiling literally clean up its act for the good of the Park Service and those of us who enjoy a slow paced tour of one of snowmobiling's greatest and most unique winter destinations. Of course, we have to offer kudos to Ski-Doo as well. Both of these two snowmobile pioneers moved the sport forward with sleds that produce less pollution while maintaining a level of performance snowmobilers expect.
Near the turn of the century, Ski-Doo hosted a number of snowmobile writers at a swanky multi-course luncheon at its Valcourt, Quebec headquarters. One topic centered on two-stroke engines versus four-strokes. Ski-Doo expressed concerns about Yamaha's exorcizing its two-strokes in favor of a series of four-stroke engines that would range from a 150-plus horsepower 998cc four-cylinder Apex down to an 80-horsepower 500cc Phazer.
In retrospect that lunch conversation proved prophetic as Yamaha did move to four-stroke power – totally. But, cleverly Ski-Doo hedged its bets by first using its relationships with Rotax and Evinrude to develop its two-stroke E-TEC motors and then introducing an all-new 1200 4TEC four-stroke triple. Since then, Ski-Doo brought Advanced Combustion Efficiency to many of its most popular models, including the MXZ, Renegade and Grand Touring series. We've always suspected that Ski-Doo's lunchtime conversation was a premeditated calculation to see how much support there might be for four-strokes. Let's not forget that back in those days, the US Environmental Protection Agency and the Clinton administration sought to cut pollution by enacting restrictive rules for small engines used in everything from weedwackers and lawnmowers to snowmobiles. Ski-Doo was right to be concerned.
The other somewhat unspoken concern carried greater danger to the snowmobile manufacturers and the industry. As two-strokes powered sleds for decades, would a change to four-strokes mitigate sales? Especially when it concerned performance sleds?
With this background in place, you can understand how important the E-TEC Evinrude direct injection two-stroke technologies were to Ski-Doo and how the arrival of the new 4TEC engine needed to be a winner. Ski-Doo's 1200 4TEC powered both touring and trail performance sleds. To create more of a performance feel to its four-stroke MXZ models, Ski-Doo had its Rotax engineers work with Sauber Formula 1 to develop a more guttural, sports car-like growl to the exhaust. The four-strokes destined for its Grand Touring models featured a more subdued note.
Ski-Doo's E-TEC proved a success and has been one of the most popular engines in the sport. Riders got to keep their two-stroke feel of quick-revving power and lighter overall weight. Of course, some of that lighter weight came from a simple fact that the 1200 4TEC had three cylinders and the E-TEC engines were all twin cylinder versions. There is no arguing that a four-stroke tends to bring more weight. Ski-Doo's specifications for its MXZ TNT models show a difference of between 30 and 50 pounds between a sled equipped with the 600cc E-TEC twin and a 1200 4TEC triple. But, note that you get smoother engagement with the four-strokes and the cost of operation should be lower as the four-strokes burn regular gas, get better mileage and you change the oil once a season, not add some at every fuel stop.
As Yamaha weaned itself of two-strokes, the company knew it needed a performance image for its top of the line model. In 2003 Yamaha brought out the RX-1 with a unique four-cylinder four-stroke that developed 150-ish horsepower. Yamaha hoped the sled and engine combination was a mover – and it was. Unfortunately, it was also heavy and non-Yamaha riders frequently referred to the RX-1 as the "RX-One Ton." That lasted only until Yamaha could introduce the next generation RX-1, now known as the Apex.
In what seemed like an overnight switchover, Yamaha converted its model line to all four-strokes. But Yamaha also proved four-strokes could deliver performance along with cleaner emissions, vastly improved fuel efficiency, and long life. In many ways Yamaha singlehandedly proved the viability of the four-stroke as a legitimate snowmobile power source.
Yamaha made the four-stroke acceptable. Before the RX-1, snowmobile four-strokes tended to be commercial-grade utility engines or lightly disguised ATV engines. As a response to Yamaha and to add a four-stroke option, the other snowmobile manufacturers offered four-stroke models of their own. Polaris worked with German engine builder Weber Motor to develop a turbo and non-turbo 750cc twin for select models. Arctic Cat and engine partner Suzuki developed a one-liter four-stroke that is still used in some 2016 Arctic Cats.
Most recently, Yamaha reworked its mid-performance Genesis 1049cc engine to offer improved performance that, along with the all-new Singleshot rear suspension, totally revitalized the Vector for 2016. And, of course, this year Ski-Doo did a makeover of its 1200 4TEC, adding performance and vitality. Like Yamaha, Ski-Doo also offers other four-stroke options. There's a choice of either the 90-horsepower 900 ACE or 60-horsepower 600 ACE that competes for buyers against Yamaha's 500cc Phazer line.
What really caught our attention at the new model introductions was just how good the new breed of four-strokes has become. There is no two-stroke odor. These engines are quiet. They are smooth and able. Both Ski-Doo and Yamaha not only made refinements in their four-strokes, but also in the sleds that use them. We were surprised how good the new 2016 Vector and Ski-Doo's 4TEC powered TNT and Renegade models were. As Edgar said, "It's not like it used to be." It's better.