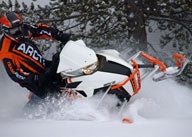 Now is a good time to update your new or older Arctic Cat
It's been a long, cold winter, which means that now is a great time to prepare for next season. You have the perfect opportunity to fix up an old or new sled. It's warm and you're unrushed with the need to get out on the snow by the weekend. Those full-blown snowmobile-riding weekends are many weeks away – right now!
If you own a newer or older Arctic Cat, you might want to scour the Internet looking for projects to improve your sled or, at the very least, add something new. Like you, we enjoy checking out "what's new" for our sleds. Admittedly, we don't worry about fixing up a new sled, because we return our demo models at the end of each season. But, since we have a few older ones, we find ourselves trying to get ideas about how we can enhance them.
Here are a few ideas and items for Arctic Cat owners of things that may be of interest and could give you something important to be doing during the non-snow months.
New Windshield
Because last winter was long and cold in some areas with many days below zero, your sled's sporty windshield might not have been as comfy as you hoped. Or, if you have a vintage Arctic Cat, maybe the windshield cracked or got broken on a vintage ride. Just know that PowerMadd USA based in Wyoming, Minn., has your back – err, your face?
This longtime aftermarket manufacturer has been creating quality snowmobile accessories for many years and offers snowmobile windshields under the Cobra label.
A few years ago we replaced a low and sporty windshield with a tinted Cobra-branded one. Not only did it immediately give us extra wind protection, which we found especially nice this past winter, but it extended width-wise enough to replace the stock handlebar guards that were standard with the sled, and not very warm!
Since we are hardly the easiest on equipment, especially windshields, we appreciated Cobra's use of optical grade polycarbonate to minimize distortion. The Cobra product measures 0.80 inches in thickness to give the windshield extra strength. That might not seem like a big deal, but at 70-plus miles per hour, you don't want a windshield that can't stand up to the wind flop. We've been in that predicament, but not with the Cobra windshield.
Cobra windshields come in a variety of styles, including a series designed exclusively for older (as well as newer) Arctic Cat models, including Cat's ZR and ZRT chassis. Pricing will depend on the specific windshield model you need, but remember that the Cobra brand is strong and stylish.
In our case we did not get a direct replacement, we went with an optional tint and wider than stock screen. You can find a variety of options for late 1990s Arctic Cat ZR models right up to the new Procross models.
For specific product information and availability, check out PowerMadd USA online at http://www.powermadd.com/. You'll find that Cobra windshields and other PowerMadd products are widely available at dealerships and online outlets, or you can shop the PowerMadd online store.
Best Seat On The Hill
A relatively new name in the snowmobile aftermarket business, Wasatch Recreational Products (WR Products) ships out of its Orem, Utah headquarters. Of interest to deep powder Cat riders is the company's Mountain ASSAULT Series of seats.
The company's original design represents quite a departure from the standard M-series saddle. WR Products created a slimmer styled seat that should give a rider quicker reaction in powder as it places the rider in a better "attack" position.
WR Products states that each of its Mountain ASSAULT Freestyle Series seats "…is solidly based on a high strength, lightweight aluminum frame that has been powder coated for extra durability and great looks."
The seat creates ample underseat storage potential for gear bags and storage. In fact, WR Products offers its own underseat bag, which can be quickly removed when necessary.
In addition, WR Products offers a universal Tail-Brake light. It retails for approximately US$32 and utilizes a high intensity LED for maximum visibility. The company suggests that the light can be used as an auxiliary Tail-Brake light or on its own as a lightweight option. The light can be mounted on any flat surface such as a bumper or tunnel extension.
To learn more about these products, check out http://www.wr-products.com/.
Clutch Updates
If you are the type that likes to get your hands dirty and play with wrenches and such, then installing a Goodwin Performance clutch kit should make you happy. And improve your Cat's performance.
This snow-world famous aftermarket company is based in Zion, Ill. and is well known for its racing prowess, which makes Goodwin a very credible resource for performance clutch products.
Goodwin offers a variety of clutch upgrades to fit modern Procross and Proclimb Cats as well as older "Diamond Drive" models from 2004 to 2011.
With a suggested retail price of about US$360, Goodwin Performance offers a clutch kit specific to 2012-2014 Arctic Cat's based on the new tall spindle chassis. The company claims "… genuine performance gains over O.E.M. calibrations." When properly installed, you should expect increased acceleration and more responsive back shifting that will improve ridability.
Depending on the specific model and year of your Cat, the clutch kit will include: primary spring, secondary spring, helix, and an adjustable set of weights.
For Cats with the original Diamond Drive clutch set up, Goodwin Performance offers its Diamond Drive clutch kit for 2004 to 2011 Arctic Cat models. As with the kits specified for the Procross and Proclimb models, Goodwin Performance states you can get acceleration increases and better back shift response with their kit. Each kit contains a primary spring, secondary spring, helix and balanced set of weights. Suggested retail is about US$300, but you should check the official website for price specials.
For about US$400, Goodwin offers a TEAM Rapid Response drive clutch that is applicable to sleds of less than 120 horsepower, which means it can be used on older, possibly vintage, sleds like older Cats as well as John Deere, Rupps, and Scorpions.
The Rapid Response drive clutch features all die cast components for long life and increased strength. The open face design reduces heat and weight. The rollers and buttons are oversized to increase service life.
For more information about Goodwin Performance products and services, check out http://www.goodwinperformance.com/.