2007 Polaris IQ Touring FST
2007 Polaris IQ Touring FST pictures, prices, information, and specifications. Below is the information on the 2007 Polaris IQ Touring FST. If you would like to get a quote on a new 2007 Polaris IQ Touring FST use our Build Your Own tool, or Compare this snowmobile to other Touring snowmobiles. To view more specifications, visit our Detailed Specifications.
2007 Polaris IQ Touring FST Specifications
Identification
Model Type
Touring
BASE MSRP(US)
$9,799.00
Dealers
Polaris Dealers
Warranty
12
Insurance

Engine:
Engine Type
Horizontal In-line
Cylinders
2
Engine Stroke
4-Stroke
Valve Configuration
OHV
Displacement (cc/ci)
750 / 45.8
Starter
Electric
Turbocharged
Yes
Carburetion Type
Fuel Injected
Transmission:
Reverse
Yes
Technical Specifications:
Length (ft)
10.75
Width (in/mm)
48 / 1219
Height (in/mm)
53 / 1346
Maximum Ski Stance (in/mm)
42.5 / 1080
Minimum Ski Stance (in/mm)
42.5 / 1080
Dry Weight (lbs/kg)
650 / 295.1
Fuel Capacity (gal/l)
10.2 / 38.6
Seats:
Number Of Seats
2
Seat Backrest
Standard
Exterior:
Ski Material
Composite
Skag Material
Carbide
Drive Line:
Track Length (in/mm)
136 / 3454.4
Track Width (in/mm)
15 / 381
Lug Height (in/mm)
1 / 25.4
Glass:
Rearview Mirrors
Standard
Height
High
Convenience:
Heated Hand Grips
Standard
2007 Polaris IQ Touring FST Photos & Videos
View All Photos and Videos
User Reviews
3.2 Hours and a Check Engine Light
By Dennis P. Thornton(Owner), Dec. 25, 2008
I recently bought two 2007 FST IQ Touring Polaris sleds. They were leftovers from last years stock, so I received a decent price. But, both sleds had engine issues within the first 3 hours of use. Yes, I said, three hours of use.
They worked fine for 2.5 hours, then they both started knocking.
...
Read Full Review
IQ touring FST 2007 polaris
By ron fitzgerald(Owner), Feb. 3, 2011
i bought this one new and after a few hours of use the check engine light came on.After three years with lack of snow i only put 500 kilometers on her and now she is only working on one cylinder.They are telling me the plug is gone and it will take two to three hours to change it and it is not cove
...
Read Full Review
temperture sensor failure
By Ron Fitzgerald(Owner), Jan. 5, 2015
2014 temperature sensor failed due to a factory mistake of installing it against the jackshaft housing.Had to almost scrap the machine to install a thirty-five dollar senor. Was lucky i could do the work myself as Polaris as usual would not look at it.So much for standing behind your products!
Read Full Review
2011 plugs failed..2012 speed sensor failed
By ron fitzgerald(Owner), Oct. 5, 2012
speed sensor failed in 2008 and 2009, plugs failed in 2011, speed sensor failed in 2012, all this with only 500 miles, nice snowmobile, but as for mechanical dependabiulity a piece of garbage.
Read Full Review
Most Popular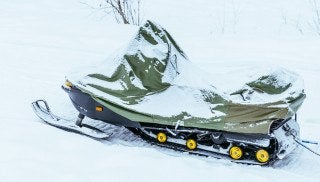 The Best Snowmobile Covers
Find a Snowmobile Dealer near you
Enter your ZIP code below to search for Snowmobile dealers near you.