2018 Mountain Snowmobile Shootout: Part 1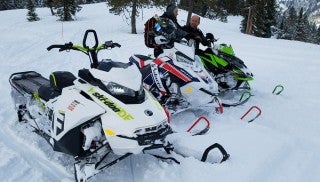 In part 1 of our 2018 Mountain Snowmobile Shootout, we weigh the Arctic Cat Mountain Cat, Polaris Pro-RMK, and Ski-Doo Freeride and get a feel for them in the snow.
Did the M8000 Mountain Cat take Arctic Cat to the top for model year 2018? Did the king of lightweight, the Pro-RMK, elevate Polaris to high-achiever status with its masterful power-to-weight? Did the Freeride 165 in Ski-Doo's Gen4 REV-chassis and 850-power, keep the crown from last year's shootout? Looking back to 2017, our riders scored the Gen4 Summit X 165 and the Pro-RMK 163 equally – a tie. Arctic Cat's M8000 Mountain Cat trailed behind these two by a large margin.
A 2017 repeat? A change for 2018?
Read on.
In early spring 2017, we chose the 2018 Arctic Cat Mountain Cat (MC), a member of Cat's M8000 line, as our Mountain Snowmobile of the Year, what we now call King of the Mountain (KOM). Our deep-powder evaluation, traditionally held in January, has one purpose, to prove or disprove our choice. We evaluate our Mountain Snowmobile of the Year against its main competitors, which come from Ski-Doo and Polaris. We do not throw Yamaha's Sidewinder M-TX (Yamaha, a company that builds strictly four-stroke snowmobiles), into our shootout mixing bowl to compete against the lightweight two-stroke mountain snowmobiles because the motor classes are different. The Sidewider M-TX, with its turbocharged three-cylinder four-stroke motor ,is wicked powerful, but we design our shootout to be an apples-to-apples comparison.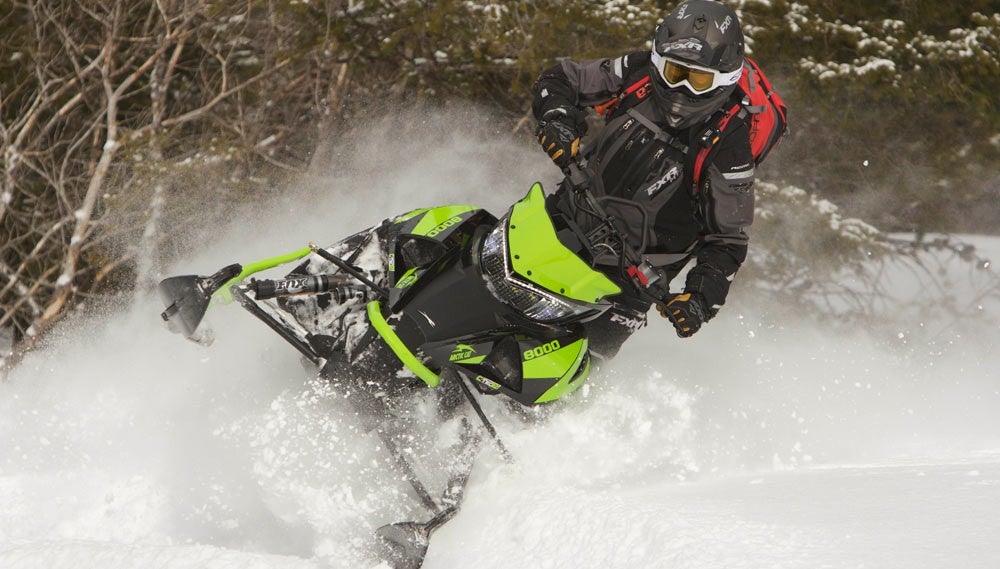 For this model year 2018 snowmobile season, Arctic Cat failed to send to the Snowmobile.com Mountain Team, a Mountain Cat 162, which we ordered sometime in April 2017. But, one of our seasoned guest-test riders, Mark Radford of Idaho Falls, Idaho, purchased an MC 162 and we were in business. But, another glitch in our program showed up. The 2018 Ski-Doo Freeride we ordered came with a 2.5-inch PowderMax Light track with FlexEdge technology, rather than the specified PowderMax Lite track with three-inch paddles. The Gen4 Freeride 165 850 had its work cut out. But, with the Freeride having a wider track than the MC and Pro-RMK, and 50cc more displacement, maybe the evaluation field was evened out.
On Polaris' business-side, we received exactly what we ordered, a Snow Check Select Pro-RMK 163 with Series 7 paddle track, the tall three-incher. This Pro came in Polaris' "founder" colors, which is red, white and blue; it's a good looking hot rod.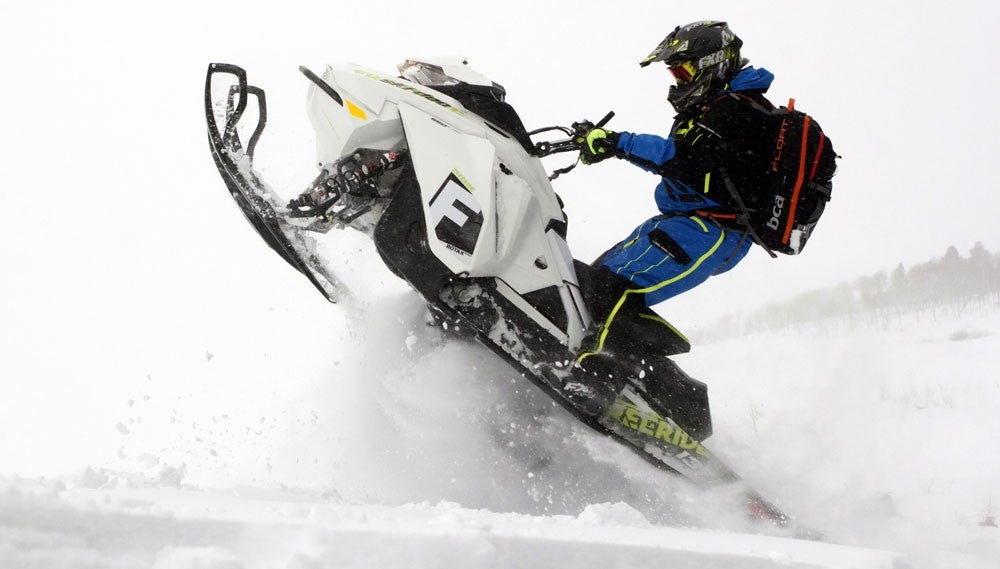 The snow surrounding the Snowmobile.com high mountain cave was bleak through December and January. Unusually warm temperatures melted much the high country snowpack. What remained was mostly hard packed "hero" snow. Yet, in some locations, the first three weekends after the New Year's holiday, saw some snow squalls – thus the elevations from 8,000 feet and above received some wet and sticky powder.
On weekend one, first weekend of our three-weekend evaluation, Sr. Test Rider, Kevin Allred, seasoned-guest-test rider, Greg Huntsman, and this report's author, gathered up the 800 Pro-RMK, the Freeride, and our deep-powder crossover snowmobile, a 2018 Polaris Snow Check Select SKS 146, for some soak time. Radford and his MC 162 could not join us this first weekend.
As a side note, we'll give a comprehensive long-term evaluation report on our 2018 Polaris SKS 146. For now though, the 2018 SKS 146 from Polaris turned out to be a darling crosser. We threw it into the same deep gumbo the Freeride, Pro and MC played in. Trust us, we love this crosser in blueberry blue and lime green. When this season ends, we may have to hide it from Polaris.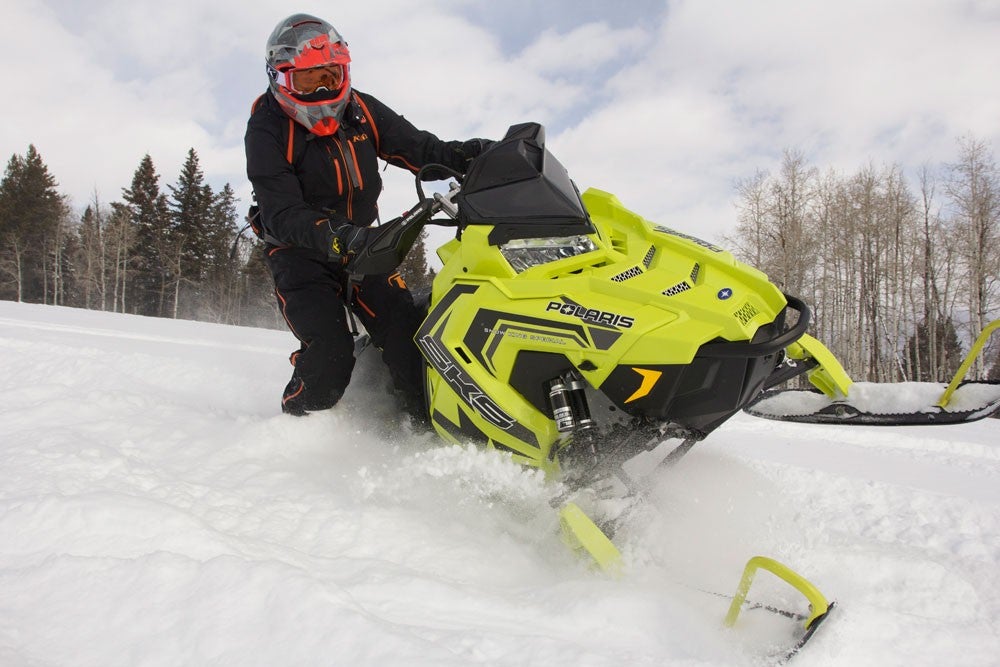 Ok, back to weekend one. We unloaded at the Grey's River trailhead parking lot in Alpine, Wyo., and set off for Squaw Creek, the Box Y Lodge, and the Blind Bull loop. The snow was not that good, but not bad either for the 30- and 40-degree temperatures that dropped on us. With snow depths being low, rocks, deadfall and stumps were visible, therefore our off-trial snow mashing was limited; most our ride was on the fine trail system.
Weekend two. Mark Radford with his 162 Mountain Cat joined us, the Allred brothers – Matt and Kevin. We kept the 146 Polaris SKS corralled in the trailer, only riding the three deep-powder mountain muscle long-tracks. Prior to our steep-and-deep playtime, we weighed the three mountain slayers. As we've always done, we weighed the snowmobiles in RTR configuration – ready-to-ride. That is, fuel tanks filled (burped and topped off), oil reservoir filled, and factory-supplied tool kits attached. We did not have a spare CVT belt for each.
For curiosity sakes, we weighed the Mountain Cat with its stock exhaust canister and with a lightweight titanium Diamond S Manufacturing canister. The Ephraim, UT company gave the MC a quick weight loss for sure.
Ready-to-Ride Weights
| | | |
| --- | --- | --- |
| 2018 Polaris 800 Pro-RMK 163 | 2018 Ski-Doo G4 850 Freeride 165 | 2018 Arctic Cat Mountain Cat 800 162 |
| Series 7 three-inch paddle track, 15 inches wide | 16-inch wide Powder Max Lite track, 2.5-inch paddles | PowerClaw track with three-inch paddles, 15 inches wide |
| 529 lbs | 557.5 lbs | 560 lbs; 546 lbs with Diamond S Titanium canister |
Last year, we recorded the 2017 Pro-RMK 163 at 533, which makes sense as it had a handlebar bag, a rear under-the-seat storage back, a rear "Burandt" bag and a spare belt.
From last season, our 2017 165 Summit X weighed in at 552 pounds. Our 2018 Freeride has half-inch shorter lugs on its track than our 2017 Summit X. Yet, the Freeride's tunnel and rail reinforcements, and heavier shocks that are more robust than those on the Summit X, account for the five-pound weight gain.
The Mountain Cat from 2017 weighed in at 565 pounds, all stacked into the Suzuki-powered ProClimb chassis. The 2018 Ascender chassis MC with Cat's own domestically produced motor, clocked in five pounds lighter.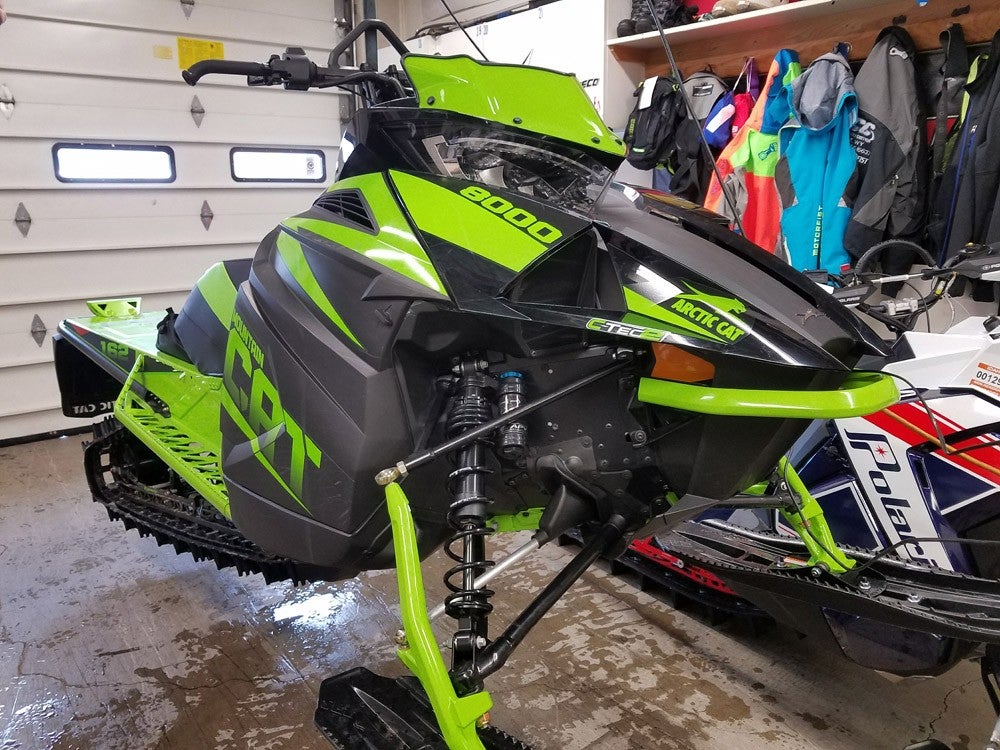 As we've written over past few years, Polaris continues to impress us with its lightweight AXYS chassis; it has superb power-to-weight. But, this two-stroke mountain snowmobile receives some criticism from the mountain banging crowd for being somewhat underpowered – as compared to the other mountain snowmobiles in the 800 class. The heavier Freeride and Mountain Cat make up for its weight by having motors that produce more horsepower and torque; not much, but enough that riders notice – the MC and G4 Freeride (and Summits) can outsmart Pro-RMK on a hillclimb. But, in short trigger pulls, the Pro-RMK pops off the starting line quicker than the MC and Freeride, due to its "lifted" AXYS chassis. In long pulls, though, the Mountain Cat and Freeride (and a G4 Summit) will work past the Pro-RMK.
Balance makes heavy feel light, up to a point. When we lift a mountain snowmobile to weigh it, we attach the lifting harness to the handlebar post. The heaviest snowmobile, the MC 8000, when lifted, maintains a horizontal (flat) stance – mostly. The Pro-RMK, comes up nose first, then after about two feet, the tail follows. The G4 Freeride, is all nose until the lifting hoist nears its taut condition, then the tail comes up, its rear axle only inches off the ground. This testifies why, in one solid reason, the G4 Freeride, is light and airy through the bars.
The Pro-RMK is in the middle, as to handlebar feedback. The MC has the heaviest steering, but because it has a fairly-even weight distribution in front of and behind the handlebars, its ability to roll center-left and center-right is quick. In 2017, we gave the quick-acting chassis to the G4 Summit X 165. This year, we give it to the Mountain Cat and its Ascender chassis. How much quicker? That is hard to quantify, but just enough to be noticeable.
Bear in mind, though, front and rear suspension setup – shock dampening, shock pre-load and limiter strap length – affect this. But, after we configured our three snowmobiles' suspensions to a somewhat neutral setting, the Mountain Cat, though heavy in the bars and being the heaviest snowmobile, reacted quicker to a driver's standup position when it came to attacking tree-infested slopes and ravines.
When it came to dropping off a sidehill to take an "elevator" ride down in a wrong-foot forward position, it seemed all three were even; driver preference determined a favorite. For this author, the Freeride was the choice. For Sr. Test driver, Kevin Allred, and guest-test rider, Greg Huntsman, it was the Pro-RMK. For Mark Radford and Roger Raymond, it was the Mountain Cat.
This closes out Part I of II of our model year 2018 Mountain Snowmobile Shootout. In summation, the Pro-RMK, holds again the title as lightweight king, with the Freeride next and the Mountain Cat as the heaviest.
The most forgiving chassis (balance) goes to the MC, despite being the heaviest. The lightest snowmobile, the Pro-RMK, felt the most dated and a tad bit behind the Freeride as a whip-it-there snowmobile. The Freeride is light through the bars – there is no getting tired riding it. But at times, upset conditions occurred due to its quick handlebar rotation.
Model year 2019 will be interesting. We've heard Arctic Cat is amping-up its mountain program. We hope this includes a leaner Mountain Cat and M8000. Will Polaris give its Pro-RMK more oomph? Don't know, but we encourage it. What's needed from Ski-Doo on its G4 Freeride and Summit for 2019? Can't think of anything. For many, the G4 is as perfect as can be.
Stay tuned for Part 2.
We give thanks to Cari Johnson and Troy Johnson, owners, Lincoln County Customs (LCC), Alpine, Wyo., for their hospitality. LCC supports our evaluations, and are the epitome of professionalism.
Editor's Note: The pictures taken, and location for this shootout, was in the Bridger-Teton National Forest under a Commercial Still Photography Special Use Permit; Vertical Scope, Inc., GRY478004, Use Code: 551.