2019 Mountain Snowmobile Shootout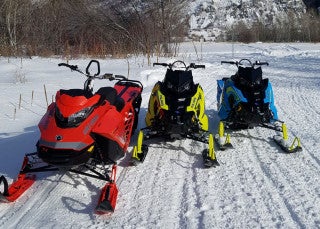 After spending months behind the bars of the 2019 Ski-Doo Summit X 850 and Polaris Pro-RMK LE 850 (155 and 165), we present our 2019 Mountain Snowmobile Shootout.
For model year 2019, Polaris shines in the steep-and-deep with its Pro-RMK 850s, and Ski-Doo with its G4 850 Summit X continues to be a stellar example of easy maneuverability with a dependable and high-tech motor. Let's see how they compare in our 2019 Mountain Snowmobile Shootout.
But, where's Alpha One?
With the model year 2019 season half-way over, we give our report on Snowmobile.com's fleet of mountain snowmobiles, these being a G4 165 Ski-Doo Summit X 850 and two Polaris Pro-RMK LE 850s, a 155 with 2.6-inch paddle track and belt drive, and a 163 with a 3.0-inch paddle track and a chain drive.
Arctic Cat was a no-show this year, giving no supporting relationship to the snowmobile.com team; highly unusual and uncharacteristic.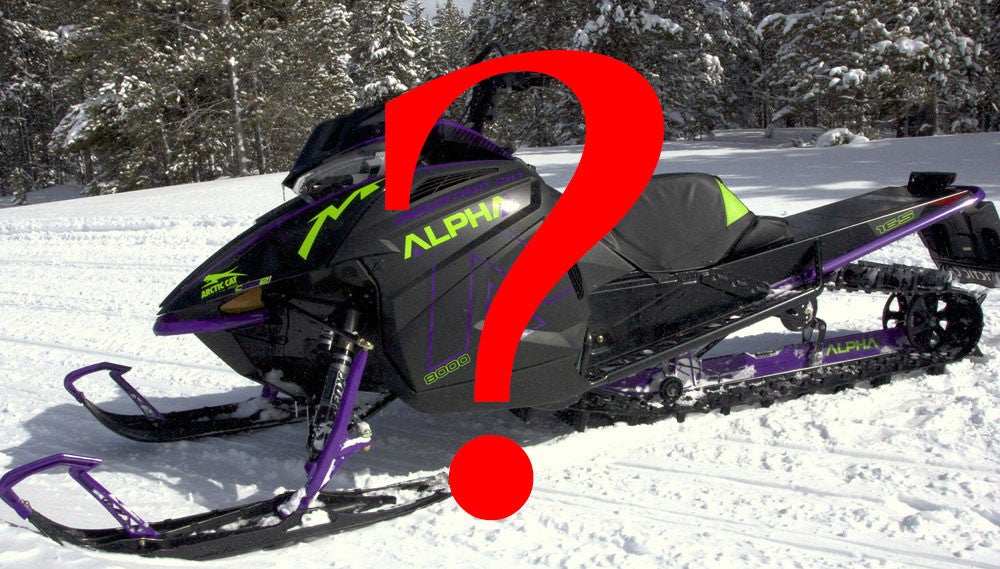 The Alpha One 165 and 154 were Snowmobile.com's Mountain Snowmobile of the Year for 2019, this based on several rides throughout January, February and March 2018 (and an early evaluation in February 2017).
However, Textron Arctic Cat has basically cut from marketing program its relationship with snowmobile evaluators / journalists. Thus, we were left with no choice but to move on without them and focus on the three mountain killers in our stable for our 2019 Mountain Snowmobile Shootout.
Now, we believe Arctic Cat's Alpha One is everything we reported on from last Winter and Spring. We've spoken to dealers and customers at length, and broke a rule and monitored forum talk on the Alpha One; all news has been, and continues to be, positive and praiseworthy. The Alpha One is an excellent mountain snowmobile.
But we need a long-term unit to evaluate and Ski-Doo's 850 G4 Summit X and Polaris' 850 Pro-RMK LEs hammered the mountains on our behalf and shone very well on steep slopes. The Summit X and Pro-RMK LEs are superb mountain snowmobiles – very much so – and we love 'em. One of the three was such a surprise that we did not pick up how good it was last year at Snowshoot 2019, February-March 2018. Shortly, we will report of the three mountain snowmobiles in our fleet to see which one claims the title of Snowmobile.com's King of the Mountain (KOM) for model year 2019.
Sorry Textron Arctic Cat, but as the cliché goes: "All is fair in love and war." We love you, but our 2019 Mountain Snowmobile Shootout requires you to participate if you want to have a chance to win.
2019 Ski-Doo Summit X 165 with SHOT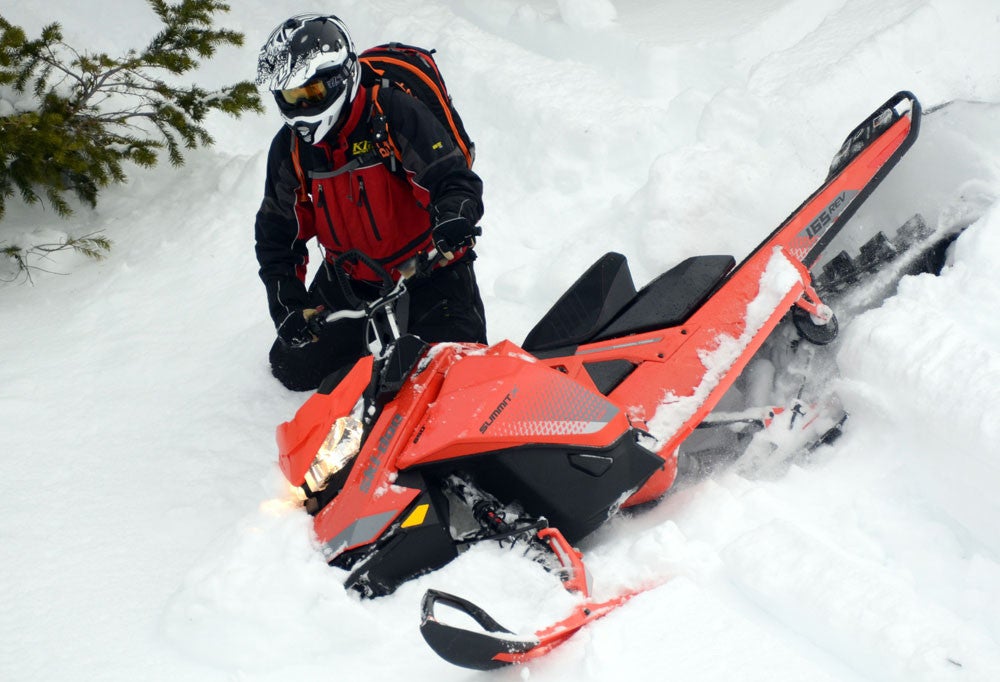 Since its inception, the fourth generation (hence, G4) REV Summit X with its 850 twin cylinder two stroke motor, pDrive and SHOT (Start Hot) continues to be a mountain snowmobile that encourages us to push it hard – go hard – while at the same time, encouraging us to trust it; which we do. The G4 Summit X is about as easy a mountain snowmobile to drive that's been developed to date (though 2019 brought on some challengers).
For this season, we've experienced nothing but steady and reliable performance – zero problems. The 165-inch long by 16-inch wide track with three-inch tall paddles moved the Summit X along with ease. The goofy deep and not-so deep conditions we had this winter, never made us wish for a shorter and less aggressive track. Bott Yamaha, Ski-Doo, Sea-Doo and Can-Am in Idaho Falls, ID, prepped the Summit X for our long term use, and true to Bott's promise to keep Snowmobile.com's Ski-Doo's dialed-up and dialed-in, our Summit X was flawless.
Sr. Test Rider for Snowmobile.com is Kevin Allred, who contracts out his skill and certification as an avalanche expert, took some time to assist Bret Rasmussen, owner, Ride Rasmussen Style in teaching avalanche awareness. While doing so, he chased Rasmussen on the Snowmobile.com Summit, while Rasmussen drove one of his many Summits. Kevin Allred reports that his confidence aboard the G4 Summit X continues to climb after each outing with Rasmussen. Allred adds that during each ride, he learns something new and good about the Summit's personality.
Now, the Summit X 165 can be a wee bit twitchy at times ("Twitchy" is a word often used in the West to describe its handlebar movements when sidehilling across wonky trenches.) The G4 Summit X at times and in the right conditions, has too light handlebar feedback when laid into a hill. The 165 when crossing a steep slope wants to tailwalk, somewhat. Meaning, its nose wants to go from horizontal to vertical while dropping its tail in a concert movement. As this happens, the handlebars feel light. And with small and minimal driver input, the bars swing more than wanted. Likewise, the feedback from the front end up through the bars – as the Summit walks across trenches – causes the bars to twitch right and left, and when this happens, the driver, from feeling the light bars, tends to counteract in a more dramatic fashion, therefore handlebar movement is more than desired.
In the mountain snowmobile world, drivers like light feeling bars, but when too light, input is amplified.
Of course we all know, suspension adjustments can cancel most this out – adjusting limiter strap length, shock compression and rebound settings, and shock pre-load settings. But when the Summit is set to handle most general conditions, it can be twitchy. Yet, the longer the Summit chassis, the less this happens. For me, my favorite Summit X is the 175; I LOVE that Summit. It is stable, nimble and has floatation I crave. Like Ralphie who dreams about his shiny blue Red Rider B. B. gun, I dream about the 175 Summit X.
The Summit X's Lava Red color is awesome and its painted tunnel sheds snow and ice. Its runningboards are spot-on aggressive, its handlebar controls easy to manipulate and its steady performing drivetrain harnesses the 850's power with efficiency.
Would I, we, own one? Yes! We love the 165, but for me of Team Allred, I prefer the 175.
Polaris Pro-RMK 155 and 163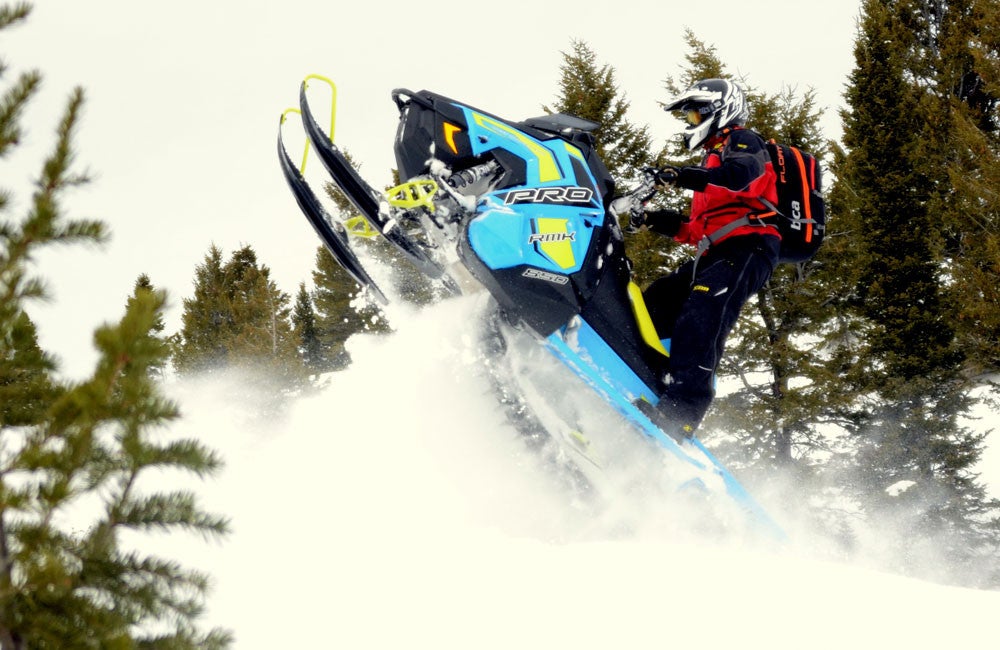 The forums lit up this Fall and Winter about 850 Patriot motor failures. We admit, there were some, and Polaris acknowledges there were a few, but the 'net seems to boast numbers, as compared to actual warranty info from Polaris. We'll report on this more as the 2020s come to be and final warranty data is documented.
From an independent perspective, the receiving dealer who prepped our two Pro-RMKs, Action Motor Sports, Idaho Falls, Idaho, took the time to assure the oil lines were properly routed and secure; the electronic control unit (ECU) for the electronic fuel injection (EFI), had the latest fuel map; the electronic oil pump had Polaris' latest and optimum calibration, and that I fully understood the motor's break-in procedure.
With one tank full of pre-mix fuel, we sat out to break-in our motors with two trail rides to empty their premixed fuel. We did not exceed 45 MPH and from that, our two Patriot motors have been, and continue to be, wicked strong when laid into.
Since the first tank was burned, we have hit some tall and nasty hills with deep snow, and from those long pulls, there were no hints of internal and mechanical motor problems. At Snowmobile.com we follow each manufacture's motor break-in procedure. Regardless, our motors are put the test, challenged, and each 2019 Pro-RMK LE 850 in our case, has given wicked-strong and reliable performance.
The new React front suspension is above par excellence. The motor overshadows the React's performance – the agility – the Pro-RMK 850 has. For us now, the Patriot motor gives such perfect performance, we've swung our attention to the React front suspension and its premium coil over Walker Evans shocks. The light-steel coil over springs give the Walker Evans shocks such dynamic control, we may never ride another RMK that is not a 2019 "Pro LE" with React.
Our two Pro-RMKs came with Polaris' mid-height handlebar post. For 5'10" to 6'4" drivers this is perfect, but for us at 5'8", I believe the short post would be best. To that end, our Pro-RMKs were flickable, agile and nimble. But in complicated downhill sidehill, wrong-foot forward positions, a lower post would have made my job easier. That is just me. The lesson here is, when purchasing a Pro-RMK LE and seizing the React front end's potential, choose a bar height that will let you take advantage of the 2019 Pro-RMK's front end.
Our two Pro-RMKs were set at its narrowest ski-stance, 36 inches. The 2019 Pro-RMK with its React front end is as stable and is more flickable than a 2018 Pro-RMK set at wider stances. Yet one of our veteran guest-test riders, Roger Raymond, often overrode the Pro-RMKs and prefers the ski stance for the 2019s to be one to two inches wider. For him and many other taller drives, that is perfect. This is why Polaris has an adjustable ski stance and three different handlebar post heights.
The PowderTrac runningboards were excellent, and painted tunnels did a good job at shedding snow and ice.
Our Surprise Pick
The winner of our 2019 Mountain Snowmobile Shootout crown is the 2019 Polaris Pro-RMK LE 155 with Series 6 2.6-inch paddle track and belt drive. While at Snowshoot MY2018, we did not give the 155 much attention. But this winter, with the motor's fuel mapping set, the 155 Series 6 track and belt drive, made the 155 Pro-RMK LE a rocket ship. The track spun with PO'd velocity from the efficient belt drive and Patriot motor; and the React front end made the 155 lively, muscular, quick, nimble and agile. It was so improved from yesteryear that we debated calling the police and reporting it as an escaped top-secret Area 51 alien.
The Summit X 165 is our "Honorable Mention," Mountain Snowmobile of the Year. It is so dependable it is "honorable." In late summer we gave this to the 600 Summit SP, but with our reshuffling due to the Alpha One's absence, we give this to the Summit X 165.
The 163 Pro-RMK LE holds on as our "Most Improved" Mountain Snowmobile of the Year as reported in late summer.
Of the two 160-somethings (Summit X 165 and Pro-RMK LE 163), we give a slight edge to the Summit X 165 over that of the 163 Pro-RMK LE due to is wider track, but the margin is thinner than a single hair strand. The new React front end on the RMK makes it as nimble as the Summit X.
Of the two Pro-RMK LEs, we like the 155 best for its belt drive and its 2.6-inch paddle track, which is more conducive to many varying snow conditions than the 3.0-inch version is.