2019 Polaris 800 Rush Pro-S vs. Arctic Cat ZR 8000 RR ES: By the Numbers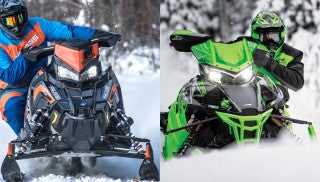 Take on the trail with the ultimate performance 800-class trail sleds from Polaris and Arctic Cat for 2019. Which one will best help you push the limits of speed, handling and fun? Let's take an in-depth look at the 2019 Polaris 800 Rush Pro-S vs. Arctic Cat ZR 8000 RR ES, by the numbers.
My wife's uncle used to run a snowmobile dealership in Munising, Michigan, a small town in the Upper Peninsula and right on some of the best snowmobile trails in the state. This was back when we were in college in Marquette, a larger city about an hour west of there. We stopped in to visit one night, and he said he was headed to our town for dinner in a bit so we should meet him there. We left in my truck and headed right for the restaurant. When we walked in the door, he was already there, and judging by the empty glass, had been for a while. Modern trail performance snowmobiles can really move and since that time, have only gotten better. Two of the top sleds on the trail, the 2019 Polaris 800 Rush Pro-S and Arctic Cat ZR 8000 RR ES, are so advanced that they make the roughest trails seem smooth. How do they compare? Let's see.
Motoring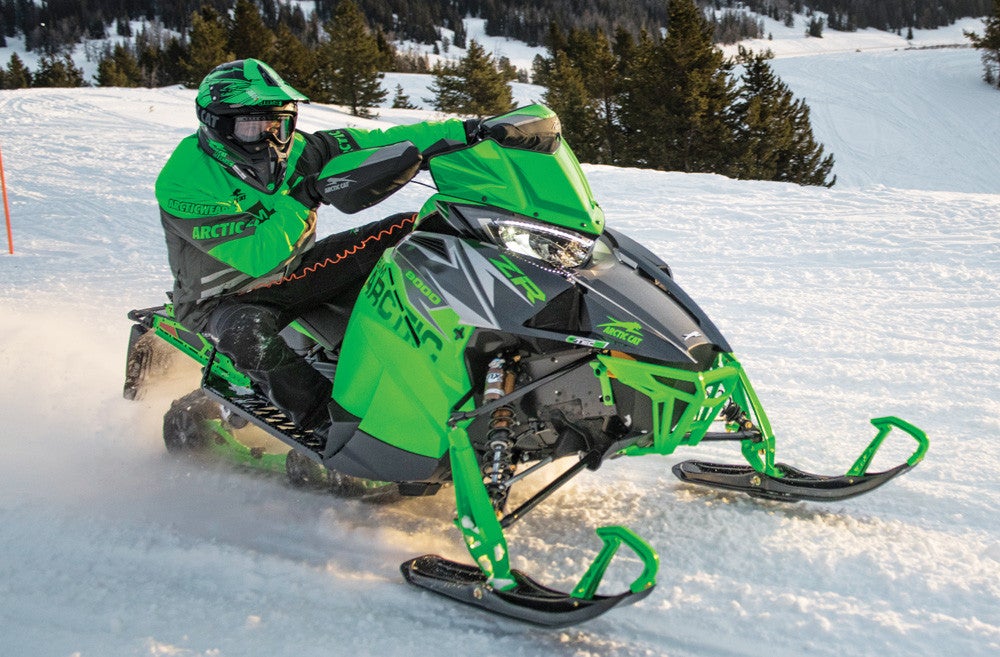 It seems like every time you turn around, one of the manufacturers is bringing out a newly developed four-stroke powerplant that makes ridiculous horsepower in a lighter weight version. Fear not, my friends. Two strokers aren't going anywhere except down the trail at crazy fast speeds. While yes, four-stroke engines have come a long-ways in increasing horsepower and reducing weight, the manufacturers are just as busy doing the same with two strokes, and working hard to reduce emissions to make the environmental-types happy.
For 2019, Arctic Cat is producing the new fuel-injected, 794cc C-TEC2 8000 engine that consumes 30% less oil than previous renditions of this motor. AC also reworked the motor for more torque in the low end, getting a 36% increase in the bottom and a 18% increase in mid-range torque. What you end up with is a cleaner-burning motor with improved throttle response and horsepower numbers in the 160 range.  The CVT transmission has a newly-redesigned clutch with a roller bearing to auto adjust the belt for better longevity and improved response.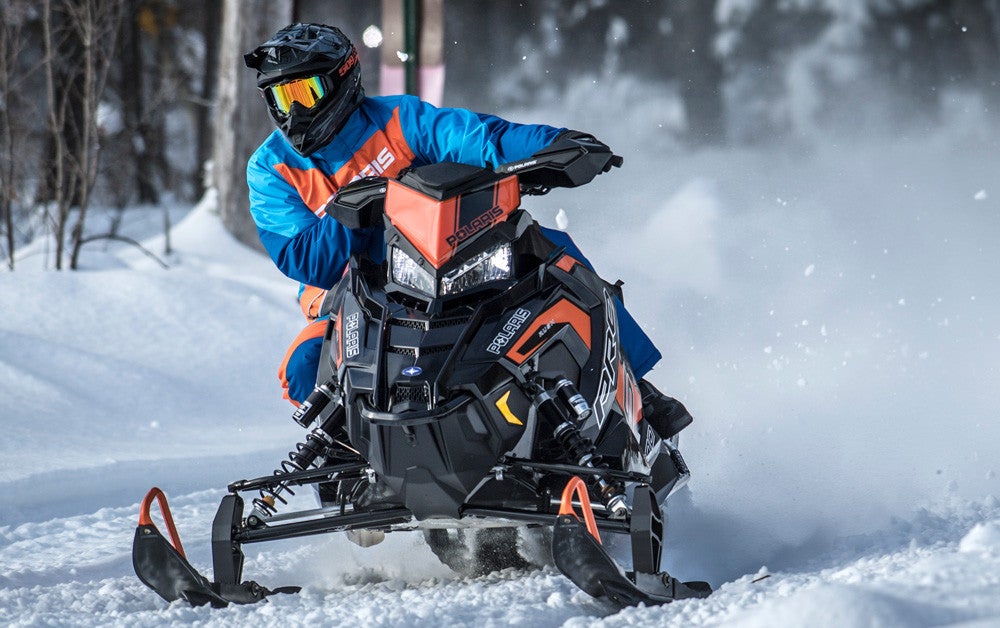 Polaris has been hard at work, too. The Rush has a fuel-injected Cleanfire 795cc twin-cylinder beast that feeds a single three-stage VES exhaust with Polaris' Smart Actuator. Power is delivered via a P-85 drive and a TEAM LWT clutch. The throttle response is extraordinary with a strong low-end, beefy mid-range and a top end that is nothing short of thrilling.
Suspenders
Of course, all the horsepower in the world is useless if you're afraid to use it. What inspires confidence on a sled? Great suspension. The 2019 Polaris 800 Rush Pro-S eats up rough trails and race tracks like a fat kid in a candy store. It takes it all and asks for more. Up front is the AXYS system with Walker Evans Racing piggyback needle shocks with high and low compression adjustments. Out back Polaris uses it's PRO-XC system with more Walker Evans Racing piggyback needle shocks with high and low compression adjustments. Having used this same setup in a Switchback model from Polaris, I can tell you that it handles anything. Rough, nasty bumpy trails mean nothing, and airing it out is easier than it should be. You can select from a 1.25-inch Ripsaw track, a 1.35-inch Cobra track, or a 1.5-inch Storm track.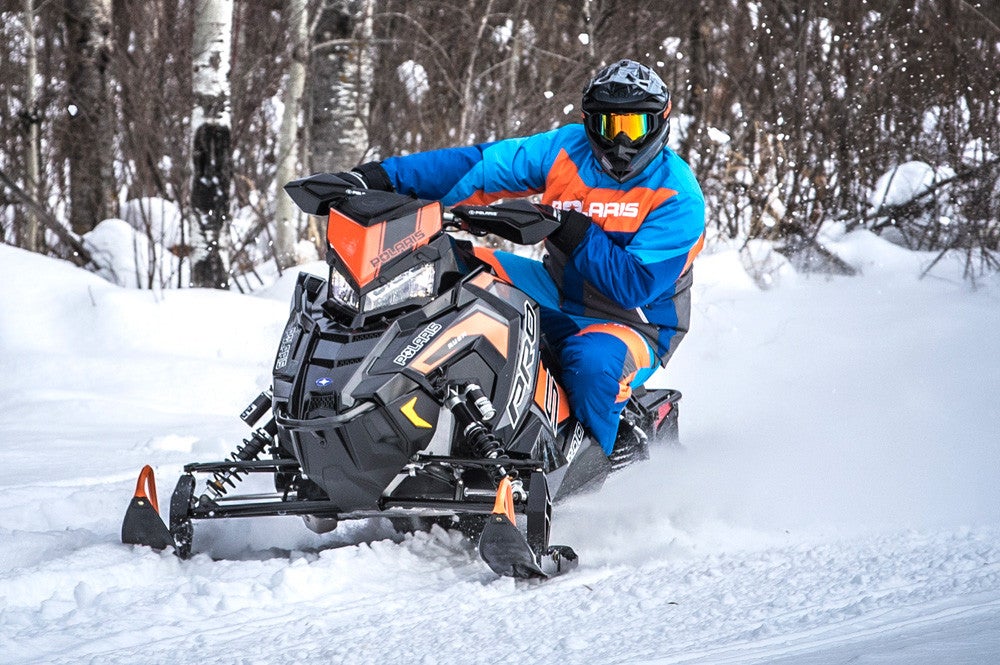 Arctic Cat is no slouch in the suspension area either. Cat wins a lot of snocross races on sleds with suspension set-ups like the one found on the 2019 Arctic Cat ZR 8000 RR ES. The ZR comes with the Arctic Race Suspension System with a sway bar up front. Out back is a fully-adjustable Slide Action set-up with a torque-sensing Link rear arm. AC runs Fox Zero QS3R Kashima shocks all around, with 1.5s up front and 2.0 out back. How good is it? Well, another manufacturer came to AC to build its chassis and suspension systems, so you tell me. You can get the AC with either a 129- or a 137-inch long Ripsaw 1.25-inch track.
What Are You Waiting For?
Winter is upon us and it's time to get a sled if you don't already have one. If the 2019 Arctic Cat ZR 8000 RR ES gets your motor reving, head to your local AC dealership and see one for yourself. They come in Arctic Cat Lime Green and black and have an MSRP of $14,599. Check out the specs here.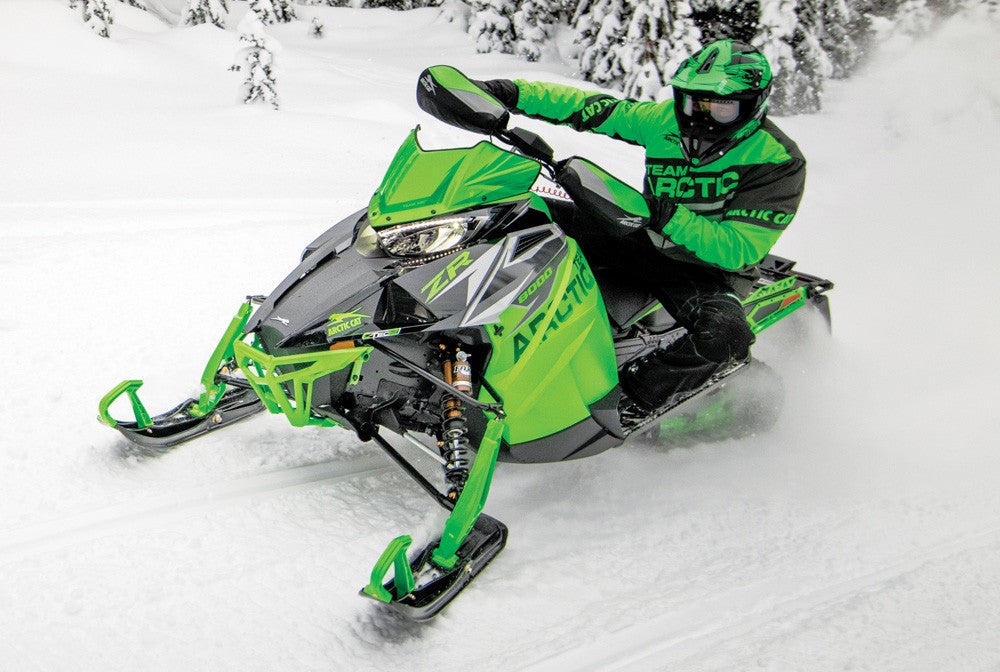 The 2019 Polaris 800 Rush Pro-S comes in black with orange, although there are multiple color options available through the year. Polaris is known for releasing some sweet color options and special editions as the season rolls along. You need to pop into your local Polaris dealership and see what they have on hand. The 800 Rush Pro-S has an MSRP of $12,499. Check out the specs here.