2022 Arctic Cat Snowmobile Lineup Unveiled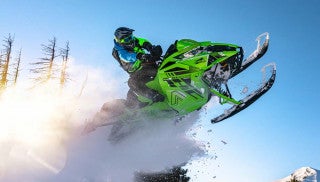 Cat celebrates 60th anniversary with new snowmobiles and technology
Arctic is celebrating its 60-year anniversary with a host of new and updated models in its 2022 Arctic Cat snowmobile lineup. All 2022 Arctic Cat models will include a commemorative 60th anniversary badge.
We'll get into details below, but the highlights are a turbocharged Thundercat with electronic power steering and a pair of new midsize Blast models, including the industry's first midsize touring sled – the Blast XR Touring 4000.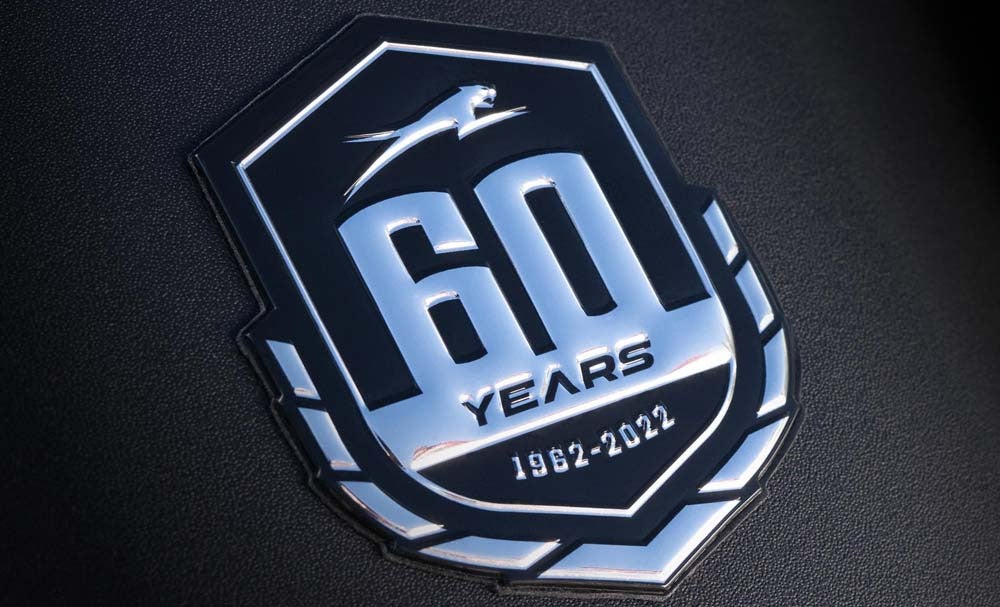 Also New For 2022:
All 6000, 8000 and 9000 sleds receive the new ADAPT CVT System by Arctic Cat for upgraded performance and serviceability.
The crossover lineup is offering a RIOT 8000 and RIOT X model with Arctic Cat's adjust-on-the-fly ATAC suspension system.
The M 8000 Hardcore ALPHA ONE adds a 146-inch x 2.6-inch lug track model.
The M 8000 Mountain Cat ALPHA ONE 154 receives ATAC on both standard and electric start models.
2022 Arctic Cat ZR 9000 Thundercat and ZR Trail Sleds
Arctic Cat's ZR 9000 Thundercat is a performance snowmobile through-and-through, which Cat calls the fastest stock sled available. For the 2022 model year, this turbocharged Thundercat is offered with variable assist electronic power steering (EPS) that provides higher assistance at lower speeds to make it easier on the rider and decreased assistance at higher speed to better feel and react to the terrain.
"The system makes the 2022 Thundercat nimble and more comfortable so it can scream down the straightaways and control the curves with less rider fatigue," Arctic Cat says in a release.
Powering the Thundercat is Arctic Cat's biggest, most powerful engine. The 9000-series C-TEC4 turbocharged three-cylinder 998cc engine delivers 200hp-class performance at 8750 RPM.
Further, Arctic Cat is offering an EPS Thundercat model with the brand's ATAC on-the-fly suspension. Here is how Arctic Cat explains how ATAC works: "ATAC uses a thumb-operated button on the left handlebar to control the FOX ZERO iQS rear-track shock and the ski shocks. With a push of the button, the rider can instantly switch between three factory compression settings — soft, medium and firm — in under 0.5 seconds. The system also allows for two distinct settings — Driver 1 and Driver 2 — to customize two riders' calibrations between front and rear shocks. The result is optimized suspension performance for varying conditions and riding styles. ATAC also automatically adjusts shock calibration when the machine is set to reverse for optimal handling while backing up."
The two EPS models are joined by a standard 2022 Arctic Cat Thundercat. All three come in Dynamic Charcoal.
As for the rest of the 2022 Arctic Cat ZR trail lineup, check out this info from an Arctic Cat release:
ZR 6000/8000 LTD
Riders who want a 2-stroke trail experience with additional premium features and easily adjustable suspension calibration can opt for two different shock packages on the LTD models, the manually adjusted FOX® QS3 or adjust-on-the-fly ATAC package with FOX iQS shocks. The ZR 6000/8000 LTD models come in Green or Orange.
ZR Race Sleds
The ZR line of race sleds includes the race-replica ZR 6000 and 8000 RR. The snowmobiles feature competition-calibrated components such as FOX ZERO QS3R Kashima-coated shocks providing quick adjustability, a premium Kashima coating, and adjustable rebound control; hand guards; 5.5-inch race-height windshield; and LED headlights. The ZR 6000 and 8000 RR have an adjustable 42- to 43-inch ski stance and are available in Green.
2022 Arctic Cat Blast Lineup
The midsize Arctic Cat Blast lineup (Blast M 4000, Blast ZR 4000 and Blast LT 4000) was released one year ago, offering some exceptional value for snowmobilers. For 2022, a pair of new additions to the lineup have been unveiled – the BLAST XR 4000 and the BLAST XR Touring 4000.
"The new Bl;ast XR 4000 is a versatile, fun sled for the trail rider who occasionally likes to explore off-trail, while the Blast XR Touring 4000 provides an enjoyable ride for two," Arctic Cat says in a release. "The sleds' slide-rail suspension with dual shock and adjustable torsion springs provides 12.5 inches of rear travel to conquer anything on- or off-trail. The Blast XR 4000 features a 146-inch Cobra track with 1.6-inch lug to handle a wide-variety of riding conditions while the Blast XR Touring 4000 has a Ripsaw with 1.25-inch lug for excellent trail performance. The touring model also includes overload springs to accommodate the passenger. Up front, the Blast XR 4000 has a 37.5- to 38.5-inch adjustable ski stance, and the Blast XR Touring 4000 features a 39.5- to 40.5-inch adjustable ski stance with sway bar for added stability. The Blast XR 4000 comes with a 4-inch windshield while the Blast XR Touring 4000 has a 15.5-inch-high windshield."
Every Arctic Cat Blast snowmoible is powered by the industry's first electronic fuel-injected, single-cylinder, 2-stroke engine. "The 65+ horsepower-class C-TEC2 4000, 397cc engine has both plenty of snap for the experienced rider and smooth power delivery for a new rider. For easy backing, the sleds also feature electronic engine reverse at the push of a button," Arctic Cat says in a release. "The models feature the proven Arctic Drive System with a CVTech Trailbloc drive clutch and CVTech Invance driven clutch to deliver power to the snow."
Along with the engine, a midsize chassis sheds weight and is designed for easy maneuverability for just about any rider.
2022 Arctic Cat Mountain Lineup
The Arctic Cat Mountain lineup is built around the innovative Alpha One single-beam rear suspension, and that remains true for 2022. What is new is a 146-inch track Hardcore Alpha One, which is designed to provide a "more playful and agile ride." As well, the Mountain Cat Alpha One 154-inch is available with the ATAC adjustable on-the-fly suspension system we discussed above.
Powering both the Mountain Cat Alpha One and Hardcore Alpha One is a 165-horsepower class Next-Gen C-TEC 8000 794cc engine. New for 2022, the M 8000 snowmobiles now feature the new Arctic Cat ADAPT CVT, which is designed to "deliver better performance and serviceability."
"With a lighter-weight, narrower design, and an advanced idler system, ADAPT maintains constant belt tension throughout the ride—resulting in minimized wear and longer belt life," Arctic Cat says in a release. "The system also features lower inertia giving it quicker throttle response for more-consistent performance.
"The M 8000 models feature a 154-inch or 165-inch Power Claw track featuring a single row of track windows. The Mountain Cat is available with a deep-powder 3-inch lug while the Hardcore has 3-inch or 2.6-inch lug options. For 2022, a third track option, a 146-inch with 2.6-inch lug, is available on the Hardcore. All Alpha One Power Claw track designs bend and conform to the snow, whether the sled is on a side hill, flat surface or going straight up the mountain. With maximum side flex, riders can maneuver the sled and carve tighter circles than conventional snowmobiles are capable of. The suspension is light and stiff, allowing the track to flex and follow the contour of the snow and riding surface."
2022 Arctic Cat Riot Lineup
The Arctic Cat Riot lineup of crossover snowmobiles returns for 2022. The Riot X retains the Alpha One single-beam rear suspension for deep-snow performance it received last year. What is new is both the Riot 8000 and the Riot X are now available with ATAC On-the-Fly Suspension System.
Additionally, all Riot models also received the new Arctic Cat ADAPT CVT System for improved performance and serviceability.
2022 Arctic Cat Norseman X 8000
The Arctic Cat Norseman X 8000 Utility snowmobile returns mostly unchanged for the 2022 model year.
"The Norseman X 8000 is powered by the proven C-TEC2 2-stroke, 794cc 8000-Series engine that provides the grunt needed to get the job done," Arctic Cat says in a release.
The only addition to the Norseman is the new Arctic Cat ADAPT CVT System.
2022 Arctic Cat Youth Lineup
Finally, the Arctic Cat Youth snowmobile lineup returns for 2022 unchanged. Two models are available for younger riders – the ZR 120 and ZR 200.
The ZR 120 is designed for the smallest riders and is powered by a 123cc single-cylinder engine that is speed governed to 8 mph.
The ZR 200 is made for larger kids (13 and older) and comes equipped with a 192cc single-cylinder engine that has enough oomph so kids can hit the trials with mom and dad.