Arctic Cat Offers Ultimate Windscreen Options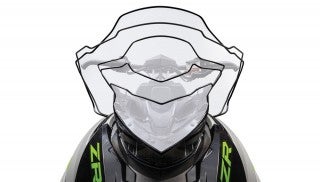 Windscreens can make or break a day of riding.  Arctic Cat is offering ultimate windscreen options for all riders.  Whether you prefer ultra-low, the high touring style, or something in between, there is a windscreen for all.
Here is what Arctic Cat had to say about their new windscreen options:
The latest selection of Arctic Cat Windscreens offers updated shapes and styles for every rider preference, style and weather condition. Choose from seven different shapes in five different heights, from minimalist Extreme Low screens to Mid-Height options with hand protection, plus the full wind-busting High Touring styles. Each windscreen is made to exact specifications for recent model snowmobiles. They're constructed from tough, high-quality polycarbonate for long-lasting durability in the widest range of temperatures. Multiple graphics and colors offer custom style accents to your favorite snowmobile. The MSRP starts at $49.95 U.S./$75.95 Canada.
These and other new Arcticwear items are available now at Arctic Cat Store.