Fast Snowmobile: 0-60mph in 1.1 Seconds + Video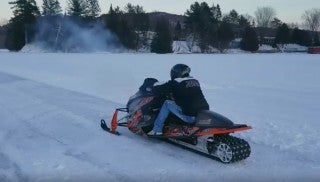 You've built a fast snowmobile when it does 0-60 mph in 1.1 seconds.
Computer, ignition, and fuel technologies have fast forwarded snowmobiles, literally. Turbo 4-strokes have been breaking records for et's (elapsed times), top end speeds, and evolving the snowmobile drag racing scene. Case in point, the crew from Turbo Dynamics Canada have tuned and dialed this sled to an astonishing 0-60 mph in 1.1 seconds. While we wait for the first 4-cylinder, direct injected, turbo 2-stroke to arrive we'll continue to enjoy videos like this.