Snowmobile Watercross Racing on a La-Z-Boy Recliner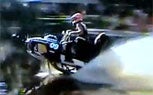 Surely this isn't what Joseph-Armand Bombardier had in mind when he built his first snowmobile.
A quick YouTube search found one gentlemen who decided to strap a La-Z-Boy recliner to the back of his Ski-Doo and take it for a spin around the lake! Not many of us are willing to risk our sled by riding across a body of unfrozen water, but how many of us can say they've done so while seated comfortably in their favorite chair?
Check out the video of this snowmobile-MacGyver in action after the jump.
Get the Flash Player to see this player.