Find Great Deals on Ramps, Dollies, Stands and More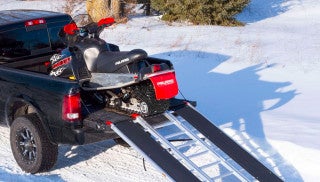 Get ready for the end of snowmobile season
The 2018/2019 winter has been another one for the record books. Tremendous snowfall across North America has meant one of the most epic snowmobiling seasons in recent memory. Now spring is around the corner and with it comes the time every sled head dreads – the time to put away the snowmobile until next winter. That doesn't mean you have to go down without a fight. There is still plenty of time to load up the machines on a trailer and go looking for snow. With a winter like the one we've had, you sure to find it, too. Might as well save some green stuff while you look for the white stuff too.
Black Ice Tri-Fold Snowmobile and ATV Ramp – 21% Off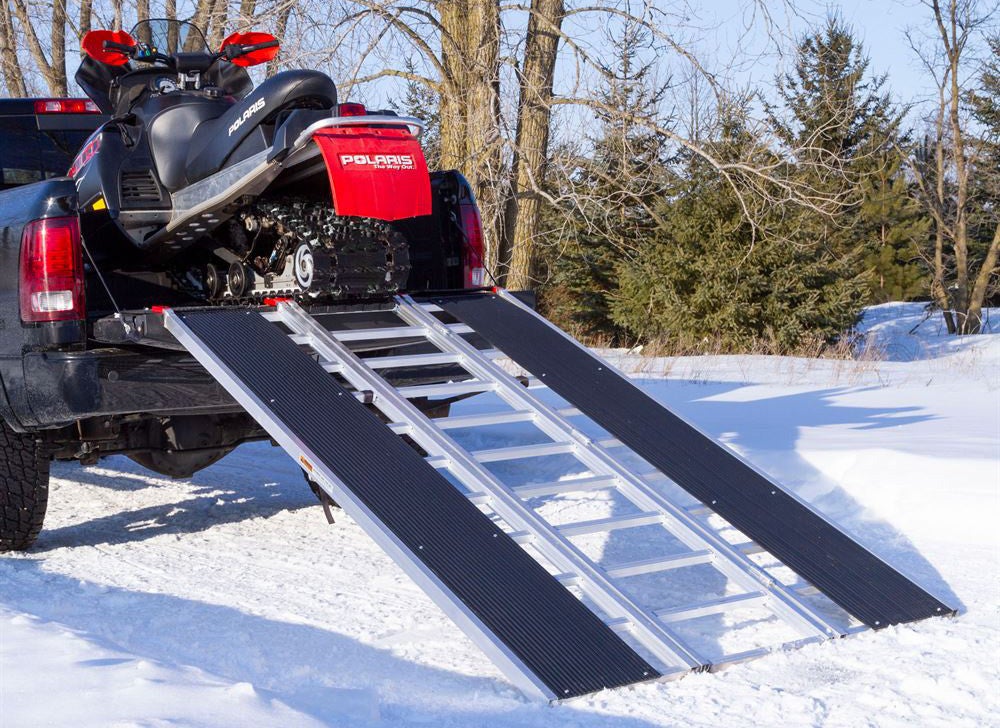 One of the tricky issues with loading a sled onto a trailer or in your truck bed is that standard ramps don't work. You need a snowmobile-friendly ramp to get both skis and the track up at the same time. A single ramp works best. At 7′ 10″ long and 54″ wide, this tri-fold aluminum ramp is perfect for snowmobiles and ATVs. It has a 1,500-pound capacity and folds down to just 17.5 inches for easy transport to and from your riding destination. The outer panels have ski guides for easy loading. There are rubber-coated attachment points and two cam-buckle straps to secure the ramp for use. You don't have to use the straps though. In fact, your buddies would probably appreciate it if you didn't so they could rack up some views on their YouTube accounts when the video they take of you smashing your new sled into the back of the truck because the ramp slipped out goes viral. That's what friends are for, right?
Shop for a Black Ice Tri-Fold Ramp
Black Ice Snowmobile Stand – 20% Off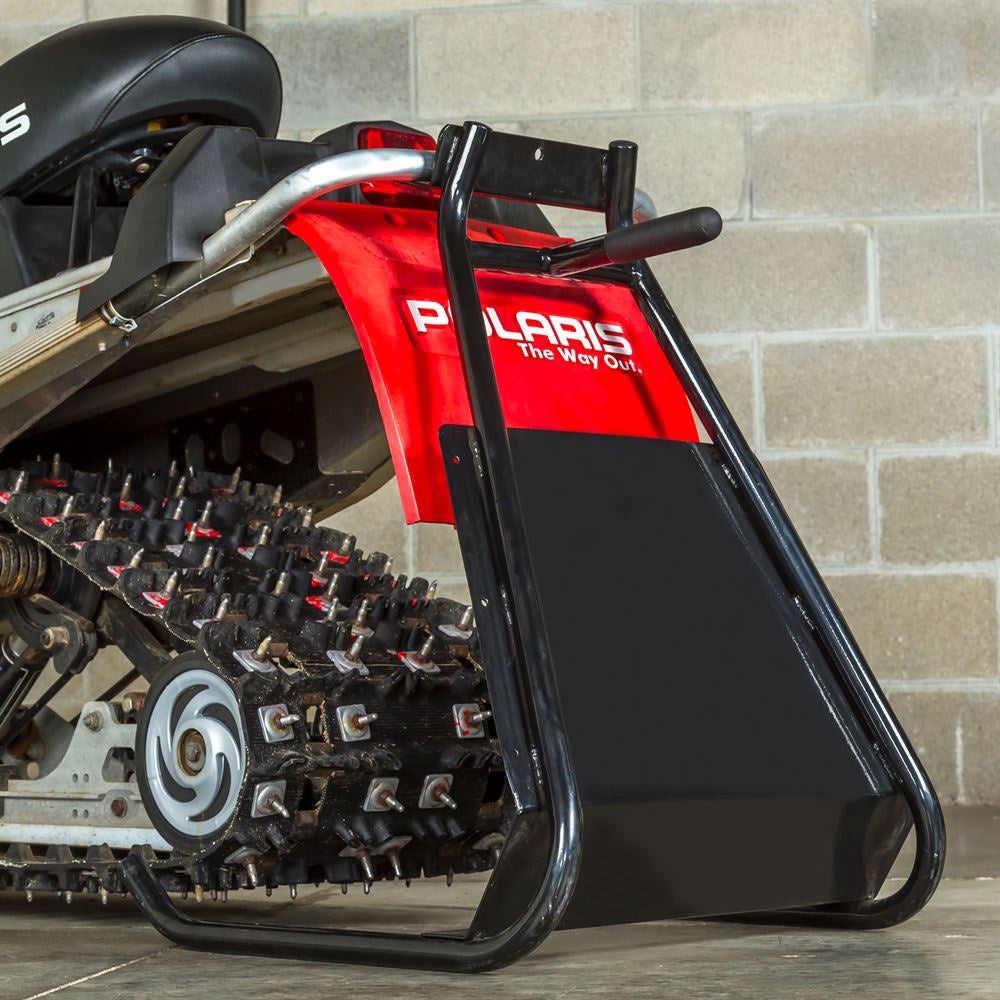 A good, heavy-duty snowmobile stand can save you a lot of headaches. During the off-season, you can use it to keep your sled's track up and off the garage floor, saving some wear and tear on it. During the season, it makes a great tool to help you warm up your sled. It has a debris shield to help contain anything that wants to go flying off the back of the track as you warm it up. There is at least one shop owner who wishes no one used these. He makes a ton of money off guys who do overnight snowmobile trips late in the year. They park the sleds next to the trailer overnight and the wet, slushy snow refreezes and the owners try to just power out of it in the morning rather than free it up first. Belts tend to cost three times as much when you need one brought to you. A cheap and effective stand makes that a non-issue.
Shop for a Black Ice Snowmobile Stand
Black Ice Hitch-Mounted Snowmobile Swivel Hoist – 15% Off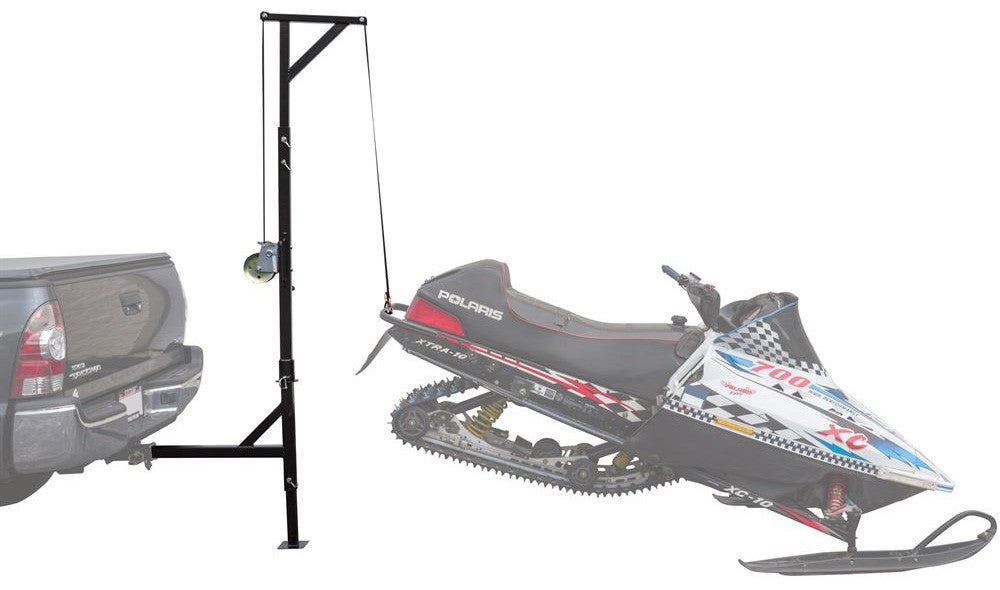 Ever see a bunch of guys piled around an obviously broken-down sled on the trail as they are lifting and trying to hold the machine up so one guy can bravely try to crawl under it and fix something? Ever been that guy? You can go from zero to hero in no time with a hitch-mounted hoist. As long as you can back your truck up close to the sled, you can hoist up one end and either do maintenance work around your garage, or fix something while out on the ride. This one has a 500-pound capacity and swivels around so you don't have to be perfect. An adjustable foot helps secure things and add stability. A hand crank helps quickly and securely ratchet things up. It's a really handy tool to have on hand for your own use, and if you use it to help your buddies, or others along the trail, it'll pay for itself in good karma and beers at the lodge in no time.
Shop for a Black Ice Swivel Hoist
Black Ice Drivable Snowmobile Dolly – 20% Off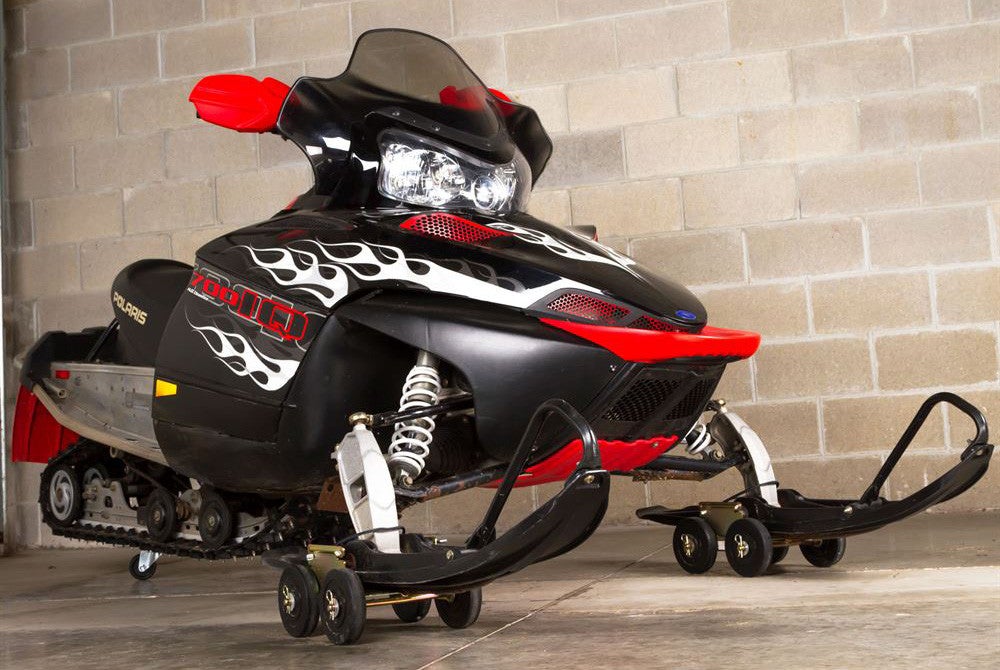 When the inevitable arrives and it comes time to put the snowmobile away for the spring and summer, you want to do it right. It is no secret that getting the track and skis up and off the cement floor in your garage is best for the longevity of the materials. Using dollies under the track and the skis helps keep them up and clear, and it also makes it much easier to move the sled around in the garage during the summer. Anyone who has tried wrestling a sled around on bare concrete can attest. Drivable dollies add another layer to function. These zinc-plated steel dollies have cable attachments that snug around the skis, so you can power up your sled and drive it across the pavement, grass or gravel at speeds up to 5 mph to move the machine around. The track dolly can be put back in place when you've stopped. It rotates 360-degrees, making it easier to get the sled positioned for the summer months.
Shop for a Black Ice Snowmobile Dolly
Black Ice Deluxe Snowmobile Jack with Winch – 25% Off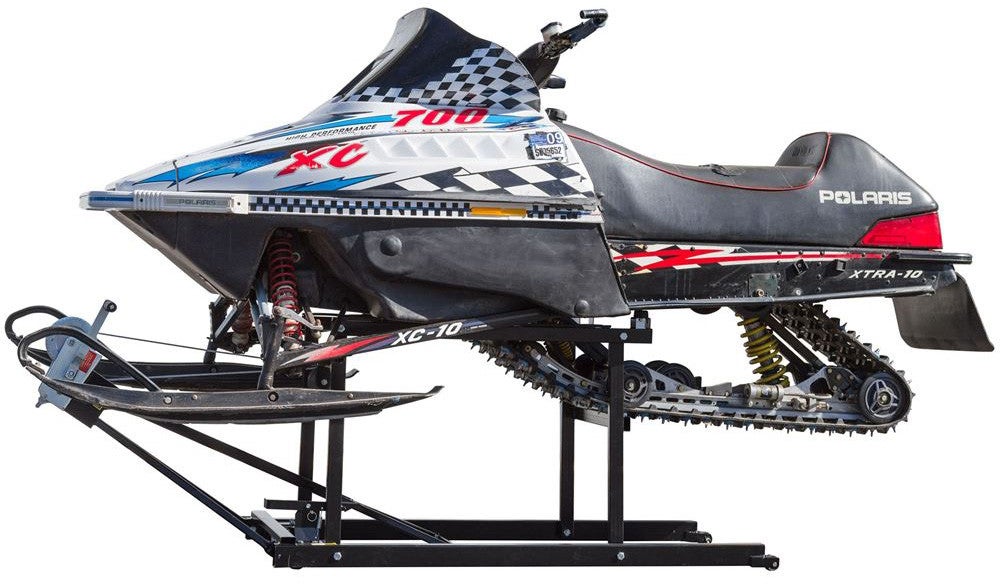 The ultimate way to store your sled or work on it is to use a jack. Made from steel tubing, this one supports up to 700 pounds and has a locking, hand-powered winch to help easily hoist your sled up 28.25 inches off the floor of your shop. Rubber-coated contact points protect your machine and 1-5/8 inch wheels make moving the jack easy.  A foot-operated safety latch keeps things from crashing down on you in the event of a winch failure. This makes it easy to store the snowmobile for the summer, do routine maintenance work on it, or as we would do, make some modifications to help surprise your buddies on the next ride.
Shop for a Black Ice Deluxe Jack and Winch
We are committed to finding, researching, and recommending the best products. We earn commissions from purchases you make using the retail links in our product reviews. Learn more about how this works.