Take the Heat with Engine Ice Snowmobile Coolant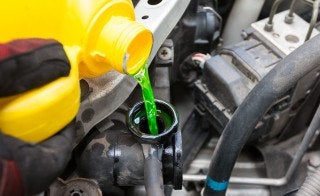 It doesn't matter what type of performance machine you're running – from burly off-road weapons to dedicated quarter-mile monsters – heat is often the enemy of performance. And you need the best Snowmobile Coolant you can get. Being able to manage and dissipate the massive amount of temperature generated by hi-po engines can make the difference between a fun day at speed and limping home on the deck of a flatbed truck.
Especially for snowmobiles, believe it or not. Yes, most of us tend to run our machines even when surface temperatures reach that generally found outside Santa's doorstep or inside the Grinch's heart. Guess what? It doesn't matter. The engine inside your high performance snow machine is going to generate heat even if the mercury has dipped into that little bulb on the end of your thermometer. You need to manage those engine temps to ward off mechanical problems and extract the maximum amount of performance from your snowmobile, and you did that with an amazing snowmobile coolant.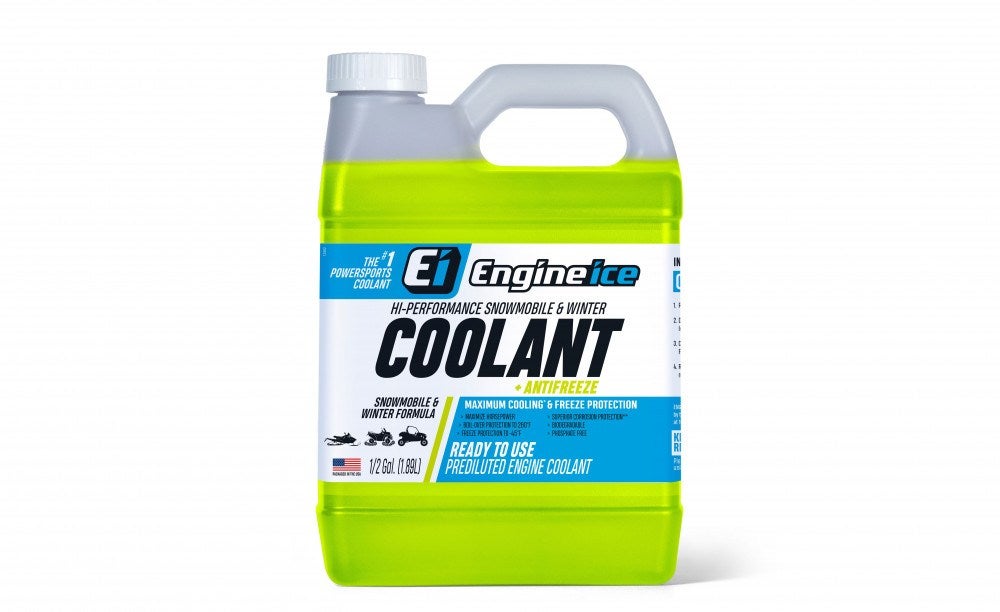 Engine Ice just the product for that job. Engineered and produced right here in America, it provides superior heat transfer to maximize horsepower output in all types of powersport vehicles – including those with skis and a track. After all, a good many of us like it when Old Man Winter comes calling, but there's no denying that our powersports machines require both extreme protection from freezing and the ability to dissipate heat after running at Vmax for hours on a frozen lake.
Performing both of these tricks, which reside on opposite ends of the thermal scale, is no small matter. Fortunately, the crew who've created Engine Ice have plowed plenty of research and development into finding the perfect formula, giving riders the best of both worlds. With boil-over protection to 260 degrees Fahrenheit and freeze protection to -45 degrees Fahrenheit, Engine Ice has you covered.
Pre-mixed to save you time, Engine Ice is available in an easy-to-use and convenient 1/2 gallon bottle, meaning there's no excuse for not packing a container of this stuff in with your spare belts and bogie wheels. When you're hitting up the quarter-mile ice drags or heading into the woods on a groomed trail, the last thing a rider wants to worry about is the engine coolant in their machine. Engine Ice is just the ticket for a worry-free day of fun or competition.
For those of you who fell asleep in science class, we'll inject a note about freeze points. If a person were to take leave of their senses and use straight water in their snowmobile, at 32F that liquid would freeze like ice cubes in your freezer. If you've ever put a bottle of beer in your freezer to rapidly chill the brew only to forget about it until several hours later, you know that ice expands. If this happens inside the engine and cooling system of your snowmobile, it could lead to cracks and splits in metal and hoses.
By adding a product like Engine Ice to the mix, this freezing point changes, permitting the liquid to flow at winter temperatures generally experienced by most parts of the country. On the flip side, the superior heat transferability of Engine Ice coolant and antifreeze will evacuate heat developed by your machine's engine, keeping horsepower and performance consistent during your entire adventure. As a bonus, its corrosion protection will ensure you make it back home from the wilderness.
In fact, Engine Ice is the only powersports coolant to employ a dedicated technical and R&D team. This enables the company to control the entire process from start to finish – from development to production – ensuring that riders get the best coolant/antifreeze technology and performance available in powersports. In fact, their unique formula actually performs best under challenging conditions like the high-heat monster engines found in today's performance sleds. It's not an idle boast when Engine Ice claims that the bigger the horsepower and more extreme the work, the better their product performs.
Interested? As a gearhead who cares about their sled, of course you are. You can find Engine Ice and related products on their website or ask for it at your favorite parts store. Be sure to check them out on all their social media platforms where they often profile their products and racers who use them.
---
We are committed to finding, researching, and recommending the best products. We earn commissions from purchases you make using the retail links in our product reviews. Learn more about how this works.