4 Interesting Ways to Tow Your Snowmobile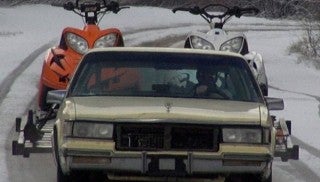 Who says you need a truck for towing
Let's face it, snowmobiles are expensive and owning one (or two…) sometimes means cutting back on what some folks would consider necessities. One such necessity is a truck for towing your sleds to the trail. For those of us not in a position to pick up a new F-150 for tow duties, all it takes is a little inspiration and ingenuity.
Sled Caddy
This may not be what Cadillac had in mind when designing the car, but who are we to look down on somebody getting to the trails in vintage Cadillac style.
Roof Top
While innovative, we'd imagine the long arm of the law may have some questions about safety with this interesting sled carrier.
Sure it Fits
When loading a sled onto your roof is too inconvenient, you can always just shove it in the back.
Good Use of a Log
Since your sled is probably longer than the roof of your car, a log of just the right height will even things out.