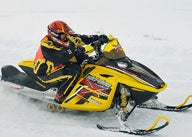 Which modern sleds will become vintage classics?
When you were in school was there ever a certain car or truck that made you say, "Some day I'm going to have one of those?" Now that you're older and wiser have you ever seen a copy of that "some day" car on the streets and smiled, reflecting on how important it seemed back in your day? Then, you noticed that your "some day" car carried classic or vintage car plates. Where did the time go? That was the car of youth. How could it be so old?
Just as with cars and trucks, "some day" status happens with sleds. When a fellow journalist, albeit a younger one, told me about his classic sled, I smiled because I held warm remembrances of it when it was first introduced and I had test ridden it, back in the day. But that "day" had been 30 years ago! Guess that makes me vintage, too.
VIEW: Choosing a Vintage Racer
Most of us will have a "back in the day" experience of some sort. When you watch the Barrett-Jackson auto auctions on television, you can recall many of the cars just as when you attend a vintage snowmobile event you can remember something about the displayed sleds. Maybe you had one – or your father or your grandfather. There's a personal history and it's something you want to retain. That's what makes vintage sled events so popular. You aren't about to give up your REV or RMK, but you do like the memories that vintage classics revive in your mind.
Snowmobiling breaks down those memories into two distinct eras, the really old and the old. The Antique Snowmobile Club of America (ASCOA) started with sleds that truly represented the earliest days of the sport. They will include restored hard-to-find Eliason models sporting original Indian motorcycle engines for power. There will be many varieties of Polaris Sno-Travelers and early Arctic Cats, most with rear-mounted engines. The ASCOA membership helps maintain the sport's early history through the snow machines of a distant era.
ASCOA's stated purpose "…is to preserve and restore the early snow machines and to help promote wider acquaintances, closer relationships and to aid members in their preservation, restoration and demonstration efforts." As defined by ASCOA, an antique snowmobile is a 1968 or earlier snow machine.
The Vintage Snowmobile Club of America caters to a membership that works and plays with sleds that are 25 years or older. In Minnesota, for example, by legal definition a collector snowmobile "… is a snowmobile that is 25 years old or older … and owned and operated solely as a collectors item." Under that description, owners can obtain a non-expiring "collector" registration for US$9.50. That compares to a US$78.50 fee for a normal snowmobile trail use registration that must be renewed every three years.
VIEW: Quirky Snowmobile Ideas
Under the vintage definition, any snowmobile built before 1989 could qualify as antique, vintage or collector status. To us anyway, many of those 1989 snowmobiles don't seem so old. They had long travel suspensions, comfortable ergonomics (for the day!) and a high degree of reliability. In fact, those 25-year-old models really weren't all that different from modern sleds, which also have long travel suspensions, heated hand grips, modern two-stroke engines and the like.
As the calendar rolls on, what will be the "must have" collector sleds for the future? What modern sleds might become vintage classics in a quarter century? It's not that far away after all!
As we look at today's sleds we can readily predict certain models as instant collector sleds. Ski-Doo's original 2003 REV models should be popular and "must have" models for 2028 collectors. This was the sled with its "ride-forward" positioning that reinvented how we ride. Ironically, that one ergonomic change transformed a so-so handling and riding sled into an overnight sensation. The REV featured the same rear suspension used the previous season, but because the rider moved forward and could use his legs and knees to respond more quickly to trail bumps, the REV ride seemed so much better. In actuality the suspension, which had seemed barely adequate to us, barely changed, but now the rider sat ahead of the rear axle, not over it where the big bruising bumps tended to hit. All components being pretty much equal between the pre-REV and the ride-forward REV proved dramatically the genius of ride-forward and centered mass for snowmobiling. The REV will be an instant modern "Vintage" classic.
We also like Arctic Cat's F7 Firecat as instant classic 25 years out from now. The earliest versions had their inconsistencies, but this sled with its fuel-injected 698cc Suzuki two-stroke was one of the hottest sleds in its day. It was light and nimble, set low and featured race-proven suspensions and the curved hook handlebars that have become an Arctic Cat standard. The Firecat gained such popularity with Arctic Cat owners that it nearly killed the first-year Arctic Cat Jag with its multi-position seat, handlebar, footrests and four-stroke motor. Cat owners just simply wanted more Firecat and less of anything else that wasn't a Firecat. Future collectors most likely will recognize the merits of this model and give it instant classic status.
VIEW: Snowmobiling's Decade of Change
Sorry, Polaris, but in about two decades, the Fusion fiasco will be forgotten and that 900cc experiment will be an in-demand collector sled. We predict that the much-maligned Indy replacement gains collector popularity simply because of what it tried to do, whether successfully or not. Collectors will want the early 2005 Fusion 900 because it was the bridge between the Indy series and the Pro-Ride models of today. The engine was Polaris' own design and it brought Cleanfire injection with it. The sled also transitioned Polaris models from IFS front ends to double A-arms. It attempted a ride forward design and pioneered multi-position handlebars. As well, it evoked a totally unique style that you'd love or hate, which means the earliest Fusion models will hold the most value for collectors. This model will be THE killer Polaris collector sled in 20 years or so. Who would have thought that back in the day?
As for modern classics, we predict that the 2014 Yamaha Viper, virtually any of them, will be historical pieces in 2039. Obviously, this is a totally unique model whose value can only be determined by history yet to come. If the Yamaha-Arctic Cat hook-up is brief, the value should be greater, but regardless, the significance of the Yamaha Viper with its Arctic Cat underpinnings makes this model of collector interest. It provides a collector with a sled of unique history. It represents a snowmobiling first as two successful manufacturers combine strengths that benefit Yamaha more than Arctic Cat. Arctic Cat gains a clean-burning, reliable four-stroke engine while Yamaha gains a completely new, yet proven, entry into performance snowmobiling. While the Viper represents something of a gamble for Yamaha, it also provides a shortcut to regaining sales to trail performance riders who recognize the value of the Yamaha four-stroke drivetrain and the proven Arctic Cat chassis and suspension. As a collector sled, the 2014 Viper should be of the most value as in 25 years, due to this season's limited availability, there most likely won't be that many available, although we bet most will run like, well, they'll run like Yamahas! This may be one of the most prized collector sleds of the future, as prized as finding a vintage lightweight 1976 Yamaha SRX 440 two-stroke.