Will Blair Morgan 7c Return to X Games Aspen for 2018?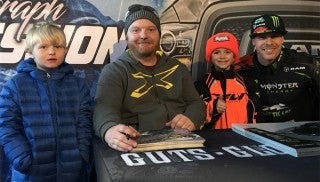 The number 7c of Blair Morgan is already a part of snowmobile history and he's about to again, by returning to compete in X Games Aspen 2018!  Watching this Rockstar OTSFF Racing video on Facebook gets us excited to see him race a Snow Bike there.
Team Manager and Crew Cheif Steve Simms at OTSFF took a few of his busy minutes to speak with us about Blair's program to run Adaptive Class.
Snowmobile.com:  How did this program happen?
Steve:  Well, Blair was invited to Winter X, so he spoke with Andre Laurin owner of OTSSF and Andre wanted to help get him there. We reached out to Yeti and they sent us a couple of track kits and Yamaha helped out with the bike. Jason Burke and I built the cage this past weekend and it's now at Henderson's Powdercoating.
Snowmobile.com:  What other special parts are you using on the build?
Steve:  We've added an electronic shift kit from Screaming Demon Motorsport in Alberta which is a push button shift on the handlebars.  And if you don't mind we'd like to mention that Fly is outfitting Blair with gear, and FLU Designs is providing the graphics.  There may be more support coming too.
Snowmobile.com:  Where are you building the bike?
Steve:  Bikes are being built at Rockstar OTSFF Yamaha race shop in Brampton, ON.
Snowmobile.com:  Thanks, Steve we'll let you get back to work!
Steve:  Merry Christmas and Happy Holidays!
We look forward to seeing 7c back on the track and wish him the best competing again.