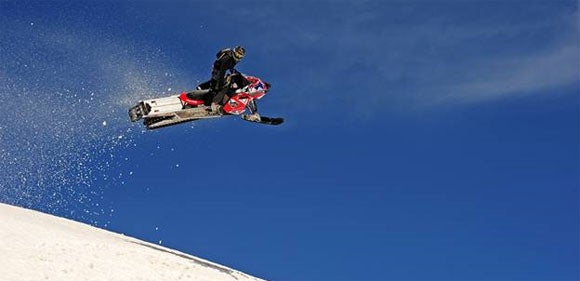 Backcountry snowmobile guru Chris Burandt may have wrapped up his on-snow adventures until this coming fall, but he hasn't been kickin' back doing nothing. In fact, Burandt has been plenty busy.
He tells Snowmobile.com: "…I've got some pretty cool things to throw out there for you all. First, the website has been re-done and I would like to say a big thanks to Dreamers Studios for doing a fantastic job on the site. The site is much more user friendly and has every little tidbit of information you may need. New pictures and some sweet helmet cam shots from this year are going up as we speak so be sure to browse around and check out all the cool new features at www.burandtsbackcountryadventure.com.
He also tells us that he will be selling his fleet from last year to make room for the 2011s. You can check out the 'Shop' section on the site for pictures, prices and details on all of the 2010's he's selling.
But Burandt is most excited about some big news! He says: "New for our guests for the 2010 – 2011 season, Burandt's Back Country Adventure is offering an exclusive riding area for you and you alone! Burandt's Back Country Adventure has gained 100 percent private access to 10,000-plus acres of some of the gnarliest terrain the Colorado Rockies has to offer. I have driven by this riding area hundreds of times always thinking how insane it would be to put some fresh tracks in this zone. Well, we've pulled some strings and now have the ONLY access to this incredible area. Not that we have ever had a problem finding fresh snow in the past, but Burandt Back Country Adventure clients will literally be exploring this zone with me in an area that snowmobiles may have never been before.