Snowmobile Industry Should Look Beyond the Numbers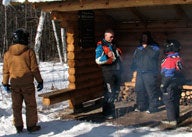 Snowmobiling remains alive...if you live it
Were we of the panic-and-blurt persuasion, one look at this year's final unit sales figures would make us question the long-term viability of snowmobiling. According to the International Snowmobile Manufacturers Association (ISMA), worldwide snowmobile sales topped out at 111,492 units. A decade ago more than 208,000 snowmobiles were sold worldwide. Last season saw sales of more than 147,000 units.
With such a drop in sales, why are we confident of the sport's health? For one thing, each of the surviving snowmobile manufacturers has become more diversified than ever. Snowmobiling has steadily declined as the number one source of revenue for most of the firms. Polaris snowmobiles once accounted for the vast percentage of revenue dollars, but today sled sales are but 12 percent of the sales pie. Parts and accessories comprise a larger slice of the Polaris sales pie chart at 20 percent. Arctic Cat has already acknowledged that it has become more a "wheeled" manufacturer than a "tracked" one. Ski-Doo is a player at BRP, but BRP's Sea-Doo and Evinrude divisions contribute more. And Yamaha branded sleds have been a small part of this powersports entity since before Mike Trapp beat Yvon Duhamel's Ski-Doo at the Eagle River World's Championship back in 1971.
The Yikes Factor
There is a "yikes!" factor involved here, though. In past decades when snowmobile sales slowed, there seemed to be a promise of much better days just around the corner. In those tough 1970s with its oil embargoes, all motorsport took a beating as people were more worried about having enough fuel to get to work, much less having a few gallons of gas to burn riding through the snow. Right now we have fuel enough to go around at nearly US$3.00 per gallon, but the general economy is in such flux that fuel prices can't compare to concerns about people having jobs and keeping their homes. The purchase of a new sled seems far less important right now to more basic concerns. And since most serious sledders have a winter ride, they can hold off another season or two until things get sorted out on the economic front.
Plus, folks have seen the price of new sleds and have done some simple math. Not to pick on Yamaha, but a base model Phazer will run just under US$8,300 and the most sophisticated top of the line Apex is priced just under US$15,000. This represents fairly comparable pricing for the other sled makers as well. Even our elementary math skills help us figure that paying upwards of 15 grand for a new sled and spreading out its use over a 12-weekend snow season comes to too much in tough times. We're spoiled because we usually can beg a ride for the winter, but if we couldn't, we'd opt into our winter passion with our five-year-old sled with low miles. Like most snowmobilers, we'd continue to ride, but we might cut back on our trips.
Challenging Statistic
It seems that ISMA detected a statistic a bit more challenging than sled prices or a reduction in unit sales. Overall sled registrations dropped more than nine percent last season. This is a serious development and while the economy can be blamed, it can't be the only factor.
As noted earlier, previous downturns in sled sales came as a result of economic and weather trends. Coming off the past season, we'd like to ignore some factors, but it's not a good idea. Lack of snow in key areas has always impacted sled sales — and will continue to play a role even now. But, the fact is that most areas key to sled sales had good to excellent snow.
Sometimes we wonder just how valid some of these statistical surveys tend to be that make their way into snowmobile "fact-dom." For example, there is the idea that snowmobiling is this wonderful "family" sport. Yeah, yeah, we won't go against that. It would be like saying that we spend too much money on educating our kids. There is a myth here and while the industry makes the claim of a family sport, the individual companies promote something quite different.
Family Sport?
If you open up one of the newest Ski-Doo brochures, you'll find high-flying, acrobatic snowmobilers blasting off snow-cased cliffs. Polaris uses spokes-rider Levi Lavallee of X-Games fame to showcase its 800 Pro-R performance, but to Polaris' credit, there is a large image of four under control trail riders putting on serious trail miles. Arctic Cat gives us an image with a pair of touring riders arriving in style. Yet, unfortunately, when the latest brochure highlights a Mom on an F570 and daughter on a Sno Pro 120 pulling up to a winter-bound cabin, the headline screams "Boredom" in big, bold lettering. Even though the smaller type reads, "The only thing left behind," do we want to be part of that scene? Didn't anyone at the agency preview the brochure and think that this might be a less than bright idea? Would Don Draper have settled for that?
Our thoughts for the past few seasons have angled toward a disingenuous use of survey results. Snowmobile retailers aim their marketing at the lone wolf not the family-friendly pack. ISMA itself promotes the idea that fully 94.5 percent of a surveyed group view snowmobiling as a family event. Yet, snowmobile sled marketing doesn't showcase that fact. Indeed, an Arctic Cat brochure devotes about six pages of its 48-page promotional content to what could be construed as "family-oriented" riding. Using rudimentary math, we arrive at a high of 12.5 percent of the brochure backing up the concept of snowmobiling as a family-friendly sport. And Arctic Cat's brochure appeared as one of the most family-oriented!
Age Relevant
Further, ISMA along with various surveys we've encountered over the years likes to promote the idea that snowmobiling has a 43-year-old average snowmobiler at its core. And then there is the promotion that 88 percent of all active riders are male with females making up 12 percent. Wow! There must be a lot of single heads of the family out riding if that family-friendly thing is spot on. Or, maybe snowmobiling is a better place for the divorced or otherwise single with kids head of family to get a date than online dating!
We bring all this up somewhat facetiously, but with a bit of irony as well. If snowmobiling is shrinking, there are reasons beyond the economy. Recently, at least, snowfall hasn't been a failure in traditionally healthy snowmobile areas. It may be that we need to look a bit more closely at the trending.
If the average age of a snowmobiler is 43, why are a seemingly growing number of people dropping out? If this is a family sport, why are the bulk of promotional dollars spent on lone wolf activities like snocross racing teams, backcountry extreme riding, etc? Yes, yes, yes… that's all extremely exciting for the younger generations who are (hopefully) going to grow into 43-year-old snowmobilers who will sustain the sport. But how is that working? Why isn't the fun-to-ride Phazer at eight grand or the Ski-Doo Freestyle the best selling models? These sleds were promoted as having youthful appeal.
Oh, goodness yes already. How can you make a trailside wiener roast with kids and real Moms, Dads and the Grands look as exciting as that image of a solitary snowmobiler blasting straight up a snowy mountainside?
When we rode with a core group of Minnesota snowmobile club members for a veterans' appreciation ride, we saw family-friendly, America Proud snowmobilers. They rode older sleds. They loved the sport. They supported the sport. But who knew? Unless you were on that ride — or one similar to it — your impression of snowmobiling was what you witnessed on the X Games or saw portrayed in a snowmobile brochure. And, it wasn't the reality that we experienced.
Maybe that has something to do with why sled sales are off and registrations are dropping. With unit sales at 111,492 and predicted to stay flat for the immediate future, the time may be at hand to revisit who is truly at the heart of the sport and give the sport a boost. A true boost, not a pretend one.
The sport is healthy and real with real-world snowmobilers. They intend to remain snowmobilers, but price is a concern. And so is an appreciation for the realities of the sport — the true snowmobile family and those who keep the trails, the real lifeblood of the sport, groomed. It's time to get very real.