Snowmobile Evolution Continues in 2012
It's a good year to be a snowmobiler
Story by Jerry Bassett, Photography by Jerry Bassett, Mar 08, 2011
We liked what we saw for Model Year 2012. Despite what various sled makers will want you to believe, all four makers offer sleds with exceptionally good ride and handling capabilities. They may go about it in different ways, but the end result gives us snowmobiles that should satisfy each of our particular riding preferences.
Ride quality gets serious consideration this season as Ski-Doo created a new for 2012 progressive action "rMotion" rear suspension that can be set to suit a big bump aggressor as well as an all-day sport rider. Polaris in year three of its outside the skid frame Pro-Ride suspension offers refinements that make this unique design much more versatile. The main difference between the Ski-Doo and Polaris suspensions will be availability. The Ski-Doo rMotion needs to be ordered this spring so you should check with your dealer for specifics. The Polaris Pro-Ride equipped units will be offered all season long, although if you want a special build unit, you need to get your order in soon.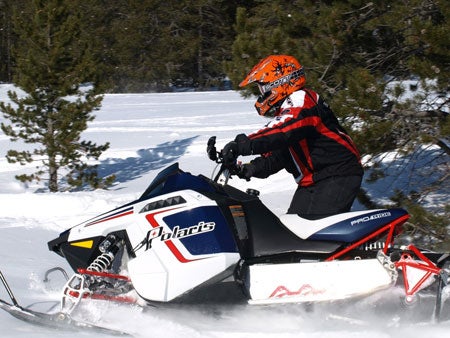 Obviously you'll find differences between the ways the two suspensions are built, but despite engineering differences they both serve you well. Keep in mind that each manufacturer will tout the merits of its design, which will be fine, but the bottom line is that they both work exceptionally well and, indeed, we don't see any snowmobiler coming up short with any of the new suspension designs.
Lock & Load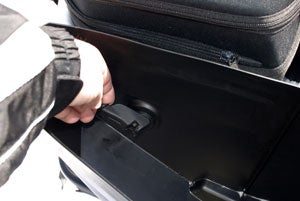 While the Pro Ride uses an outside the skid frame shock design, Polaris can think inside the box, too. Its "adventure" concept sport touring sled, which is based around a 600cc engined Switchback model, features quick-mount "lock & ride" storage bins attached to a cleverly designed rear rack system that can incorporate a tour pack. In motorcycle parlance this sled, the Polaris Adventure, would be referred to as a "bagger." While the Adventure model offers many nice-to-have standard features like electric start, wide windshield and more, you can get the "lock & ride" rack and packs for almost any 2012 Switchback model. This had to be Polaris' answer to added storage as the Pro-Ride models have an abbreviated tunnel and, thus, no area to package a tunnel bag or rack like a Ski-Doo GSX or Yamaha Vector.
In model year 2012 expect to see the new breed of 800cc twins dominating the trails. There will be 600s offered, but even we have come over to what we once considered the dark side of performance motors. These modern 800cc twins give us the trail doodlers' low end and midrange attributes but add ferocity for blasting full power across a long snow covered lake or shortening the mile length of a straight ahead corridor lane. The old style 800s operated like light switches, either on or off. This new breed is efficiently controlled via computerization and precisely metered fuel injection to give us the most docile aspects of a 600 with the thrill of an 800. We like this new breed and expect more snowmobilers to ante up for them when given a choice.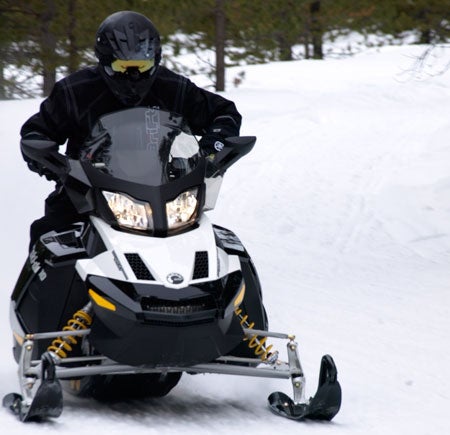 Just as we've been slow to drop our 120-horsepower 600cc caliber powerplants in favor of the 150-hp plus 800s, we've been reluctant to admit that the "stretch" track models like the Yamaha XTX, Ski-Doo Renegade and Polaris Switchback might have advantages versus the 120-inch short trackers we've favored. When you add 30-plus horsepower to a sled, it can be nice to have extra traction coming off a turn.
Hard Riders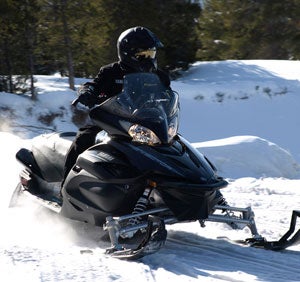 All snowmobilers ride hard or, at least, that was what we concluded after watching a 30-minute video presentation of Yamaha owners telling how they used their sleds. It is rare that a serious snowmobiler sees himself as anything but a hard or aggressive rider. So, when such a rider opts for the stretch track version of a particular sled model, it has to be that the stretch track bridges trail chatter and allows the rider to venture off trail to explore. In our case, we admit that we don't ride as hard as when we were younger and that opted to ride a 160-hp sled, we wanted more track patch on the snow to give us more control under full throttle acceleration and for holding a turn a tad longer when working a set of esses in the woods. When measuring actual on snow track length between a 120-inch short track sled and a 136-inch stretch track model, we found upwards of eight more inches of track holding the snow surface. That's more grip and bite for cornering with the longer track. It's more reaction time to control the sled out of a turn.
Model Year 2012 continues the evolution of the snowmobile. Our thought after test riding the newest models was simply that there is a sled for every riding style and that this latest breed of sled is truly quite an accomplishment. You will find more evolution in this crop of models. The powertrains have evolved from loud, cantankerous creations to ones that smoothly deliver their power. The latest iterations of two-strokes reflect serious engineering that makes them quieter and cleaner than ever before. The four-strokes get to perform in lighter and tighter chassis that give snowmobilers improved handling and ever better ride quality. We find that evolution includes things that we would never have considered as nice-to-have just a decade before. We expected hand and thumb warmers. But did we expect we'd find and like heated seats? We expected storage in the back of the seat, but did we foresee packs that can be added without tools? What of the power systems? High horsepower? Of course, but high horsepower that is docile?
Model Year 2012 brings us choices and now we can nitpick over minor details because the big details work. Each snowmobile manufacturer views its part of the snow world in its own unique way and every new sled reflects high quality engineering that stands above the sleds of the past. This new breed of sleds is truly quite something. You'll have your favorites and you'll prefer one brand over another, but after attending such new product events for more decades than we'll admit, 2012 gives us a grouping of snowmobiles that is as good as any we've ever imagined.
Related Reading
2012 Polaris Snowmobile Lineup Unveiled
2012 Yamaha Snowmobile Lineup Unveiled
2012 Ski-Doo Lineup Unveiled