Snowmobiles of the Future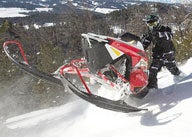 What should we expect in the coming seasons?
We are not going to pretend that we have a clear vision for what the snowmobile world will look like in the years ahead. We don't plan that far out anymore. We used to, but a life-altering motorcycle accident three years ago taught us that things can change in an instant. I walk with a limp. My ankle and right foot have been surgically enhanced. I have a titanium rod in my femur, which causes TSA agents concern whenever I fly. These are not feel-sorry-for-me confessions, but a point to reinforcing how mortal we are and how plans can change quickly and why we need to appreciate and enjoy the here and now. Those things weren't in my plans. And neither is worrying about the long-term future of snowmobiling. As an enthusiast, my selfish concern is what I can expect to be riding in 2015 and 2016. The longer term will take care of itself.
In the really short term we know what's coming for 2014 and it's a bit disappointing. Beyond that and into 2016 we expect to see some exciting new models with technologies that make sense for true enthusiastic snowmobilers. Admittedly model year 2014 offers some freshness, but we don't find Ski-Doo's clever 900cc four-stroke triple all that interesting. We just can't get too excited about a 90 horsepower triple even if it has multiple performance modes like a car. We asked for that? What's it going to do for me? Really?
Arctic Cat seems to have a better handle on what enthusiasts want. The El Tigre (or, ZR 6000) comes with an all new tricked out two-stroke. It's more what we snowmobilers are asking for as it brings us lightweight performance.  We suspect we may be getting more of that sooner rather than later.
VIEW: Inside Arctic Cat's 6000 C-TEC2 Engine
Why would we think that? Take a quick check of the manufacturers' latest motorcycle, ATV and side-by-side product websites. For example, both Honda and Yamaha, who have done essentially nothing in the wheeled sport biz since the economy went in the toilet are now bringing out new or vastly revitalized products. Yamaha's Rhino side-by-side gets a spiffed up replacement. Honda finally decided to upgrade its stodgy Big Red side-by-side with a new product. And these two motorsports companies have begun to wheel out some truly fun to ride motorcycles. Of course, Polaris has been pushing out new products right along, although its latest 2014 sled offerings seem a bit scaled back for non-powder riders.
Looking at sales statistics would have us thinking that buyers outside the North American marketplace may get first crack at sleds designed for their needs. That likely means more of the Polaris type line we saw for 2014. But, as Polaris, Arctic Cat, Yamaha and Ski-Doo all know, the economy has picked up and there is a growing demand for justifiable toys. You know, power toys that we want to have and since our financial lives have improved recently we can kind of justify their purchase.
VIEW: Read our review of the 2014 Polaris Pro-RMK
There is a suspicion that the sled makers kept plugging away on new models right along, merely holding off on introducing them until economic times got better. When one of the Big Four sled makers comes out that first hot, new innovative sled, those that held back will push their own new entries out the door. We certainly don't think that a 550cc fan-cooled Indy or a 900cc mild four-stroke is the best this industry can come up with. Check out what Polaris did in the mountain segment with its RMK. A 417-pound long tracked, 800cc performance powder-buster is a serious sled and represents some innovative engineering that snowmobilers wanted enough to make that series a top-seller in the sport.
While Arctic Cat and Yamaha have amped up a very nice partnership by placing a Yamaha triple in a Cat chassis, don't bet on Yamaha achieving new history on its own merit. We expect Yamaha to remain conservative for the short term, at least until it feels that the sled market can sustain the necessary re-investment it'll take to re-load its snowmobile line with unique and innovative sleds that will sell. For now, its partnership with Cat gives it a new sled, a more performance oriented sled and one that satisfies its dealers and their customers' desire for something – anything – that's new.
Ski-Doo has the know-how to stir some consumer action, but we don't see its new 900cc triple leading that charge. Frankly, who's saying that snowmobilers want a four-stroker? Right now Polaris isn't buying it. There's nary a serious four-stroke in the 2014 model line. Arctic Cat, when given the option to design and develop a new engine, chose not to go with an in-house four-stroke, opting for a 600cc direct injection two-stroke instead. Its Yamaha partnership option takes care of Cat's four-stroke needs. It's new 600cc two-stroke twin suggests a future filled with lightweight, cleaner burning direct injection engines that have been THE engine of choice in snowmobiling since the Ski-Doo gave us the E-TEC.
VIEW: Read our thoughts on the Ski-Doo ACE 900 engine
Given our choice, we'll go with a lightweight, rev-happy two-stroke, at least until someone proves that four-strokes give us a better option. There's the fuel economy argument, of course. But who really cares? C'mon, most snowmobilers don't really care; if they did Yamaha would lead the industry in sales. And Ski-Doo has proven that new "E-TECnologies" can emulate the values preached by the four-stroke converts. Consider that Ski-Doo hedged its engine bets with a 1200 4-TEC, a 600cc and now a 900cc ACE four-stroke. But what do Ski-Doo's customers buy? E-TECs in 600 and 800 displacements. Electronics, direct injection and such things make modern two-strokes nearly as clean and economical as their competition. Plus they tend to be lighter and work extremely well in lightweight high-performance chassis, giving riders a "traditional" feel that only now the Cat/Yamaha platform/engine combo is beginning to mimic.
We expect to see more new technologically advanced two-strokes powering lighter, plusher riding sleds that can zip around curves as if grooved into an ice chute. We expect sleds with new materials and methods of construction that lower weight while adding strength and durability. Polaris uses advanced materials and a "glue" construction technique to lighten its mountain sleds. We expect some refinements in drive systems that make the sleds more responsive off the line and when powering through corners. We expect suspensions front and rear to get lighter while offering a more responsive and supple ride. We expect rider positioning to evolve to allow riders greater interactivity with the sled. We expect an evolution in how we adjust to the sled from the seating to adjustability of rider components.
VIEW: Read our review of the 2014 Yamaha Viper
Not much evolved when the economy tanked and sales dropped off, but we feel very strongly that change is coming and coming sooner rather than later. Such changes very well may make a surge in sales a reality. Lighter, more powerful, better handling, better riding and more customizable sleds are on the horizon. And that's as far as we'll look into the future, because we know too well how fast things can change.