2014 Polaris 800 Pro-RMK Review – Video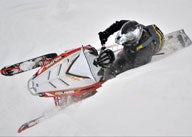 Polaris' standard of powder excellence
In its third year, the model year 2013 Pro Ride RMK 800 155 was again the nation's number one selling snowmobile; the Pro Ride RMK's QuickDrive Low Inertia belt drive system and its 417-pound dry weight (for the 155) ramped up the sales for the 2013 model exceeding that of the 2011 and 2012, according to Polaris. Impressive. Season-2013 was Polaris' third year where its Pro Ride RMK Pro 800 155 was the Nation's most often purchased snowmobile.
Fast Facts
Engine Type:Horizontal In-line
Cylinders:2
Engine Stroke:2-Stroke
Valve Configuration:Reed Valve
Displacement:795 / 48.5
Starter:Pull
Turbocharged:No
View Full Spec
This sums up much. A mountain snowmobile from a 30% market out selling the zippy trail sleds where the buying markets are larger.
For 2014, Polaris did very little to its Pro Ride RMK 800 outside of graphic schematics and reinforcements on the Pro's QuickDrive; the Pro RMK is what the Pro RMK is. Yes, Polaris had to address a problem that occurred on some Pro 800s where QuickDrive failures occurred; the malfunctions were small in percentage when compared to the high volume of Pro 800 RMKs sold.
VIEW: Read our review of the Polaris 600 Pro-RMK
Polaris had to initiate some damage control, and given social media – blogs, forums, Facebook, Twitter – you'd think from the negative posts, Polaris had a meltdown. Not the case. Some failures were caused by massive amounts of horsepower being dumped to the QuickDrive belt via a turbocharger. Some failed when horsepower-loaded tracks hit an obstacle following a drop. Some failed when a loaded track spun widely on high track RPM when the Pro 8 was launched from a snow lip unleashing pent up energy. Some failed because they just did – reasons unknown. I will not step into these messes, but in our opinion, the QuickDrive is a stellar system. For example, our long term media review sled, a 2013 Pro Ride RMK Pro 155 LE, held tough. Yes, it received the service bulletin update, but we rode our Pro hard, not like ride-it-like-you-stole it hard, but technical in the trees and in the deep-n-steep hard.
Here from Polaris' Chris Wolf, is the company's explanation: "Driveshaft separations on some MY13 Pro-RMKs, at the bonded joint, were caused by dimensional variations in the forged end of the driveshaft. There were no issues with the adhesive bonding process. The bonded shaft for MY14 will have tightened dimensional tolerances on the forged end and will also include a collar at the joint to ensure consumer confidence."
There were also a few belt failures, which Polaris also cured; back to Wolf. "The most significant contributors to belt tooth shear are temperature and shock loads. Consequently, we [Polaris] developed the MY14 belt to both run cooler and to be stronger in shear. Combined, these two changes result in a belt that is approximately 25% to 40% stronger than the MY13 belt across the normal operating temperature range. It will replace the MY13 belt when it is available in quantity sometime before next season, and fits both model year sleds. Dealers will be notified when the belt is available.
"There are a few simple things consumers can do to maximize belt life:
1. Break in the belt according to [Polaris'] instructions, riding at moderate, varied speeds.

2. Avoid prolonged high-speed operation. Similar to powder tracks, the QuickDrive belt can heat up when driven at high speeds in hardpack conditions for long distances. If high speed running is necessary, allow the belt a few minutes to cool before going off trail.

3. Avoid power-on landings, especially when the belt is hot.

4. Unlike a chaincase, no maintenance is required.
"Note that normal deep snow mountain riding does not typically generate high belt heat."
Lastly, Wolf concludes by stating, "First year results for the QuickDrive Low Inertia drive system have been excellent, and belt tooth shear rates have been low. As with any new technology, there is a learning curve as consumers adjust to new product characteristics. We remain extremely confident in the performance of this new technology and in the way it elevates the performance of our riders."
COMPETITION: Read our review of the Ski-Doo Summit X
The 2014 RMK Pro is built on Polaris' Pro Ride chassis, which is designed for technical tree running and sidehilling. Through what Polaris calls "Rider Active Control," the chassis is more rigid by 300% over that of Polaris' RMKs of yore, such as the Dragon 800.
Integrated into the Pro Ride RMK Pro is a carbon fiber overstructure that in part gives the Pro 800 its lighter weight without diminishing strength. What is the overstructure? It is the structure bars that hover over the motor; the overstructure looks like, but is not, an A-frame roll cage built to protect the motor.
The carbon fiber overstructure is not the only place where Polaris uses carbon fiber; portions of the front suspension also use adhesive bonded suspension components, specifically bonded lower control arms featuring forged aluminum ends and steel tubing.
The Pro-RMK has a vertical steering post with a series of 90-degree angles that deliver flat handlebar swing, a front suspension that is adjustable from 39 to 41 inches, and a sway bar. Some mountain riders like this, some don't and some don't care. For us in the Snowmobile.com snow cave, we don't see the sway bar as a "flickable" killer.
The Pro RMK's rear suspension is simply known as "Coil-Over Rear Suspension." This rear skid, as we've learned in the past year of lopping off mountaintops, keeps the Pro flat as it ascends up a slope. It controls weight transfer by keeping the nose down and track from trenching. Seldom have we been stuck on a mountainside. The Coil Over has no torsion springs and is tunable to the snow conditions with a turn of the spring preload adjustment that allows it to positively react to varying snow conditions: deep powder, hard-packed or crusted. Track lengths are 155 and 163.
Up front, the adjustable front suspension has nine inches of travel and is controlled by Walker Evans shocks. The Coil Over rear suspension has a vertical travel of 16-inches and both the front and rear rail shocks are Walker Evans.
As for ergonomics, the sled is equipped with Pro Taper handlebars that match the arm's and wrist's natural bend. For me, I find the handlebar post to be rather tall; my body's position over the motor is further forward, more than what I like when performing downhill sidehills with reversing uphill cuts. I know this is a nit, but when tech riding to the max, tall bars can load up the front end too much with body weight. I prefer the standard RMK bar height best.
The Pro's PowderTrac runningboards are epic, in that they are rigid and have spacious evacuation holes to dump snow. Furthermore, the boards are narrower than the other OEM mountain snowmobile runningboards, in that they do not hang up the chassis (push the sled away from) on a steep mountain slope when engaging a sidehill cut.
Polaris' Pro-Lite seat is narrow and short, allowing the driver to transition from side-to-side without catching a foot on the seat's tail.
A multi-function gauge allows riders to flip between tach and speedo. It also records hours and temperature, as well as trip distance and overall distance. It has a built-in recorder, which logs up to three minutes of run time, which can be played back. Riders are able to choose fuel type through the multi-function gauge — an ethanol jumper plug is no longer required. Smart instrument pod, it is. I don't like its angle, as I have become accustomed to the face-up instrument gauges from Arctic Cat and Ski-Doo.
COMPETITION: Read our review of the Arctic Cat M8000 Sno Pro
The Pro RMK 800 is built with the QuickDrive Driveshaft Low Inertia belt drive system that is efficient at transferring power to the track drivers. With fewer rotating mass forces than a chaincase, the 800 motor can spin the track with ease.
Powering this deep snow sled is Polaris' Liberty 795cc 2-stroke, liquid-cooled, Cleanfire fuel injected (CFI) Twin cylinder motor busting out 150-plus horsepower. Bore and stroke is 85mm X 70mm. The motor comes complete with throttle position sensors, detonation sensors and the famed PERC – Polaris Electronic Reverse Control.
Now armed with the updated technical information on Pro's QuickDrive and its belt, you can rest assured the Pro RMK 800 155 and 163 are the best mountain snowmobiles Polaris has built to date. The 795cc motor may be underpowered as compared to Cat's M8000 Sno Pro and Ski-Doo's XM Summit, but its power-to-weight is superior to its two competitors.
The Pro 800's track lugs are shorter than its competitors, but only by one-tenth of an inch (compared to the Summit X) and two-tenths of an inch (compared to the M8000 Sno Pro).
From our season-long evaluation of the 2013 Pro 800 and in riding the 2014, we appreciate the Pro's "flickability." The chassis is rigid and easily rolls center-right and center-left. Its motor does not feel underpowered, except when loaded down with heavy wet snow when it will labor down. We feel that as the Pro's competitors drop weight, its power-to-weight equation will no longer be an exclusive. Read: the Pro has a bull's-eye on its snow flap and if Polaris wants to hold e-mono status, then it must grow some horsepower.
2014 Polaris 800 Pro-RMK 155 Specs
Engine
Polaris Liberty Cleanfire 795cc twin cylinder 2-stroke; liquid-cooled; Cleanfire fuel injection
Horsepower
150+
Drive
Polaris QuickDrive with P-85 driver and TEAM LWT driven
Front Suspension
Pro-Ride RMK adjustable A-arm suspension; Walker Evans gas shocks; 9.0-inches of travel; uses Polaris "Gripper" skis
Rear Suspension
Polaris RMK coil-over parallel rail slide with Walker Evans shocks; up to 16.0-inches of travel
Length
129.0 in
Width
46.5 in
Ski Stance
Adjustable from 39-41-in
Track
15 x 155 x 2.4 Series 5.1
Weight
417 (claimed)
Brake
Polaris hydraulic Low Inertia Drive disc
Features
Standard: Pro Taper handlebar, digital multi-function gauge, electronic reverse;
Options: 12v-DC outlet, electric start, seat support with luggage, mirrors
Fuel Capacity
11.5 US Gal
MSRP
$12,299