Inside Arctic Cat's 6000 C-TEC2 Engine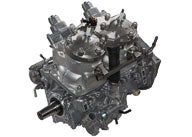 Arctic Cat's first-ever direct injection two-stroke is impressively innovative and relevant
The all-new Arctic Cat direct-injection two-stroke, twin cylinder motor may have given us a false positive at our West Yellowstone test session, but it's truly an innovative piece of Arctic Cat history in the making. And we are impressed.
Keeping in mind that West Yellowstone's 6,500 feet of air-thinning elevation has a deleterious effect on humans as well as air-breathing engines, we can only comment on the Arctic Cat engine performance at such an elevation. In flatland territory of near sea level, we expect we'd see a significant improvement in performance as we did with Ski-Doo's all-new ACE 900 four-stroke triple. We will be guarded in our pronouncement of the 600 Cat's overall demeanor. And, we will admit that we are predisposed to liking this new addition to the Cat line. It's a clever and innovative approach to adding direct injection to a two-stroke snowmobile engine.
In theory the Arctic Cat 6000 C-TEC2 motor will provide solid all-around performance, the type of performance that two-stroke riders expect. The engine revs easily. It seemed to have a good powerband, but we felt elevation worked against it as the midrange acceleration felt less than we would expect from the competition of Ski-Doo's 600 E-TEC and the Polaris Cleanfire 600. We are going to give the Cat motor a pass here as we expect that engine mapping and final tuning has always been aimed at sea level production and not at Rocky Mountain highs. If you look at the number of 6000 C-TEC2 powered sleds for 2014, you'll see just one, the El Tigre. It's a flatland sports model, which means sea level specifications.
Arctic Cat seems intent on taking it easy with the roll out of its all-new two-stroke, which is likely a wise move considering Cat's checkered past with new model introductions. By limiting the availability of the new engine to a single model, Arctic Cat can control and limit any teething issues that may crop up. However, after about seven seasons of work bringing this motor to market, we'd like to think that such planning already would have exposed any problems and that they would have been addressed.
Still, this is an entirely new approach for Arctic Cat. The other Arctic Cat engineered and manufactured motors have all been four-strokes destined for the company's ATV and side-by-side "wheelers." Those "H" series engines of one-liter V-twin and 550/700 singles have been stalwarts, but rider expectations of an ATV and a snowmobile are not the same. The sled rider, especially an El Tigre sport rider, expects performance from idle to full open throttle. That's how the new 6000 C-TEC2 has been readied.
The key players at Arctic Cat's engine lab come with veteran experience that is most likely unmatched by any other snowmobile engine maker. One of these characters behind the C-TEC2 is Donn Eide, who's been with Cat for more than four decades and is now the company's Engine Design Manager. In that capacity he oversees design, testing and final development of all Cat's sled powerplants. Key among his jobs has been research on future engine projects, of which the C-TEC2 is one.
As a bit of background, Eide has virtually seen and been part of it all and with the new C-TEC2 ventures ahead in Arctic Cat history as the company brings its own designs to market. He has worked with Suzuki as the Cat's engine partner since the mid-1970s. He's witnessed Cat power that transitioned from fan-cooleds to the new C-TEC2. Among those relevant engines were the 660cc Suzuki mini-car four-stroke that taught Arctic Cat valuable lessons, including learning that once engine noise was diminished you had other concerns like ski and track noises. Plastic skis replaced steel ones and a "quiet" track
technology was developed to reduce those noises. The batteryless electronic fuel injection system debuted in 1996 on Cat's 580 engine. In 1993 the Suzuki-built 900cc triple introduced a balance shaft to smooth out vibrations. Since then, Eide involved himself with the current "laydown" engines that feature a forward-facing intake system that allows colder, pressurized air to get drawn into the engine.
With all of this history and a willingness to innovate, it comes as no surprise that the direct injection C-TEC2 would be somewhat unconventional as compared to the highly computerized Rotax E-TEC design. Despite the world of "green-dom," two-stroke engines do not, we repeat, Do Not!, spell the end of civilization as we know it. In fact, modern and evolving direct injected two-stroke technologies led by companies such as Rotax, Evinrude, Orbital of Australia, Synerject in the US and others can point to the fact that two-strokes can be as emission friendly and miles per gallon efficient as four-strokes. The new 6000 C-TEC2 strives to reinvigorate the two-stroke for sport snowmobilers.
Fortunately, the world of micro computerization remains alive and extremely well. It's not that a lack of computerization precludes direct injection, but it certainly makes it all easier. The new Arctic Cat system comes with dual stage ignition that, at lower engine loads, allows fuel into the main combustion chamber as normal. But as engine loads increase, fuel and an oil mist then gets injected toward the transfer port area and crankcase. The rear rail-mounted injectors will shoot fuel along a slotted piston sleeve as a way of increasing lubricants and adding fuel for power. The main throttle body controls air mix. The end result is a highly sophisticated program that combines a dual stage rail injection with open window piston designs. Key to this development is use of a highly monitored and efficient electronic oil pump that can maintain lubricity needs determined by the computer-controlled system. All of this couldn't have been done prior to micro-computering.
With more than 50 years of on-snow experience in snowmobiling, Arctic Cat engineers realize that two-strokes offer a higher power and specific output per overall weight and complexity versus even modern day four-strokes. There are still advantages to two-strokes. Weight is one. Even this more sophisticated cleaner burning 6000 C-TEC2 Cat motor claims an 8.5-pound advantage over the Suzuki-built "dirty" two-stroke that it replaces. Versus a comparably powered four-stroke, the new C-TEC2 wins by a larger margin.
If you look around the snowmobile business, the higher performance models tend to be powered by two-strokes, especially when it comes to powder play where lighter weight rules. Of course, looking at the Arctic Cat line up for 2014, it's obvious that the Cat crowd is hedging its bets with a mix of engine choices. Even the E-TEC innovator, Ski-Doo, added a new 900cc four-stroke to its line of 600cc and 800cc E-TEC twins.
The reality remains that there is customer resistance to all things four-strokes as snowmobilers who grew up with two-strokes like them still. They like the quick revving characteristics and the lighter weight that hangs between the skis. Ski-Doo and now Arctic Cat are proving that technologies exist to keep two-strokes viable in this era of "green." Modern two-strokes like the Arctic Cat 6000 C-TEC2 can meet emissions standards while offering good fuel efficiency and class leading power.
We can attest to the light and nimble handling of the 6000 series engined El Tigre. We fully anticipate that sea level based versions will run substantially stronger than what we rode in the thin air of West Yellowstone. And, we expect that this easing into production of the all-new 6000 C-TEC2 will be good for Arctic Cat as well as the future C-TEC2 engines to come in the next year or two. Arctic Cat has too much riding on this engine for it to be any other way!
Arctic 6000 C-TEC2 Engine Specs
Engine Type
Arctic Cat 6000 C-TEC2 dual stage injection two-stroke twin; liquid-cooled
Displacement
599cc
Bore & Stroke
73.8mm x 70mm
Ignition
73.8mm x 70mm 3D sequential fire, throttle position sensor
Intake
47mm dual throttle body batteryless EFI with dual rail direct injection
Exhaust
Arctic Power Valve with tuned pipe, pipe sensor and stainless steel muffler
Fuel
91 Octane required
Features
First Arctic Cat designed and manufactured dual stage direct injection two-stroke; claiming class-leading horsepower with low emissions; push-button engine reverse; electric oil injection
Related Reading 2014 Arctic Cat Snowmobile Lineup Unveiled Ski-Doo ACE 900 Engine Review