Ski-Doo ACE 900 Engine Review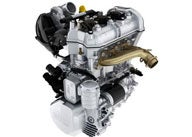 Ski-Doo's new ACE 900 triple brings new technologies to snowmobiling
Interestingly, what should have been "big" news heading into model year 2014, falls short as the Yamaha and Arctic Cat connection gains the most internet and snowmobile word-of-mouth buzz. If not for the YamaCat hook-up, Ski-Doo's all-new ACE 900 four-stroke triple might have scored as the top news if Yamaha had been solely about bold new graphics and the introduction of the 2014 Phazer XTX.
What did BRP Ski-Doo do wrong to merit second place in news? Nothing. Following up on Arctic Cat's agreement to use a Yamaha engine might not be worthy of first place interest, but Yamaha's corresponding use of the Arctic Cat chassis in five models makes for the equivalent of a royal straight flush in cards. Even a Rotax 900cc, 90 horsepower triple with exclusive first in snowmobiling throttle by wire and a learning key can't displace that hand.
Perhaps, though, it's a good thing that the introduction of this new motor gets downplayed a bit. While interesting, we don't see it as a real "game-changer." Based on the ACE 600 four-stroke twin, the ACE 900 essentially adds a cylinder and 30-hp to the existing 600 four-stroke. Look at the facts, the ACE 900 makes 90-hp. Right away we don't see it as a threat to Ski-Doo's 600 E-TEC with its 120-plus hp. The ACE 900 makes its horsepower at 7250 revs. Again, not a performance scorcher.
In our private on-trail evaluations we found the 900 motor to be pleasant with strong low-end torque and midrange. But then it just kind of drops off the grid as it gathers speed. Obviously this motor has other assets to make it suitable as a premier snowmobile power source.
The ACE 900's "skill set" makes it immensely suitable for customers who want a high-tech design that's quiet, powerful at drive offs and has good pull up to the outer edges of midrange performance. That describes the GSX, Grand Touring or, even, the Expedition buyer. We especially liked the ACE 900-powered Ski-Doo GSX LE. This engine is well suited to what Ski-Doo has fashioned for 2014 in that model. The triple works well in the Grand Touring with the quiet drive track system and turns the trail/utility Expedition Sport into a nice-to-have sled.
We don't see the ACE 900 as being a viable power source for the MXZ TNT series, although it will available in that guise. We just don't see the MXZ buyer as caring if the engine is quiet. Frankly, we envision MXZ buyers looking for a bit of a "Hemi rumble" attitude. When the 1200 4-TEC came out as the power for both a Grand Touring and an MXZ model, we were told that the exhaust notes were different, deliberately more "macho" for the MXZ and toned down for the Grand Touring. When we asked if this was the case with the ACE 900 in the sportier MXZ chassis, we were essentially blown off, even as we explained our reason for the question. We can only guess that surveys have shown that MXZ riders now like quiet under the hoods of their four-stroke powered sport sleds.
All that notwithstanding, the ACE 900 remains unique for 2014. It is incredibly quiet and very smooth, all without the use of a counterbalancer to control engine harmonics. Give credit to Rotax engineering for combining state of the art engine building into this snowmobile motor. You'll find that this engine comes with double overhead cams, four valves per cylinder (two intake and two exhaust), a relatively stout 12:1 compression ratio; hydraulic valve and chain adjustments; and a dry oil sump. The single 46mm throttle body is part of a very sophisticated computerized electronic fuel injection program that permits throttle by wire, which is also called drive-by-wire and in Ski-Doo's case Intelligent Throttle Control (ITC).
While new to snowmobiling, Rotax throttle-by-wire has been in use on BRP's Can-Am Spyder three-wheelers since 2010 and you're probably driving a car or truck with it. Yamaha introduced throttle-by-wire on its 2006 YZF-R6 motorcycles and has featured the system on select outboards for years. While the concept exists on motorcycles, automobiles and outboards, it is a Ski-Doo exclusive in snowmobiling.
Why hasn't it shown up in sleds before now? One non-Ski-Doo source suggests cost as the main factor, stating that such a sophisticated system can add upwards of $1000 per unit. It's not likely that the system adds that much to an ACE 900 powered Ski-Doo snowmobile, but this is not a low cost add-on. In fact, the cost differential between ACE 900 and 600 E-Tec two-stroke powered sleds looks to be about $500 less for the four-stroke. It appears Ski-Doo wants it to be a pretty good buy when compared to the 60-hp ACE 600. Still, we don't see serious MXZ TNT riders opting for the four-stroke over the 600 E-Tec with its greater power and faster revving personality.
The upside in technology with the ACE 900 includes a "smart" box wired to the thumb-controlled throttle flipper. Instead of a direct cable linkage to the throttle body, you now actuate the throttle flipper, which dispatches via wire an electronic signal to the engine's electronic control unit and on to a stepper motor that opens and closes the throttle. You'll notice that the throttle operation now becomes incredibly light since there is no longer any cable to pull. Ski-Doo claims that throttle operation is 40 percent less than with an E-Tec engine's throttle. We did find the pull to be extremely light, but once you accelerated out to about three-quarters throttle, the remaining action felt numb and non-responsive as though the engine had no more to give. That's why we stated that the low end and mid range were stout, but top end seemed to drop off quickly. We could see a moderating increase in speed indicated on the speedometer, but we really had no corresponding seat of the pants feel for it. The experience aboard the MXZ TNT with ACE 900 versus a 600 E-Tec is totally different, which is why we feel that the 900 is better suited for the GSX series, whose riders desire a different parameter consistent with strong low and mid range performance.
More than likely those riders will better appreciate the technology of ITC and its three modes of performance. Ski-Doo claims that its intelligent throttle system allows the engine's computer to adjust the throttle, engine timing, fuel delivery and engine mapping for a better overall driving result. Plus, since this is all controlled by computer operation, the system lends itself to enhancing driving modes from the standard setup to both a more aggressive Sport mode and a fuel-thrifty Eco mode.
The "standard" mode, which we preferred on all the ACE 900 equipped sleds that we rode, is designed to emulate a normal engine sequence of performance along the lines of a 90-hp sport performance sled. This requirement gives you smooth drive off, pretty smooth linear acceleration and good torque characteristics.
The "Sport" mode comes on more aggressively and was preferred by another of our test riders. This mode has no performance limitations and comes on aggressively to full bore acceleration. Since it allows for engine braking, which the standard mode does not, we thought it was jerkier. If you watch the tachometer as you cycle through the three modes, you'll see the engine idle raise by a couple hundred revs in Sport and down from the Standard setting when cycled into "Eco" mode. This is the setting that Ski-Doo says "…limits torque, top speed and acceleration rates to deliver a more relaxed ride and conserve fuel."
Eco mode is the setting that gains you maximum miles per gallon, but also limits top speed to 44 miles per hour. Unlike automotive throttle-by-wire systems which may "suggest" drivability, Ski-Doo's ITC actually imposes limitations by modifying engine performance in favor of fuel economy.
To compound the effects of the various modes, the ACE 900 also adds a "learning key," which further adds to the driving mode capabilities. A concept long available on Sea-Doo personal watercraft, the learning key can be pre-programmed by a Ski-Doo dealer for a maximum speed of 44 mph or 25 mph. The idea is to provide peace of mind if you loan the sled to an inexperienced rider. The green Digitally Encoded Security System electronic tether replaces the standard tether. Regardless of which tether is utilized, the engine still can be cycled through the three modes, but with corresponding new limits as to top performance.
Interestingly, once Ski-Doo engineers arrived at placing this much quieter engine in its various models, track noise became an issue. Ski-Doo has been working on making its drive systems quieter right along, but with the advent of the ACE 900, more work needed to be done, especially for the luxury models. For 2014, the Grand Touring LE adds the SilentDrive system, which reduces track vibration by as much as 70 percent at on-trail cruising speeds. That's a really big accomplishment as decibel reductions are not simple arithmetic deductions but come down in complicated exponential sequences.
Key to the SilentDrive system is the positioning and design of the track drivers. These are perfectly round, interface with 16 smaller internal lugs and are stationed in the track's center area, which is thicker to help absorb sound and provide strength. While this central drive design is fresh and modern, it borrows from the external center drive concepts seen on the 1974 Alouette Silver Cloud. So, while much is new, much is still borrowed from other sources, sports, vehicles or decades.
In a "normal" snow season, the Rotax ACE 900 and its SilentDrive track technology should have led off as the big news for 2014. It's worthy, but the Yamaha collaboration with Arctic Cat is proving a real topic starter for snowmobilers.
Related Reading 2014 Ski-Doo Snowmobile Lineup Unveiled 2012 Ski-Doo MXZ TNT 600 E-TEC Review 2011 Ski-Doo MXZ TNT 600 ACE Review 2013 Ski-Doo GSX Series Review