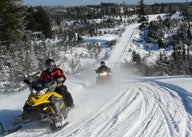 Follow the Snow to Northern Ontario!
As winter in Ontario progresses into March, the snow line typically begins to shift farther north. Snowmobiling moves with it, primarily to tourism regions known as Ontario Wilderness Region, Algoma Country and North of Superior. Here, in what is truly the Great White North, winter delivers exceptional trail riding throughout March break and often into early April. So this is an excellent time to plan your last ride of the season in Ontario, be it a long weekend getaway or full week of saddlebag touring.
Ontario offers many different snowmobiling opportunities for March and its signature self-guided tours are among the very best. So why bother re-inventing the wheel by trying to find your own way, when you can simply plug into one of Ontario's existing, proven and well-established tours to snowmobile your brains out? Any one of these remarkable tours will fulfil your ultimate craving and make memories that will sustain you until the snow flies again next winter.
Ontario's Wilderness Region
Located in the northeastern sector of the province, due north of the City of North Bay, Ontario's Wilderness Region is anchored by established snowmobile staging centres like Cochrane, Kirkland Lake, New Liskeard and Timmins. These towns provide starting points for several of Ontario's renowned signature tours, including The Big Loop, the James Bay Tour and the Northern Corridor ride.
The Quality Inn, New Liskeard is a popular staging point for The Big Loop, a 1,750 km (1,087 mi) circle tour that overnights in Cochrane, Hearst, Dubreuilville, Chapleau and Timmins. Or check out the North Adventure Inn, Cochrane as the launch point for your 3 or 4-day ride to Moosonee via the legendary Abitibi Canyon. And what about staying at Cedar Meadows in Timmins if your choice is sledding to the far end of the Northern Corridor at Hearst and back again, a round trip of about 800 kilometres (500 mi)? Check out OFSC Districts 14 and 15 to find out more.
Algoma Country
Anchored by Sault Ste. Marie on the west, Wawa to the north and Elliot Lake to the east, Algoma Country stretches from the North Channel of Lake Huron north to the Chapleau Crown Game Preserve. With easy border crossings at the Sault or by sled from Drummond Island (Michigan) this area is also OFSC District 13. It's a sledder's haven for many American visitors, as well as southern Ontarians who, while driving north, have discovered the countless benefits of turning left at Sudbury to head for Algoma.
While Algoma Country boasts many touring options long and short, perhaps the most well-known is the Algoma Central Railway's Tracks 'n' Trails Snowmobile Excursions, more commonly called "the Snow Train". There's plenty of room for your whole riding crew and all your sleds, so climb on board in the Sault and this train will drop you right on snow's doorstep in Wawa, Dubreuilville or Hearst. But hurry, because the train only runs until March 6th!
Other enjoyable Algoma tours include the 723 km (450 mi) Northern Experience Loop that includes Searchmont, Wawa and Chapleau, or the Complete Algoma Tour, a 1,150 km (750 mi) tour (don't miss the home cooking at Half Way Haven!) Depending on whether you are entering Algoma from the east or west for this one, you may want to stage from the new Hampton Hotel in Elliot Lake (east) or Glenview Cottages in Sault Ste. Marie (west).
North of Superior
March is still the heart of winter in North of Superior and you won't do better than the two Superior Snow Challenge Loops, East or West, the pride of OFSC District 16. Ontario's North of Superior region is located between the Town of Marathon in the east, and the City of Thunder Bay to the west. If you are trailering or riding in from Sault Ste. Marie, start your 700 km (423 mi) East Superior Challenge Loop at either the Wawa Motor Inn or the Best Northern Motel, then circle around through Dubreuilville, Hornepayne, Manitouwadge, Marathon and White River.
If you are coming into North of Superior from the Thunder Bay side, you can launch the Superior Snow Challenge Loop West from Nipigon. Whether you choose to ride this 837 km (526 mi) loop clockwise or counter clockwise, you'll thrill to true wilderness riding on its northern swing and be amazed by the rugged hills and dramatic vistas along Lake Superior's north shore.
With almost 7,000 kilometres (4,400 mi) of OFSC snowmobile trails to ride, Ontario's Wilderness Region, Algoma Country and North of Superior offer the best March riding anywhere. These areas are very snowmobile-friendly, with all the trail accessible services and amenities you need to make your spring tour an unforgettable success. Best of all, this is snow you can count on — the first to fall and the last to melt. So take advantage of those longer, more moderate March days to explore to your heart's content. Start by visiting the Ontario Go Ride website and get your 2010 Ontario Snowmobile Tour Planner. Then order your 2010 District 13, 14, 15 and 16 trail guides and you're on your way!
Craig Nicholson is the author of "Canada's Best Snowmobiling — Your Ultimate Ride Guide". His syndicated column "The Intrepid Snowmobiler" appears in newspapers throughout North America. He also hosts "The Intrepid Snowmobiler on Radio" and appears regularly on Snowmobiler Television. For more info, click http://www.intrepidsnowmobiler.com/
Related Reading Follow This Rainbow to Great Sledding! Ontario's More Fun for Sledding Elliot Lake is My Kinda Snowmobiling Town! Planning Your Ontario Tour