Ontario's More Fun for Sledding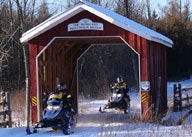 With winter things that really count!
Snowmobiling in Ontario this winter is about much more than smooth trails. Besides providing you with the very best information about snowmobiling here and when the trails are open, Ontario goes way beyond the norm to provide riders with more added value benefits and great opportunities.
If you're looking to rent a sled or stay at a resort with a snowmobile package including sleds, Ontario has many good operators and options available. And right from the very start, the province offers peace of mind by making it easier and more convenient to get your Ontario Full Season Snowmobile Trail Permit before you go snowmobiling. Now you can buy your permit in the comfort of your home or office by going online! With safeguards that meet Government of Ontario requirements to protect your security and confidentiality, purchasing your permit online before your ride takes the worry out of finding a retailer or arriving during business hours. So be sure to get your permit before your departure.
What's more, when you buy your Ontario Full Season Snowmobile Trail Permit, you qualify for valuable OFSC member benefits…just be sure to complete and sign Section III of the online application. Doing so will get you bonus items that make your permit worth much more – like a free subscription for four issues of next season's OFSC Go Snowmobiling Magazine plus Supertrax; $3,000 in free and automatic Accident, Death & Dismemberment coverage from AIL Canada; 10% discount at Mark's Work Wearhouse; VIP discount at participating Westmount Hospitality properties and Delta Hotels; and $20 off SPOT unit hardware plus one year of free tracking worth $50! All of these savings make your permit purchase an even better value!
This season's Give It A Try Tour dates and locations are: Jan. 28 – 31, Pinestone Resort, Haliburton; Feb. 4 – 7, Days Inn, Owen Sound; Feb. Alice and Fraser Recreation Centre, Pembroke; Feb. 18 – 21 & Feb. 25 – 28, Wasaga Sports Park, Wasaga Beach.

Ontario's 230 local snowmobile clubs operate the border-to-border network of groomed trails, so everywhere you ride in Ontario, you can always contact a club for assistance or information. Put it all together and snowmobiling in Ontario spells F-U-N – even before you leave home!

Craig Nicholson is the author of "Canada's Best Snowmobiling — Your Ultimate Ride Guide". His syndicated column "The Intrepid Snowmobiler" appears in newspapers throughout North America. He also hosts "The Intrepid Snowmobiler on Radio" and appears regularly on Snowmobiler Television. For more info, click IntrepidSnowmobiler.com.

Related Reading Planning Your Ontario Tour Go Ride Ontario – There's No Place Like This! Ontario: Exploring the Kawarthas Ontario: Primo Sledding on the Northern Corridor Ontario: Mucho Snow in Grey Bruce