A Newbie Explores Ontario's Snowmobile Trails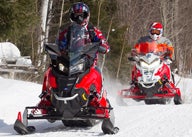 How one man found a reason to like winter
Generally speaking, when the average person imagines the ideal circumstances involved with checking an item off their bucket list, it wouldn't involve Sudbury, Ontario in the winter. There is, however, a small but dedicated community among us who lament the sight of tulips, utterly dread the onset of spring and live for crisp winter days in the remote wilderness beyond our crowded city limits. Until very recently this prerogative was completely foreign to me, but it turns out that these snowmobiling enthusiasts are onto something.
I am rarely known to turn down an adventure, but when a friend invited me to partake in a weekend exploring Ontario's snowmobile trails, I initially had more questions than answers for him. One by one, each and every one of my reservations were deemed unfounded. "Don't I need to own a sled? What about a permit? Where are we staying? How far north do we have to drive to access decent trails?" Evidently, sled rentals are available if you don't want to dive right in to the deep end of the pool by buying one. Inexpensive 'Try Our Trails' and 'Multi-Day' (3 and 7 Day) permits are easily purchased online at www.ofsc.on.ca/ and it turned out that accommodations at Sportsman's Lodge Wilderness Resort are not only incredibly reasonable, it is also much closer to home than most people think. It's amazing how much quicker the drive is when you aren't battling cottage traffic.
Located at the end of Kukagami Lake Road in Wahnapitae just outside Sudbury, we left the city after work on Friday afternoon and arrived early in the evening to discover an optimistic new world where people embrace winter rather than hide from it. Frequented by experienced riders, the community was far more welcoming to a complete newbie like myself than I expected.
Top 10 Snowmobile Destinations
As a devout motorcycle fanatic, I generally spend my winters hibernating, debilitated by depression and twiddling by thumbs waiting for that glorious day the snow and corrosive road salt are washed down the sewer. Naturally gravitating towards anything involving powerful engines and speed, sledding is a sport that has always fascinated me, but like most people who grew up in the big city I just never knew where to start.
We met up with winners of the 2015 Northeastern Ontario Snowmobile Contest so I wouldn't be the only one new to these particular sleds, but I was the only one who hadn't ridden before. Randomly selected from nearly 900 participants who entered at the Toronto International Snowmobile, ATV & Powersports Show or online, father and son Harold and Travis Meadows were overjoyed to accept the excursion. At home they ride a 1972 Polaris TX340 and Ski-doo MXZ550F, respectively, which are dramatically different from the much faster, lighter and more technologically advanced sleds we'd be piloting.
The first thing I learned the next morning is that you want to dress warmly. Materials are far more advanced these days so you can wear multiple layers without feeling like the Michelin Man, but you definitely want to ensure that you don't have any bare skin. You'll be exposed to the elements and chances are good you'll be moving briskly. Another consideration is that trip planning is essential. Rather than relying on roadside fast food restaurants, hotels and gas stations every 20 kilometres, you'll want to map out your route to prepare food, clothing, shelter and fuel accordingly. You don't want to be stranded.
We were fortunate enough to gain access to a wide spectrum of sleds, such as a Polaris 800 Rush Pro S, Polaris Switchback Pro-X, Yamaha SR Viper L-TX LE and a selection of Ski-Doos, ranging from the beginner-friendly MXZ 900 ACE to the fierce XRS 800. It is always a challenge to hop from one machine to another and attempt to keep up with a pack. I certainly can't speak with any kind of authority or provide credible riding impressions since I know more about garden tractors than snowmobiles, but what I can say confidently and universally is that acceleration was instantaneous and seemingly endless, the rear track provides a surprising amount of grip and holy crap why didn't I try this sooner?
Northern Exposure – the Remarkable Abitibi Canyon Loop Tour
I naively assumed that riding a snowmobile would be just like riding a motorcycle. I couldn't have been more wrong. Controls, features, riding position, power delivery, handling, braking and all around behaviour are vastly different. Essentially the only similarity between the two sports is the level of respect required for the machine. Rather than being dictated by the ministry of transportation, speed limits are governed in most places by the laws of physics.
Relying on skis for directional stability rather than the robust grip of a rubber tire is a strange and exhilarating sensation. I felt like Bambi walking on ice at first but got the hang of it after a few laps around the parking lot. I quickly discovered that complacency is not an option since conditions can change from one corner to the next, each sled has its own distinct personality. I also found myself moving faster and within closer proximity to logs and tress than I would normally be accustomed to or comfortable with.
While I spent most of the day following the tracks of fellow riders at a safe distance, I learned the hard way what happens when you go off-trail while trying to do a u-turn for a photo opportunity. Needless to say the embarrassment of holding up the group to manoeuver my sled off a tree stump will prevent me from ever straying from the pack again.
Completing a six-hour clover leaf ride, we covered a couple hundred kilometers of terrain that ranged from hard packed lake crossings to former train track rail beds to narrow winding trails through lush vegetation. Once we were back at the lodge enjoying drinks and sharing stories with fellow riders, it occurred to me that I never even noticed the cold. Elated and overwhelmed, we were also exhausted. After a long day of riding in the fresh, clean air followed by a couple drinks and a solid meal, we were all in bed on Saturday night before the end of the second period in the Leafs game.
With everything the veteran riders told me about snowmobiling, the one thing they failed to mention is that it also happens to be more addictive than cocaine. I've been fortunate enough to have some pretty incredible experiences over the course of my life but there are certain highlights that top the list. While I wouldn't necessarily place sledding above witnessing The Who live in concert, my first time riding a motorcycle or driving a Ferrari on a racetrack, but it has definitely been added to the short list.
Snowmobiling in Algoma Country + Video
Travis, who turns 18 in April, has been riding ?since he was eight when his uncle bought him a 1972 Ski-Doo Olympique and cites this ride as the unequivocal highlight of his sledding experience. I was well into my thirties when I finally appreciated the true value of traveling with and enjoying similar motorcycle trips with my old man, so I appreciated the value of their experience firsthand.
Harold was equally complimentary and enthusiastic about the experience, "We are definitely going to return to the Sportsman's Lodge," said the elder Meadow. "We would highly recommend people investigate a snowmobiling trip in this area; it truly gave us a whole new appreciation for the sport?."
By the time the month of March rolls around, most Ontarians who aren't fortunate enough to be snowbirds are cursing Wiarton Willie's name and praying for warmer weather. Up in this part of Ontario there is still plenty of riding left to do. You can spend half the year being miserable and hating the cold weather, or you can embrace it with open arms. I'll definitely be singing a different tune next winter.