2010 Arctic Cat Lineup Preview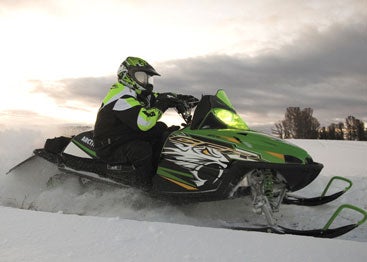 Lightweight Sno Pro 500, heavyweight 800cc performance and refined turbo models
Like Polaris and Ski-Doo, Arctic Cat is one of the oldest names in snowmobiling and its products reflect a heritage that began more than four decades ago in northwestern Minnesota. Looking at the pioneering staffers that remain at Arctic Cat's Thief River Falls facility, maybe it's more than heritage. We would have to say that passion better befits those longtime Arctic Cat veterans.
Roger Skime, the head of Arctic Cat engineering, literally invented the slide rail suspension. He still pounds the ditches around Thief River Falls hard and fast testing out new product ideas. That's more than heritage. That's true passion for the Arctic Cat brand. His enthusiasm runs through engineering down to the production floor. When Arctic Cat says, "Share our passion," this company means it.
Four Cornerstones
Heading into the 2010 model year Arctic Cat marketing staffers proclaimed what they call the four cornerstones of the Arctic Cat experience: body-saving technology, expert-grade mountain sleds, industry-leading horsepower, and the world's fastest snowmobiles.
Body-saving technology should be taken to mean building in ride comfort and control so that an Arctic Cat rider can enjoy 200-mile rides day after day. As witnessed last season with the creation of the latest Cat mountain models, Arctic Cat engineering worked diligently to create a dedicated mountain-specific chassis with suspensions and powertrains suited to the needs of the deep powder crowd. Those powertrains are what make Arctic Cat leaders in horsepower ratings, which go arm in arm with speed and making Arctic Cat the 'world's fastest snowmobiles.'
Marketing manager John Tranby stated that with the advent of the high-horsepower turbocharged 4-strokes that Arctic Cat owns the 'world's fastest' title.
Performance
Highlighting trail performance for mogul mashers will be the job of Cat's race-bred Sno Pro 500. Borrowing the lightweight chassis and race-bred features of the 2009 snocross racer, the Sno Pro 500 not only offers great trail performance, but does it without breaking your bank account. The new sled will sell for US$8,299, weigh around 450-lbs, and come with a virtually bulletproof 85-hp 500cc twin cylinder engine.
Plus, for wannabe racers, the Sno Pro 500 is actually a race-ready model that can be campaigned on Saturday and trail ridden with buddies on Sunday. Expect this sled to disappear early from dealer show rooms, as it is a low-priced, high-content ditch-banging sled that should appeal to trail performance enthusiasts.
800 Do-Over
For the serious performance rider, Arctic Cat virtually redesigned its laydown 800cc twin. The 794cc liquid-cooled 2-stroke gained eight percent more power while shedding five pounds of weight. The power goes from 140 to 150 horsepower for 2010. Much of the weight change came from the 4.3 pounds lighter weight crankshaft. That means the engine spins more quickly, which accounts for the noticeable increase in acceleration. You'll find the engine was fitted with new pistons, cylinders, head and revised exhaust valve reed petals. The electronic fuel injection was revamped and remapped and, of course, the exhaust was redone to accommodate the upgrades.
When we test rode a wide variety of new 800-powered Arctic Cats at the company's sneak preview, we came away impressed. The engine has broad power, which we have to believe will be a big benefit to M-series mountain riders. The engine seemed easier to pull over when starting and was extremely anxious to get up to top speed. With strong pull and broad power, the new 800 should make the trail performance 800 F-series models significant contenders on the lakes and trails in the season ahead. We don't expect to hear the whining about power that we used to hear from old Firecat owners. Arctic Cat seems to have gotten this very right.
The 800 will be featured in the F8 series that includes a fully decked out model (LXR) and a trail sport version (Sno Pro). In fact, you can pretty much figure that each model segment will come in three distinct flavors — base, LXR and Sno Pro. Of course, having said that, we must point out that the F6 is available in Sno Pro guise only and features Cat's revised seat with integrated, zippered storage pouch and lighter weight runningboards as part of the revised rear tunnel section. This reflects the incorporation of a new, more durable heat exchanger, new design snowflap and addition of a bright LED taillight. There are two versions of the F5 — LXR and Sno Pro — that share the same small displacement twin as the new Sno Pro 500.
For the so-called beginner set, one of our old faves is back. The F570 provides good handling with simplicity and a high fun quotient. You'll find the 570cc fan-cooled motor powering a number of models for 2010.
Speed Sleds
For the speed set, Arctic Cat comes loaded with bullets. There's the CFR 1000 with a 999cc 2-stroke twin to spin a 128-inch Hacksaw track. The new 150-hp, 800cc engine powers the CFR 800.
Of course, those are two-strokers and the whole snowmobile world knows by now that Arctic Cat offers a 177-hp turbocharged 4-stroke. What better way to get that kind of power to the snow than by adding a 144-inch Cobra track to the Z1 Turbo? Enter the Z1 Turbo EXT for 2010. Actually, if you find yourself interested in the basic Turbo, you might want to pause and have a serious look at the EXT. The added track and suspension length make the Turbo's power much more manageable plus you get the bridging effect of the extra length for riding over stutter bumps. You are guaranteed a major thrill on this sled, as it is both very smooth and very fast.
Of course, there are three versions of the shorter-tracked Z1 Turbo — base, LXR and Sno Pro. They come with the 4-stroke's 121-lbs-ft of torque and the 128-inch Hacksaw track. Arctic Cat retains the non-turbo Z1 4-stroke with a base and LXR version.
Stretch Tracks
There are now three models of what Arctic Cat calls its crossover model built on the older chassis. We would guess that the EXT is a prelude to what Cat will offer as a crossover model in the years ahead. For now, your options are Crossfire 8 in base or Sno Pro and a Crossfire 6. The Crossfire 8 includes the latest 800cc powerplant, which means improved overall performance from this line.
The touring line remains pretty much the same, with a turbocharged TZ1 and an incredibly well equipped TZ1 LXR. You will now look out over a more effective standard windshield, but all the 'goodies' continue and include remote starting, bags on the LXR and heated seating. The base-touring model for 2010 will be the T570, most likely to end up as the main choice of rental fleet operators.
The utility Bearcat Z1 and 570 return with track length options.
Steep & Deep
Since Arctic Cat made such an impact with its M-series of powder specific models last year, you'll see basically the same sleds but with updates to make them even more effective in this steep and deep market.
The headliner for 2010 will be Arctic Cat's M1000 Sno Pro, which will come with a newly designed 3-inch taller and 5-lbs lighter seat. Wide 6-inch ski design should create more flotation while the "FrogzSkin" tight weave fabric on the sled's vents should let cooling air under the hood but keep out snow. There is a 162-inch overall track length available for serious powder busters. You'll find that option available on the re-powered M8 and M8 Sno Pro.
Introduced late last season, Arctic Cat continues to offer the M8 HCR with 150-hp 2-stroke twin and 153-inch track. This sled is designed for the extreme and experienced backcountry rider. For moderate powder there is the M6 with the 153-inch track length and similar upgrades seen in the larger displacement models. All M-series models come with an adjustable width front suspension that provides a ski stance from 39 to 41 inches. Sno Pro versions of these sleds will feature Arctic Cat's unique quick-adjust telescoping steering post that provides up to 4-inches and 12-settings of adjustment.
Limited Editions
There will be limited availability 'spring only' models that will include special graphics like a black 'stealth' or candy apple green look. These limited editions will be featured at you local Arctic Cat dealership, where you can discuss availability and pricing. Plus, since there is little margin to be made on the new Sno Pro 500, don't be surprised if that model is limited in availability as well.
What's new for 2010? At Arctic Cat dealerships you can expect to see upgrades, further refinements in the Twin Spar design, a major re-do of the 800cc twin, a new turbocharged EXT 4-stroke to harness the Turbo's energy, more weight coming out of the mountain models, and a truly wonderful race replica at a very consumer-friendly price.