2014 Arctic Cat M8000 HCR 153 Review – Video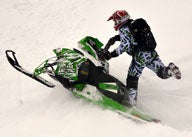 The seriously beyond-backcounty mountain snowmobile
Arctic Cat's ProClimb M8000 HCR, like the Polaris RMK Assault and Ski-Doo XM RS Freeride, goes beyond the typical powder sled. It's a backcountry super sled for those with eyes on hillclimb competition. It's the best Arctic Cat has to offer the race-minded mountain snowmobiler.
Fast Facts
Engine Type:Horizontal In-line
Cylinders:2
Engine Stroke:2-Stroke
Valve Configuration:Reed Valve
Displacement:794 / 48.4
Starter:Pull
Turbocharged:No
View Full Spec
The M8000 HCR is powered by the 8000-series Suzuki-built two-stroke, a twin cylinder motor with a displacement of 794cc. This motor uses a battery-less electronic fuel-injection (EFI) system with 46mm dual throttle bodies that helps the two-stroke mill knock out approximately 163 horsepower. The motor has a lightweight crankshaft, electronic exhaust valves known as APV for Arctic Power Valves, an exhaust pipe temperature system and a lightweight non-mechanical reverse system; this is Cat's electronic push button reverse.
Its drive clutch is the Arctic RPM-sensing six post, and its driven clutch is the 10.75-inch diameter Arctic roller cam. These clutches, with the crossover jackshaft, chaincase and the radial master hydraulic with a drilled lightweight disc brake, make up the Arctic Drive System (ADS).
VIEW: Read our comparison of the Arctic Cat HCR and Polaris RMK 800 Assault
Controlling the front end is the Arctic Race Suspension with FOX Float EVOL shocks. Its ski is the ProCross, which is suitable for competitive hillclimbing; for powder play, not so adept. The front suspension's vertical travel is nine inches.
As already noted, the HCR does not rely on Cat's telescopic handlebar; it has a fixed vertical-post unit with a standard 5.5-inch high riser block. However, Cat offers differing height riser blocks as an option through its parts and accessory catalog.
Seat and cockpit is all M8000, which includes the runningboards. A painted tunnel prevents snow from flash freezing to the tunnel. The HCR uses a front-mounted heat exchanger, which is a single unit that is approximately four pounds lighter than the full-length heat exchanger used on the standard M8. The HCR-type cooling system is also built into the M8 Sno Pro and Limited. This system reduces snow and ice buildup on the tunnel. We've found this to be true. Our 2013 M8 Sno Pro Limited test sled had a clean tunnel, whereas our 2012 M8 Sno Pro was an ice magnet with its full-length cooling system that stretched along the tunnel's length.
The HCR uses a lightweight racing seat that's short and right-sized for leg swings. Its instrument gauge is both digital and analog with an altimeter. This tell-all pod also has an odometer, engine hour meter, reverse indicator, engine warning lights and two trip meters.
The rear suspension is Cat's M with a tri-hub rear axle system. Arctic Cat's internal floating piston (IFP) shock is located on front arm and a FOX Float 2 shock on rear arm. Vertical travel is 15.5 inches.
Pushing the HCR through the snow is Cat's 2.6-inch PowerClaw track with a stiff 85-durometer rating. Track pitch for the track, regardless of M8000 model, is three inches. Track pattern is curved forward (similar to the Attack 20 from eight years ago) which packs the snow before moving it; this in miniscule micro seconds. The 2.6-inch lug height is the tallest; no other mountain sleds has one that trumps it. To keep the big track and the rear skid's hyfax cool, the HCR uses ice-scratchers.
COMPETITION: Read our review of the Ski-Doo Freeride
Only one track length is available on the 800-powered HCR – 153 inches. If you want a longer HCR, you'll need to move to the M9000, which is powered by the 9000 C-TEC4 1056cc turbo four-stroke two cylinder that has a track length of 162.
Without a doubt, the M8000 HCR for 2014 is an aggressive snowmobile. However, its stiff shocks, wide ski-stance and non-adjustable handlebars make it a challenge to ride in steep-and-deep conditions where the slopes are infested with Douglas Fir or Lodge Pole pine trees that are big and meaty. But, from the picture of Rob Kinkade rolling the HCR on its back you'd think I'm busting out a lie. Rob is a professional hillclimber and he can take a grocery cart with a broken wheel up any incline and cut out a back slide whip off a cornice. After taking these pictures, and watching him autograph numerous mountainsides, he commented, "The fixed bars and wide ski-stance sure made me earn these."
Really? I could not believe this after seeing him steal the goodies from a mountain's firm grip. If you can ride like Rob or want to be like him, then you are made for an HCR.
Five reasons you want an M8000 HCR:
1) The temptation to compete in the Rocky Mountain Snowmobile Hillclimb Association (RMSHA) circuit can't be quashed; you've committed yourself to earn the point to climb Snow King mountain in the Jackson Hole World Championship Snowmobile Hillclimb.
2) Riding a trick muscle sled, unique in every way, speaks to the tattoos on your biceps.
3) Wide ski stance, what wide ski stance? My big-arm big-guns can manhandle it.
4) Your riding pals have Sno Pros and Sno Pro LEs and you choose to stand out from the crowd.
5) Because you've arrived.
VIEW: Read our review of the Arctic Cat M8000 Sno Pro
The HCR is a mountain snowmobile that likes to be pushed around in a rough and tough manner. Can you follow a Sno Pro and Limited? You betcha, but you'll burn more calories than the other M8000 riders. Arctic Cat built the Sno Pro and Limited for tree running and boondocking in and through the steep-n-deep where narrow is needed. If you choose an M8000 HCR, which is a good choice, set your sights on competing in a hillclimb circuit. It is a premium hillclimbing race sled – cut out to be just that.
2014 Arctic Cat M8000 HCR 153 Specs
Engine
Arctic/Suzuki 794cc, two-stroke, liquid-cooled, twin; 46mm throttle body injector electronic fuel injection
Horsepower
155+
Drive
Arctic 6 post rpm-sensing drive with 10.75-in Arctic roller cam driven
Front Suspension
Arctic Race Suspension (ARS) twin A-arm suspension; Fox Float Evol shocks; 9.0-inches of travel
Rear Suspension
Arctic "M" parallel rail slide with Tri-Hub rear axle assembly; Arctic internal floating piston shock on front arm and Fox Float 2 shock; up to 15.5-inches of travel
Length
125.0 in
Width
48.0 in
Ski Stance
Adjustable from 42-43 in
Track
15 x 153 x 2.60 PowerClaw
Weight
NA
Brake
Radial master cylinder hydraulic with lightweight rotor on driveshaft
Fuel Capacity
11.5 US Gal (91 octane)
Features
Standard: digital/analog tach & speedometer; Electric gas gauge; clock; reverse; push button reverse; dual halogen headlight
Optional: key start; storage bags; rack; tank pads; optional windshield sizes
MSRP
US $13,199