2010 Polaris Lineup Preview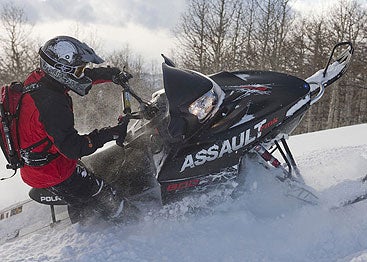 Fewer Shift models and more fan-cooled sleds
Make no mistake; Polaris is focused on the success of its new 600cc Rush snowmobile with innovative Pro-Ride rear suspension. Polaris is counting on that one sled being an identity-changer and direction setter that puts this Minnesota-based snowmobile builder back on the path to being #1 in the sled business.
Polaris enjoyed a decade long stay on top before Ski-Doo's innovative REV knocked them off and stole Polaris riders. Of course, convincing Polaris riders to give up their aging Indys became easy as Polaris lost focus, offering forgettable models like the Fusion. Still, there were good points about the Fusion that included Polaris' entry into A-arm front suspensions and recognizing a serious need to move beyond the Indy chassis. Polaris survived the Fusion in fine shape — though it had to be a painful experience for a company that dominated the snow world for so long.
Historically Polaris has used racing as the crux for establishing its brand as a serious player in the sport. Prior to becoming Number One in sales, Polaris dominated cross country and oval races thanks to its innovative IFS front suspension and durable product. Then, once Polaris established itself as the leader, some in the previous top management essentially disengaged from racing as being too costly and unnecessary. They felt that racing didn't really sell sleds for touring and that the Indy brand was strong enough to sell itself without racing successes. During that time, Polaris consumers were successfully campaigning 'trail' sleds in amateur stock classes. Interestingly, Polaris itself made high marks in western hill climbs with both official and unofficial teams, as some knew that the sled that set the highmarks sold to the picky powder rider.
Polaris was right, to a degree. Let's face it; the Indy chassis and its various iterations were immensely popular. Polaris' competition knew it and kept trying to build a better Indy until finally Ski-Doo developed a whole new way to ride. Ride-forward became the new buzz and made the Indy look like yesterday's technology. Without a suitable Indy replacement, Polaris stumbled and lost market leadership, but seems to have regained momentum.
In recent years Polaris returned to serious competition, establishing itself as a force in snocross and building awareness of its brand as a performance player once again. Polaris and performance are now words consumers blend together with this proud brand, While the Indy chapter of Polaris history is fading, for 2010 you'll find a few remaining Indy-based models as price-leaders, but more and more Polaris has evolved with a ride-forward design of its own that reinstates the original Indy virtues of ride, durability and incredibly competent handling.
The Rush brings a new era of suspension innovation with its unique outside the skidframe monoshock rear suspension. Unlike the Fusion which was totally new and unproven, the 600 Rush is mostly proven pieces that add evolutionary suspension designs front and rear, new construction technology and a popular and proven power package of 600cc Liberty twin and Polaris race-tested clutching.
When introducing the 2010 Polaris line, outgoing snowmobile product manager, Mike Erickson, emphasized, "This industry is all about product. The Rush is a game changer."
While Polaris may headline 2010 with what it calls Terrain Dominating Control from the Pro-Ride 600 Rush with its progressive-rate rear suspension, Polaris also realigned its overall model line to better reflect its marketing goals and to help consumers better select the perfect Polaris sled for their needs. You will note that many model niches consist of a base model with either a luxury feature version (LX) or sports performance (Dragon) version.
Performance Line
For example the Rush is not the only Polaris performance model, as the IQ chassis embraces five sport models, four of which are powered by Polaris-built Liberty 600 and 800 HO Cleanfire engines. The segment includes two Dragon models with premium Walker Evans shock packages and other performance-oriented equipment.
For convenience, all 2010 performance models can be equipped with optional electric start installed at the factory. Of course, electric start comes standard on the IQ Turbo Dragon. The Turbo version does not get the lightweight Freestyle seat like the other performance models, but does come equipped with a 7-position Rider Select steering system. You simply push a button and adjust the handlebars to any of seven available positions.
For 2010 Polaris Dragon models use exclusive-to-Polaris Walker Evans IFP (Internal Floating Piston) shock for the front track shock as part of the premium shock package. The rear track shock is a Walker Evans Compression Adjustable Needle shock. The track itself is a 'terrain dominating' RipSaw with 1.25-inch lug profile. Other performance-oriented pieces include flat, racing-inspired handlebars mounted atop a 5.25-in.riser, Polaris graphic handguards and adjustable handlebar hooks.
You will find the only returning Shift model for 2010 is a fan-cooled sport version. The 550 IQ Shift is one of snowmobiling's great values. It is a basic sport package of IQ chassis and Polaris-Fuji 550cc fan-cooled twin. It may come in basic black bodywork but there is a TX-styled retro graphics package that will spiff this fun-to-ride sled right up. This sled may be a price-leader, but you'll be remiss if you underestimate its total fun-quotient. This sled is a blast to ride on the trails. The tighter the better!
Crossover
Whether you call them crossovers, hybrids, boondockers or stretch tracks, Polaris' Switchback gives you extra track length to bridge stutter bumps or put more square inches on the snow for better off trail float. These 2010 models come with a 136-inch coupled rear suspension and choice of 2-stroke Liberty 600 or 800 HO engines with Cleanfire Injection.
You'll also see new 600 LX and Turbo LX stretch track models with electric start, higher windshield, storage bags, mirrors and distinctive LX graphics.
The 2010 600 LX and Turbo LX models feature a trail-tuned 136 Coupled Rear Suspension built around the merits of the Polaris IQ Chassis. LX models feature a 16.5-in. high clear windshield to block the wind as well as handlebar-mounted mirrors, a Freestyle seat (Lightweight Freestyle on the 600 LX) and removable storage bag that provides additional cargo space.
The 600 LX is powered by the Liberty 600 HO Cleanfire2 with dual fuel injectors for quick acceleration from corner to corner. The Turbo LX features the Polaris 4-Stroke Turbo (FST) engine whose turbo generates over-boost for extra power delivery and acceleration without sacrificing fuel economy. LX riders can expect impressive range between fuel stops as the 600 LX has a fuel capacity of 11.5 US gallons, while the Turbo LX has a 10.2-US gallon tank.
Powder Players
For serious boondockers and deep snow professionals, Polaris returns to the steep and deep with its version of lightweight, powder sleds. The 2010 IQ RMK models are powered by the top of the line Liberty 800 HO Cleanfire4 engine. Created with the adventure rider in mind, Polaris returns the 800 Assault RMK for those riders without boundaries.
2010 mountain sleds retain such key features as:
• Polaris' RAW RMK Deep Snow Chassis with strong, lightweight rails — premium models (Dragons and Assault) use lighter spindles and A-Arms which translates to less un-sprung weight
• Lightweight front bumper system that is narrow at the front, extremely functional and durable
• New Freestyle seat to optimize ride comfort for 600 RMK 144 and 800 RMK 144
• Aggressive deep snow tracks like the 800 Assault RMK's 146 Competition track with 2.125″ lugs
• Offer lightweight Series 5.1 tracks in the Dragon RMKs
• Liberty 800 HO Cleanfire 4-injector engine is used to power five 2010 Deep Snow models
• Dragon RMK-exclusive premium Walker Evans Air shocks with a Walker Evans Air Shock for the front track shock on the IQ Rear Suspension
• Special Snow Check exclusive Dragon graphics package
Tour Utility
It used to be that utility sleds were strictly designed to haul cargo, but today's utility sled can be a specialty utility snowmobile capable of carrying people on tour to a variety of destinations. Polaris' 2010 top models are built on the IQ Chassis and have a smooth-riding IQ 136 Comfort rear suspension and feature 2-up pillow seating, adjustable backrests, electric start and heated passenger handgrips.
The three-model Utility lineup includes a new 600 WideTrak IQ, a new model equipped with features utility sled buyers request. That's why you'll find the sled comes standard with electric start, a high flotation wide track, and ample cargo space in addition to comfortable 2-up seating. Power comes from Polaris' own liquid-cooled Liberty 600, designed for easy starts, reliable power delivery and outstanding fuel economy. To further enhance long-term reliability, Polaris engineers fitted these key models with the durable P2 driven clutch, which delivers improved performance and promotes cooler belt operation.
Focused For The Future
Aside from the innovation of the 600 Rush and its Pro-Ride rear suspension, Polaris seems very focused on asserting its emphasis on building quality products with superior ride and handling. Stated Polaris vice president and general manger Scott Swenson, "We are pleased about the strides we made in quality. Model year 2008 was up 20 percent in quality perspective." He noted that Polaris is focused on quality and being number one in that area and also in rebuilding Polaris' image of being the most reliable and durable snowmobiles, an image that suffered with the Fusion.
He also noted that meeting emissions is an ongoing priority for Polaris and that you will see a gradual reduction in engine models that don't meet current or future EPA standards.
While he pointed out some areas of continuing change, he was delighted to note that Polaris is dominant in ride and handling. Swenson stated, "We will raise the bar on ride and handling. We couldn't be more proud of what our engineers have done."
Related Reading
2010 Polaris Rush Review
Inside Polaris' Pro-Ride Suspension