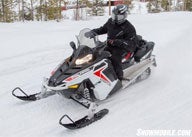 Polaris expands the Indy series as its value line
Not sure why, but when we attended the preview of Polaris' 2014 snowmobiles back in January, we were astonished to see such an expansion of Indy models as well as a broad application of the so-called "dirty" 550cc fan-cooled two-stroke drive system. From two Indy models last season to nine models for 2014. Plus, five of those Indys derive their power from the very 550 fan-cooled engine that we've been trying to kill off since about 2006! What's going on?
We're certainly not complaining…we're merely confused. About a decade ago, when Polaris got serious about the A-arm suspended Fusion, the plan was to phase out the trailing arm Indys that had carried the company to #1 in market share. Turned out the decision to go away from trailing arm independent front ends was right, the execution of the
Fusion was not. We don't question the emergence of the Polaris double A-arm suspensions as they work extremely well. And we don't question the re-emergence of the Indy name. It recalls a positive and dominant period in Polaris and snowmobile history. Indy models ran the gamut from high-performance liquid-cooled triples to single cylinder air-cooled budget savers. The name's return rekindles both nostalgic import and prideful moments of unquestioned Polaris leadership in snowmobiles.
The 2013 Indy models – 600 Indy and 600 Indy SP – have been worthy successors. But to go from two Indys to nine?
According to Polaris marketing and engineering spokesmen, the Indy's "purpose" is to offer a solid performance sled at a very competitive cost initiative. This will be the value platform. We can appreciate that.
But also understand that the expanded Indy series has models, which will be light sellers in the US and only moderately better sales offerings in Canada. The likes of the Indy 144, Adventure and Voyager will most certainly have greater appeal in the Arctic Circle areas common to Scandinavia and areas in the former Soviet Union. This is also a growth market, especially the Russian marketplace. These areas demand different models, as there are no networks of groomed and maintained trails such as those that exist in the 350-mile wide swath of snowmobiling that straddles the US/Canada borderlands.
That also mostly explains the seeming reluctant dismissal of the fan-cooled 550cc two-strokes. We were specifically told in the mid-2000s that such engines would become obsolete as a result of then-impending emissions regulations. Perhaps these engines are "greener" now than then, but no way are they as compliant as a Yamaha or Ski-Doo four-stroke with slightly more power. Indeed, Ski-Doo added an all-new 900cc advanced combustion four-stroke to its model mix for next season. Polaris adds more 550s teamed with one of the most veteran clutching systems still available for snowmobiling, the Power Bloc drive.
Again, we're not complaining, merely confused. Back in 2006 we bought a Ski-Doo MXZ 550 REV simply because we understood that such sleds would disappear in following years. We like the setup, because such drive systems are simple and non-complicated with the weight and plumbing requirements of liquid-cooled engines. Imagine our surprise some seven years later when Polaris unveils a complete series of fan-cooled models.
Interestingly, the very attributes that we appreciate with these fan-cooleds is exactly the reason Polaris added more models. The 550 Indy units are simple to maintain, weigh less than liquid-cooled equivalents and provide extremely good value for better than average trail performance. These sleds have very good drive away and purposeful midrange. They are speedy enough to provoke a ticket in a National Forest and on many trail ways.
If you look at the variety of models, you'll quickly see that Polaris manufacturing engineers have very carefully stacked the efficiency of the manufacturing deck. Of the nine Indys, four are built around a 120-inch track length – the 800 Indy SP, 600 Indy SP, 600 Indy and 550 Indy. The remainder gather diversity off a similar 144-inch track evolution, although the Voyager models also utilize a narrower RMK-width front than their trail-oriented siblings; very clever and very efficient to produce.
All of these factors help Polaris offer these sleds as value-leaders. The most expensive 800 Indy SP retails for US$10,599 versus the 550 Indy at US$6,399. That pricing keeps the 550 Indy two-hundred bucks lower than Ski-Doo's MXZ Sport 550F. And, for 2014 we could only find about seven 550s powering sleds from that MXZ to a pair of Tundra models. We probably shouldn't have been surprised at the Polaris move. The company needed to update its low-buck models and perform a makeover of its more touring/utility offerings, which it does with this Indy expansion.
Now that we are over our initial surprise, we see the move as being value-plus as now Polaris answers Ski-Doo with targeted models that are generally pretty much the same but slightly lower in suggested retail pricing. That's one reason that Polaris historically announces its new models later than everyone else. Once the others announce pricing, Polaris can undercut them. That gives the "low" price advantage to Polaris, but usually that lower price isn't all that deep.
As for the return of the Indy, we find all of this incredibly ironic. The Fusion had been heralded as the next big thing for Polaris. It truly was, just not in the way the company had hoped as the Fusion was nearly as big a disaster as the 1964 Polaris Comet. That sled nearly bankrupted the company. In the words of Polaris co-founder David Johnson: "There were only three things wrong with it: we had an engine that wouldn't run; a clutch and vee-belt that wouldn't stand up; and a track that wouldn't go in the snow."
Fortunately the Polaris Comet was followed by the Polaris Mustang, a sled that worked very well and proved to be a hit with snowmobilers. The Fusion, introduced in Polaris' 50th anniversary season, was to replace the legendary Indy that first had been introduced as the 1980 TX-L Indy.
Heading into model year 2014, Polaris has taken the best features of the Fusion – yes, there were some! – and moved forward with innovative designs like the outside the skidframe shock of the ProRide rear suspension, the uber-lightweight RMK powder sled, a very popular re-invention of the extended track length Switchback and now the re-introduction of one of the most popular names in all of snowmobiling, the Indy.
Related Reading 2014 Polaris Snowmobile Lineup Unveiled 2013 Polaris Indy 600 SP Review: Real World Test 2013 Polaris Indy 600 vs. 2013 Ski-Doo MXZ Sport 600