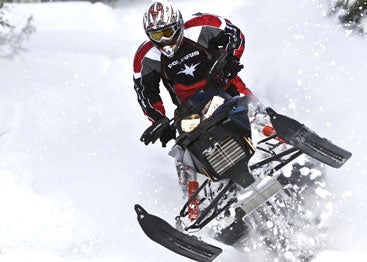 External Pro-Ride monoshock rear suspension design advances Polaris to ride leadership
Four loops of 22.6 miles each around the Daniels Summit, Utah, test trails gave us some inside perspective of Polaris' 2010 Rush snowmobile and its Pro-Ride suspension system. Our initial impressions of this all-new Polaris ranged from "wow!" to "what are they thinking?" The latter in a good, not mean-spirited way.
Fast Facts
Engine Type:Horizontal In-line
Cylinders:2
Engine Stroke:2-Stroke
Valve Configuration:Reed Valve
Displacement:599 / 36.6
Starter:Pull
Turbocharged:No
View Full Spec
Simply, Polaris has created a unique rear suspension that Polaris Snowmobile VP/general manager Scott Swenson calls a "game-changer." We agree that Pro-Ride has the potential to elevate suspension ride and handling in a way not seen since this same company brought independent front suspension (IFS) to the sport in the 1980s.
Recognizably Unique
The key feature of the new Rush is its Pro-Ride rear end. It is instantly recognizable and instantly unique as it brings an externally structured mono-shock control arm to snowmobiling. It mimics the concept of mono-shock design commonly seen in motocross and top line off-road 'adventure' motorcycles. This tube-frame construction, mono-shock design replaces the standard rear arm assembly of a more traditional Polaris skid frame. The front arm remains relatively the same, but there is no coupling of the front and rear arms in the Pro-Ride. The standard front limiter straps were retained for added ski pressure tuning. The rear arm concept is totally new and exhibits some out of the suspension box thinking.
Polaris' Pro-Ride design features a Walker-Evans piggyback 'clicker' main shock with adjustable coil spring that sets the sled's ride balance front to rear. The mono-shock and its arm linkage effects front ski pressure and front to rear weight transfer under acceleration and during deceleration.
Simple To Tune
We found suspension tuning very refined, yet incredibly simple and effective. Twisting the mono-shock coil spring two turns in either direction results in an adjustment equal to either 10 or 15 pounds of rider weight. The change of 10 pounds is the number when the suspension is equipped with the standard spring. Using the heavier weight optional spring gives you the 15 pounds of change. This heavier spring is specified for riders of 225 or more pounds. Adjusting among the 16 clicker positions on the front ski shocks sets compression from soft to hard and further helps balance the sled's handling. Making changes on the mono-shock's 19-position clicker shock further fine-tunes the ride and complements the mono-shock setting.
On our initial Rush ride of the Daniels Summit test route, Polaris engineers overseeing our preview ride made frequent stops during which they encouraged us Rush riders to make suspensions adjustments. This allowed us to make fine-tuning adjustments to the engineer's pre-ride base settings, while proving to us, through our own hands-on experience, just how easy tuning this suspension really is. Since the various test riders ranged from slight to heavyset, tuning adjustments paid off.
The Ride
Our initial Rush ride came on cold morning trails and proved to be a throttle flipper to the handlebar affair. Our nearly 100 miles of group and solo test riding provided insight into just how the Pro-Ride handles virtually every trail condition from stutter bumps to full, suspension-sucking G-force moguls.
In the afternoon, when we were given free ride time, we made three solo circuits of the Daniels Summit loop. We deliberately ranged our ride from moderate trail speeds to full on to amped trail riding and back to trail touring. We worked a long section of suspension soaking moguls at 55-plus speeds on one tour, then 40-plus for another, and finally at 30 to 40 miles per hour to get a true appreciation for the Rush's appeal from hardcore hot rod to suitability as touring trail sled extraordinaire.
Launch Strategy
Based on our nearly 100 miles of trail testing, we vouch for the Rush as 'rut-ready' and expect it will have appeal to the that demographic of youngish, athletic wanna-be racers. But, we disagree with Polaris' launch strategy which focuses attention on Polaris snocrossers like Levi Lavallee and the Winter X Games. To us, this sends the wrong product message to a vastly broader and more monied demographic of serious trail runners who will like all the good things found on the Rush but are also on a quest for pure trail joy. When we check out this 2010 Polaris Rush, we envision it appealing to a much broader set of riders than the trail racer set.
First Impressions
When first we spied the Rush, its styling struck us as part retro-Indy wedge nosepiece with the hint of a Yamaha Snoscoot tube frame 'look' at the rear. We mean both impressions in a totally non-snarky manner.
Our onboard, on-trail impression was quite different. While sitting aboard the Rush racking up an afternoon of trail miles, we had the impression of sitting aboard a Ski-Doo Rev XP with its sharp angled styling and relaxed ride-forward seating. In our view, this Polaris version of Ski-Doo's popular XP is a superior riding version thanks to the Pro-Ride rear end.
Upon first look, we wondered about the truncated runningboard, which brought to mind memories of Yamaha's unlamented Inviter solo specialty trail runner. The Polaris Rush footboard is wide, with excellent boot grippers and ample toeholds for banging through the rough. We wondered if the shortened foot area would be detrimental for trail riding. In our experience we can think of situations where having a longer, tapered runningboard would be a plus, but those are few and you can work your boot onto the Rush's integrated rear bumper if you need to.
IQ Front End
Up front the Rush features a modified Dragon SP IQ front ski suspension with a set of Walker-Evans clicker shocks replacing the Dragon SP's air-float shocks. As a point of fact, Polaris engineering staffers say last year's Dragon SP front end was actually designed for the Rush but brought to market a season early to fit the 2009 Dragon SP. You can say the Rush front end is a proven but more refined version.
Under the hood, sitting low and providing a nice low center of gravity for superior handling is Polaris' 600 Cleanfire Injection 2 'fuelie'. It starts easily and runs very strong, punching power from a Polaris P85 drive to a P2 driven. Stopping is powerfully provided with Polaris' high-performance, race-tested Wave hydraulic disc.
Cockpit Feel
From the cockpit you'll reach for standard Polaris hand and thumb warmer switches, an electronic reverse button, and a toggle button for the all-new fully digital speedometer module. Traditionalists like this sled tester will whine abut the loss of an analog readout, but Polaris feels its high-tech module with digital speedo, odometer, tripmeter, fuel gauge and performance playback feature will satisfy more Rush buyers and give them a sense of something truly new and modern.
Although the handlebars are curved at the ends and wide enough to satisfy us, we really would prefer a newer integrated bar design without the bolt on curved ends. Can we say Arctic Cat handlebar design?
The racing-style seat is said to have upwards of five inches of foam. It is a familiar Dragon SP shape that accentuates the ride-forward styling. We have no complaints, as it proves amply comfortable for fast or moderate trail riding. It places you in a rapid response position to stand up when charging through the bumps. But with the Pro-Ride suspension, you'll find yourself confidently seated once you gain confidence in how well the suspension's 14-inches of travel soaks up bumps.
Our Opinion
However, in the interest of full (and highly opinionated) disclosure, we are not fully convinced this innovative Pro-Ride rear suspension is the total game-changer Polaris wants us to embrace. It certainly provides a very enjoyable ride for the extremely serious trail rider. It readily handles those high g-force, suspension sucker bumps without bottoming. But truly aggressive, youthful, stand-up ditch-banging riders may well be just as happy with their Dragon SPs. These riders have bought into effective REV and IQ chassis marketing campaigns that encouraged them to stand up through dirty moguls and absorb those bumps with their legs and knees. This snocross-inspired riding style is how Levi Lavallee and Cat's Tucker Hibbert run fast. This youthful go-fast set emulates them, not the 40-something year-old, high-mile, groomed trail rider. Now Polaris is asking their Dragon customers to sit down for the big bumps.
Nonetheless, Polaris is making a statement with the 2010 Rush by making a splashy introduction at the 2009 edition of the Winter X games. The Minnesota-based snowmobile maker is launching a Rush-specific web site and planning for hands-on demonstration test rides across North America during the remainder of this snow season. If there is a demo near you, take a ride. Check out the Rush-specific accessories that convert this sled from sports trail racer to high mileage trail rider pro.
New Handling Category
We spent as much time with the Rush as we could at its press launch. Our impression is that Polaris has really created a new way of enjoying hundreds of miles of trail riding — per day. Polaris' Pro-Ride suspension embraces a new category of handling and ride that gives Polaris' Rush an instant advantage for serious snowmobilers from hot rodder to mileage makers.
Consider this, the Rush units we rode were exceptionally good even though they were not final specification sleds. We imagine they will be even better when production rolls around and all specifications are finalized. The 2010 Rush claimed weight target of 459 pounds is lower than the 2009 600 Dragon SP weight of 466 pounds, Of course, the 2010 Ski-Doo MXZ 600 E-TEC has a significantly lower published weight claim of 415 lbs.
The Bottom Line
With a full test ride of the pre-production 2010 Polaris Rush under our kidney belt, we can tell you that we like what we rode — a lot! We bet you will, too. Here's a tip, though – Polaris intends to build just enough of the 2010 Rush models to satisfy its early order customers. If you are thinking about waiting to get one later in the fall, you might want to rethink that position and see your Polaris dealer sooner rather than later.
We will vouch for the 2010 Polaris Rush. It has a proven parts pedigree with its Dragon SP front end, spunky 120-plus horsepower Liberty 600cc CFI-2 engine and an all-new industry-first Pro-Ride mono-shock rear suspension. We can't wait to see how the competition responds to this new suspension design.