Three Trail Sleds That Soothe Your Inner Bad Boy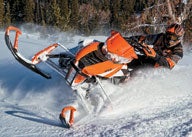 Polaris Indy SP, Ski-Doo MXZ TNT 600, and Arctic Cat XF1100 Turbo get our blood boiling
Without any particular rhyme or reason, here are three trail sleds we want this winter. These three won't fit into any neatly arranged "editorially crafted" segment. Nah, our fantasy three fill in the holes of our daily reality by being sleds that we'd most likely never have in our garage at the same time, but they would allow us to blast out of our inner boring political correctness.
First if all, we want the new Polaris Indy SP. It's not the fastest, the most refined and certainly not the best handling or riding sled we can get. It simply satisfies our call for edgy "bad boy" memories, when every other sled on the trail was fitted with a trailing arm front suspension and bore four letters that set it apart – INDY! It didn't matter what specific version you rode. If you told a fellow snowmobiler that you rode an Indy, they understood. Like now, if you say you ride a "REV" other riders know that it's a Ski-Doo, most likely an MXZ and that it has ride-forward design.
You never had to explain riding an Indy. Everyone understood. If they didn't already ride one, chances were they wanted to. Indys crossed performance lines. The guy on the fan-cooled Trail Indy shared a sense of inner racer with the terrain dominating Indys that won the fabled cross-country events like the old Winnipeg-to-St Paul. Despite going "modern," Polaris calls up Indy heritage with "retro" styling wraps on select current day models. So, is it really a surprise that Polars brought the Indy back to life?
This March we had a great deal of fun meeting one of the key Indy engineer designers. He's a young, enthusiastic engineer who exuded Indy-ness. No way he would have been old enough to have been an Indy rider when Polaris' TX series morphed into Indy legend in the 1970s. But he knew this new one from snow flap to ski tip. He lived it in much the same way Indy riders always knew their sleds. It was great fun to ride with this young engineer, to wrap ourselves in his enthusiasm.
He is one reason we declare the 2013 Indy 600 SP a sweet trail sled. Even if the new Indy bears little – try virtually no – resemblance to the original, it is a special treat, regardless of price! But, price-wise this top of the line Indy 600 SP holds a special bonus in value. It's the low price sled with high fun built in. We especially like the fact that it comes with the most up to date Cleanfire 600cc two-stroke twin.
We appreciate a smooth four-stroke, but a quick-spinning two-stroke with its unique power range properly clutched still gives us giggles. Polaris finally has its Cleanfire electronic fuel injection working with perfection. The semi-direct intake system provides great throttle thumb feedback so you can ease in on exiting a corner or, if you want to be an old-timer, slam it hard to the bar and work the A-arm front suspension.
The new 2013 Indy may give us old-time original Indy riders a nice memory of the past, but the handling is superior – even in the "budget" sport version. Modern shocks and travel exceed what we once thought were great. And this modern approach to Indy SP rider ergonomics with curved bar and ride forward design makes the old Indy seem more Model T to Chrsyler 300. The new Indys are far superior in every way. Except one. And in that one way, they stay the same.
The 2013 Indy SP makes you want to get your "bad boy" on. It's so much fun to ride. You want to charge into bumps and corners. You want to get the front end to kick back at you. You want that feel of flat control in the air that the Indy gave you, even when you did something totally stupid and the sled seemed to save you from yourself. This modern Indy continues that heritage.
Another sled that we could spend thousands of miles on is Ski-Doo's MXZ TNT 600. This is for the more serious rider who wants to play fast. The TNT models carry the least weight of the sport trail sleds. Powered by the direct-injected 600cc Rotax two-stroke twin, the TNT will have similar power as the Indy SP, but fuel economy should be better and the TNT's suspensions let you truly turn your inner "bad boy" lose!
The TNT celebrates a heritage of performance as the TNT moniker was applied to Ski-Doo's top performers contemporaneously with the Indy. Both were performance-oriented, track and trail racer wannabes.
The 2013 Ski-Doo TNT gets fitted with the latest rMotion highly tunable rear suspension that complements a long travel double A-arm front end. High pressure, fade-resistant gas shocks change the dynamics for the modern rider, who can bang for miles in deep rutted-out trails. Today's technologies make an incredible difference in how we enjoy our sleds. If you primarily ride groomed trails, the newest suspensions, the pioneering REV ride-forward chassis design and excellent sport riding ergonomics set the TNT as one of our three sweetest trail rides.
The new chassis and bodywork changes may not be overly dramatic from first view, but they work well for adding a bit of style with wind protection. Handling balance makes this sled unbelievable fun to crank into a corner. You just have to learn to trust the TNT will do your will. It does, but you need to believe. A few sideways pitches into tight corners teaches you that trust. The skis will bite. The chassis will stay controlled. And the power will respond as you want it.
Another of our sweet rides is also one of the most mind blowing, torque-twisted sleds you can ever imagine. Arctic Cat's turbocharged 2013 XF1100 will intimidate you with its 170-plus horsepower and flatline powerband that tops out at 121-ft lbs at 7300 rpm.
The first time we rode the new Procross turbo we were careful. Everything was new. We had no idea what to expect other than this was one truly nasty Arctic Cat snowmobile. When we brought the sled back to the Arctic Cat van at the end of our first ride, we were weak-lipped from smiling so much. The turbo Cat is incredible. Still, considering its power, we would move to the longer length XF version to give our fading reactions a split second more time to respond to the sled's brute power.
This second season of the Procross design with the tall spindle ARS front end enjoys refinement and taller gearing for improved top end. While the sled will be known as a powerhouse, the beauty of the turbo Cats lies in the powerplants' unbelievable docility – if and when you want or need it. If you had to ride trail sweep on an octogenarian trail ride, the sled will do it just fine. You might go apoplectic, but the sled will handle it just fine. At the end of such a ride, you could retrace the route at fantasy speeds, feed your bad boy, and still join the group for pre-meal tea and biscuits. This Cat will fly or not depending on your demands. Flying is better, though.
The Cat's seriously underrated rear suspension works as well as anything in the business. The front end sets new standards for serious play. It may look odd but it works like the race suspension it was based on.
That Procross chassis with the triangulated upper spar gives you exceptional lightweight strength and plays into the two-piece tapered concept of the tunnel. You can toss yourself around on this sled as easily as you can toss the sled itself into corners or off trail.
We don't claim to know what comes next for Arctic Cat as the company has announced it's going away from Suzuki power, but for now the Suzuki-sourced turbo four-stroke makes the 2013 XF1100 Turbo an incredibly sweet trail sled.
Sweet sleds for the season comes in many flavors. We like the Indy SP for toss and charge play, especially on tight trails that may be groomed or only moderately so. It rekindles the inner Indy rider from years gone by.
The Ski-Doo TNT 600 is all that's right with modern 2013 snowmobiles. It encourages you to ride hard and challenge the terrain.
And, as tasty a sled as you'll find for groomed or rough trails comes with the power of the Arctic Cat XF1100 Turbo. A delightful ride, it can be one of the sweetest trail rides ever, or if you are in a particularly aggressive and nasty mindset, one of the baddest rides ever. Power, torque, ride, handling, ergonomics and versatility give your inner self serious choices for sweet or bad.
We want these three sweet rides for totally different reasons. Or, maybe we should simply see a "shrink" and address our inner issues and settle in on a used Polaris Indy Lite 250.
Related Reading
2013 Polaris 600 Indy SP Review – Video
2012 Ski-Doo MXZ TNT 600 E-TEC Review
2013 Arctic Cat ProClimb XF1100 Turbo Sno Pro High Country Review
2012 Arctic Cat XF1100 Turbo Sno Pro vs. 2012 Arctic Cat XF800 Sno Pro