2011 Ski-Doo Grand Touring Review
Grand features for serious long distance tour riders
Story by Jerry Bassett, Photography by Ski-Doo, Jan 24, 2011
Ski-Doo helped Quebec develop the pre-eminent trail system in the snow-world back in the day. It was a system unique to the times and carried forward to virtually every tourist-oriented snow state and province. Few snowmobilers recall how the system of interconnected, signed and groomed smooth trails came about — and most simply take them for granted. That was the idea back in the 1970s. Create snow highways so riders could make long distance riding as easy as travel by automobile. And, in the meantime, create and sell snowmobiles to be used on those trails.
While the system of trails may seem like a magnanimous act, there was a catch. That catch exists still. Organized and funded trail systems are even more crucial to snowmobiling today. Take away the trails and who cares about the sleds? Well, except for the "back country" and off-trail designs that have grown in popularity, but then, you'd need them because that would be what you'd have to ride in a world without snowmobile trails. And, would you really?
Ski-Doo certainly thought not. The company still thinks that riders prefer trails and that they want to make many miles in a day. To that end, Ski-Doo continues to manufacture and promote snowmobiles designed expressly to make a touring rider's life as winter-friendly as possible. Check out the latest touring — or, should we say Grand Touring — designs from this forward-thinking snowmobile builder.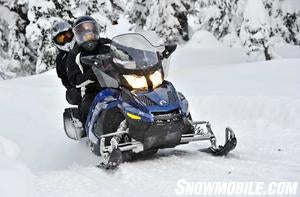 When it comes to moving one or more snowmobilers long distances in a day, Ski-Doo has your needs figured out. It doesn't hurt that this company's research and development team is located on the main Quebec trail system in Valcourt, Quebec. A Ski-Doo engineer can board a prototype and head out of the R&D shop to test out concepts to see how they relate to the real world of touring.
If you've ever driven a car in the Eastern Townships of Quebec, you know that the population likes to get from one place to another as quickly as possible. It doesn't change in the winter. The snowmobiling populace wants power along with its comfort.
This season Ski-Doo offers three levels of power with comfort. Two choices come in the Grand Touring LE with either a 600cc ETEC twin or the 1200cc 4-TEC triple. But you can enhance the comfort and convenience factor by opting for the Grand Touring SE, which adds an air control suspension, heated seating, integrated travel cases, tilt steering and console padding along with its standard 4-TEC powertrain.
| | |
| --- | --- |
| | |
The top of the line SE retails for US$13,149, which is $2,400 more than the base LE with ETEC and $1,250 more for the LE package with the 4-TEC. Obviously you have to base any purchase decisions on your own needs and desires, but we'd suggest that if you want value, simply go with the LE and 600 ETEC. The engine comes with about 120-horsepower, versus the 10 to 15 more ponies from the four-stroke triple. The ETEC twin should be comparable in performance, some of which comes from the nearly 50-pounds weight difference in favor of the two-stroke twin. While the four-stroke does have broad torque that starts with a low 2500 RPM engagement and is quiet, the new breed of Rotax ETEC two-stroke engines are very smooth, almost as quiet on the trail and have shown to be fuel and oil efficient. The ETEC drive-away engagement is 900 revs higher at 3400 RPM. But, the ETEC has a nice-to-have self-fogging feature that easily lets you prepare it for summer storage with virtually no hassle.
Upgrading an LE 600 to the 4-TEC will cost an additional $1,150. At that point why not go all the way and pop for the SE upgrade?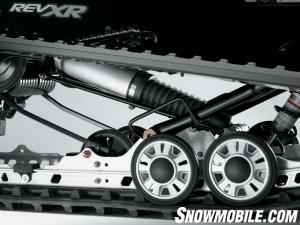 All Grand Touring ETEC and up models share many of the same great to have features. They share the tour-rider friendly REV XR chassis, which is wide and long for extreme comfort over a long day's travel. The track for all three features Ski-Doo's SilenTrack technology to minimize on-trail track noise.
The front suspension is a set of upper and lower A-arms with high-pressure gas shocks for control of the 9-inches of travel. The rear suspension differs between the LE and SE, but you'll get 16-inches of travel from either model. The difference lies in how the rear suspension's rearmost shock is controlled. On the LE package, the front arm shock is a Motion Control shock with a variable rate gas shock on the rear arm. The SE features a premium high-pressure gas shock on the front arm with an air-controlled shock at the rear arm that the driver can control from the cockpit.
While the LE with the 1200 4-TEC is mechanically similar to the flashy SE, there are some feature upgrades that you'll enjoy. The SE's side bags mount and detach quickly for touring ease as you can carry gear in a custom-styled integrated and standard tunnel bag. There is also a blue color option versus the base black standard with the LE.
We found all Grand Touring models loaded with touring-friendly design from the tall windshield, rearview mirrors, adjustable backrest, multi-function gauge, power outlets for heated shields, and wide footrests for the passenger. The Grand Touring models come with decades of hands-on engineering expertise that Ski-Doo evolved from its pioneering roots.
Because comfort, reliability, and on-trail manners are what counts for the modern high mileage touring rider, these sleds must be considered state of the touring art when it comes to this style of riding. Ski-Doo's Grand Touring designs offer onboard convenience mixed with durable power that make them uniquely suited to riders looking for a sled to get them from Sunday to Saturday with no concern other than getting from one destination to the next. And isn't that what you want?
2011 Ski-Doo Grand Touring LE
2011 Ski-Doo Grand Touring SE
Engine
LE 600 — Rotax ETEC 600 HO two-stroke (LE), ETEC direct injection twin with 2-into-one exhaust; uses 91 octane premium unleaded
LE 1200 — Rotax 4-TEC 1200 triple; electronic fuel injection; 3-into-one header and single baffled muffler; uses 87 octane unleaded
Rotax 4-TEC 1200 triple; electronic fuel injection; 3-into-one header and single baffled muffler; uses 87 octane unleaded
Horsepower
600 ETEC —120 hp (engagement 3400 rpm with maximum engine speed of 81800 rpm)
4-TEC 1200 — 130-hp (engagement 2500 rpm with maximum engine speed of 7800 rpm)
130-hp (engagement 2500 rpm with maximum engine speed of 7800 rpm)
Drive
600 ETEC — TRA III/QRS
1200 4-TEC — TRA IV/ QRS
TRA IV primary with QRS secondary
Front Suspension
Ski-Doo dual A-arms with HPG shocks controlling 9-inches of travel
Ski-Doo dual A-arms with HPG shocks controlling 9-inches of travel
Rear Suspension
Ski-Doo SC-5 slide rail with Motion Control shock on front arm and HPG-VR shock on rear arm; 16-inches of travel
Ski-Doo SC-5 slide rail with HPG shock on front arm and ACR (air controlled) shock on rear arm; 16-inches of travel
Length
127.0 in
127.0 in
Width
47.9 in
47.9 in
Ski Stance
42.4 in
42.4 in
Track
15 x 137 x 1.0 SilenTrack technology design
15 x 137 x 1.0 SilenTrack technology design
Weight
LE 600: 537-lbs
LE 1200: 584-lbs
599-lbs
Fuel Capacity
10.6 US Gal
10.6 US Gal
MSRP
US $10,749.00 (LE 600)
US$11,899.00 (LE 1200 4-TEC)
US$13,149.00
Related Reading

2011 Ski-Doo Grand Touring Sport 600 ACE Review
2011 Ski-Doo Expedition Sport 600 ACE Review
2010 Ski-Doo Expedition 1200 4-Tec Review