2011 Ski-Doo Lineup Preview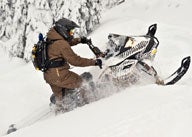 Serious clean power for powder and trails
As already announced, Ski-Doo adds an 800cc Twin to its E-TEC engine line for model year 2011. Not announced until now though is the somewhat surprising addition of an all-new 600cc four-stroke Twin. As you powder wranglers might have guessed, to be taken seriously in the profitable powder niche, Ski-Doo makes serious changes to its deep snow line, even adding a special "Freeride" package to its Summit. And, of course, Ski-Doo makes the usual addition and subtraction of models that seems to come from every manufacturer each new season.
While the proliferation throughout the line of the new Rotax 800cc E-TEC Twin generated the biggest excitement for model year 2011, it is the quieter appearance of the 600cc four-stroke that may turn out to be the bigger news. As any serious snowmobiling fan knows, sled makers face a challenge in meeting environmental standards that may not be as firmed up as most snowmobile manufacturers like to think. These environmental standards remain "challengeable" for flighty and purely political reasons and it behooves each engine maker to prepare a worst-case scenario that might make them less susceptible to a rewriting of the rules. At the moment, the four sled makers claim they either have or can meet existing environmental and emissions standards going forward. But they all know that certain of their current engines must eventually be replaced by newer, cleaner powerplants. Ski-Doo's introduction of its Rotax-engineered Advanced Combustion Efficiency (ACE) four-stroke 600 Twin is a step into Ski-Doo's snowmobiling future.
Holding ACEs
Simply stated, the Rotax ACE 600 will eventually replace two older engines, the 550cc fan-cooled Twin and the liquid-cooled, carbureted 600cc two-stroke Twin. The horsepower rating for the new four-stroke will exceed that of the fan-cooled Twin, but be significantly lower than that of the carbureted 600 or even Yamaha's 80-horsepower, 500cc Phazer four-stroke. But it will enjoy strong torque for good drive-off to midrange performance. Ski-Doo equips its new four-stroke with an all-new eDrive primary drive clutch that is derived from Can-Am ATVs.
Because minimal "hoopla" was made of the new engine, we expect that it will be available in somewhat limited numbers for model year 2011, although it seems to be available in a fairly wide sampling of models ranging from inclusion in a sporty MXZ TNT to use in the more utilitarian models. The strengths of this engine are said to be its up to 29 miles per gallon fuel mileage, its quiet and smooth operation, its low maintenance, and strong torque characteristics.
The Power
The new 800cc E-TEC, on the other hand, is the power motor to be used in top line MXZ and Summit models. Based on the 800R Power TEK Twin, the E-TEC 800R Twin is claimed to add noticeable power while showing a 15 percent improvement in fuel economy and up to a 50 percent improvement in oil economy. This all is said to happen even with the use of larger 52mm throttle bodies. Ski-Doo spokesmen said that the new Twin measures 799cc, operates at 8150 rpm and should top 155-horsepower.
The E-TEC 800 Twin showcases Rotax two-stroke engineering expertise. The new big Twin features voice-coil injectors, which control fuel delivery using an electrical current through a wire coil that acts as an electromagnet to pressurize and release fuel at controlled rates. The exhaust valves rely on 3-D mapping in the computerized control module to effectively let the new Twin react one way at low revs and perform at a higher level in mid and high rev ranges. Because the engine's control module generates excess heat as it makes upwards of 8,000 calculations per second to control engine functions, Ski-Doo engineers devised a special liquid-cooling loop to keep the device from overheating.
Along with these two new engines, you'll find models equipped with the 600cc E-TEC Twin and the 1200cc three-cylinder four-stroke. For now, there will be models utilizing the 550cc fan-cooled Twin and the liquid-cooled 600cc carb two-stroke.
Powder Power
As Ski-Doo's Bob Lundy, vice-president of sales, noted, "We will be regaining marketshare in the mountain market."
Two ways to draw attention to Ski-Doo's model year 2011 powder designs come from a new S-36 handling package for the Summit models. This setup is aimed at making the 2011 Summits easy to sidehill, more predictable in the powder and give it a lighter "feel" on the mountain. You'll find revised A-arms, shock shafts and a two-inch narrower ski stance — adjustable in to 35.7-inches center to center or out to 37.4-inches. There will be an optimization of some changes made last season that included a longer center shock with reshaped rails and rocker arm.
The 2011 Summits use a non-ported PowderMax track that is said to boost flotation and snow climbing. Simply eliminating the track's center windows adds more than a square foot of track surface for added snow float.
While the S-36 package should attract some shoppers, the addition of a revised backcountry "hot rod" called the Summit Freeride should pique the interest of serious powder hounds who like to break free into the backcountry. The intent of this model was to blend the maneuverability of Ski-Doo's MX Zx race sled with the snow-ability of the Summit X-RS Hillclimb Edition from last season.
Keys to this powder special include use of the REV-XP RS chassis, which means more foot space since there is less taper in the runningboards than a standard Summit X. The steering post is adjustable and set more forward to accommodate standup action and you'll also find race-style handlebar controls. The rear suspension has been redone with the rear arm now mounted 4.5-inches further back and a longer rear shock to control transfer under hard acceleration and decrease chassis pitch.
The ski stance on this backcountry model is wide, but adjustable from 41.6- to 43.3-inches. The sway bar is a quick disconnect type and the sled comes sans decals to allow you to personalize it with a set of custom decal packages.
And, of course, a power sled for the backcountry requires the latest 800cc E-TEC Twin as standard fare.
In addition to the Freeride, you'll find an assortment of "Spring Only" X-models models available at your Ski-Doo dealer. And a complete line of trail, sports and utility models updated for 2011.
Revised Models
Among the latest offerings are an expansion of the REV-X platform Skandic WT wide tracked model, which moves from the "Yeti" chassis to the latest REV-XU platform. The move makes the wide Skandic 31-pounds lighter.
If you like a work/play sled with some extreme tendencies, then you'll want to check out the all-black Tundra Xtreme that adds power from a 600cc E-TEC and the grip of a PowderMax track with 2.25-inch lug profile. This isn't your run-of-the-hill Tundra.
In the MXZ line you'll find another iteration of the MX Z X-RS "racer-style" trail hot rod. This one becomes even more "racer-like" as there's an aluminum throttle block and the handlebar heater switches have been moved off the handlebar to the console. X-package models come with a choice of E-TEC power — 800cc or 600cc Twins. The windshield grows to throw off more wind.
The MX Z models will be available in TNT or Sport, with the TNT offering two four-stroke engine options — the 1200cc Triple or the new ACE 600 Twin with eDrive. The Sport option allows you the choice of the proven 550 fan or the new ACE 600 four-stroke. Finally, the base model gets a handlebar with "J" hooks integrated into the design. Yeah!
Since Ski-Doo made the Renegade a separate line last season, you'll find minimal changes here. There is, of course, the addition of the 800 E-TEC and the return of the X-package with a 16-inch wide track.
The Renegade series offers an Adrenaline package — designed for experienced rough-trail riders with more serious shock packages; the Backcountry — for the rider who rides off-trail than more than on; and the Sport — for the budget-conscious buyer who enjoys breaking away from the trail every now and then. You can get an "X" package in both the Renegade and Backcountry versions.
Touring And Utility
The solo saddle GSX and two-up Grand Touring models offer pimped out rides in the special edition "SE" designations that complement the ride with technology and refined ride. The GSX solo rides come in the SE and LE modes. You can get an air-controlled suspension in either single or two-up models. GSX and Grand Touring engine choices range from either the 130-hp 1200cc four-stroke Triple to a 600 E-TEC Twin. The Grand Touring models also offer a budget-priced Sport version that offers three engine choices — 550cc fan, 600 liquid-cooled Twin with dual 40mm carbs, or the new ACE 600cc four-stroke Twin.
The Expedition series returns for the riders who like to add a touring component to their utility sleds. There are three versions for 2011, including the "Spring only" SE model as well an LE and Sport version.
For more serious utility, but offering a smattering of sportiness, you'll opt for the Skandic and Tundra models available in track widths up to 24 inches and lengths to 156 inches. While the Skandic satisfies the need for a heavy-duty utility sled, the Tundra series offers a lighter weight alternative to serious work needs and even includes a Tundra LT version with the newest Rotax four-stroke option, the ACE 600.
Regardless of your needs, Ski-Doo offers a model for virtually any need. As Ski-Doo's Lundy noted, "When it comes to product development, we are not taking our foot off the pedal." The appearance of the new ACE 600 Twin highlights Lundy's promise that Ski-Doo also would lead in clean technology and be poised to gain marketshare as a leaner, innovative and more aggressive player in the future.
Look for Ski-Doo to highlight the performance of its new 800 E-TECH in powder and sport sleds, while setting up its latest ACE four-stroke as a clean engine for the near future.
Related Reading
2010 Ski-Doo GSX Sport 550F Review
2010 Ski-Doo 800 Summit and Everest Review
Ski-Doo Re-Launches the MX Z X-RS
2010 Ski-Doo Renegade Adrenaline 1200 4-TEC Review
All Things Ski-Doo on Snowmobile.com