2012 Ski-Doo Expedition LE 600 Review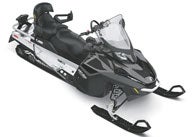 Crossing over from touring to utility and back again
You probably won't see many Ski-Doo Expedition models on highly trafficked groomed trails across the snowbelt. They just don't have that high-mileage touring vibe that you get from Ski-Doo's more popular Grand Touring series. Fact is, though, that the 2012 Ski-Doo Expedition LE could be a surprisingly good option for the serious high-miler who lives in areas with a dearth of groomed trails but an excess of snow. After all, this touring hybrid comes with a Sasquatch-like footprint that measures 20-inches in width by 154-inches in circumference. It should get you just about anywhere you need to go.
Fast Facts
Engine Type:Horizontal In-line
Cylinders:2
Engine Stroke:2-Stroke
Valve Configuration:Reed Valve
Displacement:594.4 / 36.3
Starter:Electric / Pull
Turbocharged:No
View Full Spec
Ski-Doo's concept behind its Expedition series was to provide a specialized vehicle for special needs. It's part touring and part utility. The touring part gives it a resemblance to the 2012 Grand Touring LE. But the Expedition LE track extends out more to the snow. A standard touring model features the 137-inch track length. And it only goes 16-inches across. That's good for trail touring. The Expedition works for touring as well, but it can carry you off trail into the backcountry and offer up substantial flotation.
By design the Expedition should out maneuver a trail-touring model. Ski-Doo engineers not only give this hybrid sled more track flotation, but also provided it with more capability to wind its way in fresh, ungroomed snow areas. The ski stance is maxed out at 40.1-inches, which is more than two inches narrower than a Grand Touring LE. By going with the tighter ski stance, the Expedition should sashay side to side easier, making it more nimble in the back woods. For more agility you can tighten up that ski stance to 38.4-inches if you want.
Traction shouldn't be a problem as the Expedition LE's 154-inch track includes a 1.25-inch lug profile for added grip. If you do need to reverse in deeper snow, feel confident that the articulated rear SC-5U suspension offers five settings to maximize traction capability in deep snow. Plus, if you don't want the rearmost track to move, you can lock the suspension, effectively giving you a solid rail. This can be handy if you need to tow a sleigh or cargo.
Of course, with this much track on the snow, a side benefit will be overall comfort as its added length should bridge more of those bumps common to marginally groomed trails. But, don't expect to see the top speed of a Grand Touring sled as selected gears and clutching have been engineered to maximize torque and low to midrange performance and not top end.
There are two engine choices available for the 2012 Ski-Doo Expedition. Both the four-stroke 1200 4-TEC and Rotax' efficient two-stroke 600 E-TEC fit easily into the engine bay of the REV-XU chassis. This heavy-duty platform is specially constructed to carry the extra-long SC-5U rear suspension and the adjustable double A-arm front end. The 600cc twin is a little lighter overall, but Ski-Doo recommends using 91-octane premium fuel rather than the 87-octane fuel you'd buy for the four-stroke option. Weight and fuel needs may enter into your purchase decision.
You needn't worry about the basics. Regardless of engine choice the Expedition LE offers more than adequate capability. The suspensions come with proven reliable components in Motion Control shocks up front to control the 8.3-inches of maximum travel. The rear package gives you a Motion Control shock on the SC-5U center control combined with the extra control of a high-pressure gas shock on the rear arm.
Working with the engine choices are updated versions of Ski-Doo/Rotax designed Total Range Adjustable (TRA) clutch calibrated for either the two-stroke or triple cylinder four-stroke engines. As you would expect from a sled that throws down such a large footprint, the gear ratio is set to let you hunker down for towing or busting powder. Adding to this sled's capabilities is the standard two-speed transmission. Ski-Doo's tranny is unique to snowmobiling as it offers true synchromesh shift-ability between first and second so you can keep moving. Most two-speed sled gearboxes require a stop to shift up or down, not this unit, which Ski-Doo inherited when it took over the Lynx snowmobile line in 1989. The synchro transmission had been introduced two years earlier and is now found on many of Ski-Doo's most serious "off-trail" utility models, including this hybrid. When you add in the precision throttle operation of electronic fuel injection to this hybrid's backwoods character, you can count on this touring/utility hybrid to give you the power as you need it.
The Expedition combines more than adequate touring features to make it a good fit for some groomed trail outings thanks to its comfortable two-up seating, complete with adjustable heated passenger handgrips. But, true to its utility breeding, you'll find a good amount of underseat storage available for towropes and other gear. A full hitch and cargo rack add to the Expedition's usefulness. As a concession to deep snow running, the raised handlebar location includes a "mountain" strap to give you added leverage.
Regardless of your intent — trail or bushwhacking — the 20-inch windshield will toss cold air and snow away from you. Plus, the standard 12-volt power outlet lets you carry handy extras like a GPS. Electric start, reverse gear, a Brembo hydraulic brake and multi-function gauge make this hybrid useful in the world of touring or off trail adventure seeking. As well, the Expedition comes with touring-friendly features that combine with utility ruggedness to let this sled track into both environments. The stout front bumper and wide high-flotation skis say: Off Trail. The rearview mirrors, adjustable backrest and j-hooked ends on the handlebars say: Trail-worthy. Added up and taken as a whole, the 2012 Ski-Doo Expedition LE says a sled for two worlds of snowmobiling.
2012 Ski-Doo Expedition LE 600 Specs
Engine
Rotax 600 HO E-TEC: 600cc liquid-cooled two-stroke twin; fitted with Rotax E-TEC fuel injection system; Recommended: 91 octane premium fuel
Horsepower
120
Drive
Rotax 600 HO E-TEC: TRA III with QRS; two-speed Synchromesh transmission with reverse
Brake
Brembo hydraulic disc
Front Suspension
Ski-Doo double A-arm suspension with Motion Control shock; 8.3-inches travel
Rear Suspension
Ski-Doo SC-5U parallel slide rail with Motion Control and HPG shocks; 13.4-inches of travel
Length
127.0 in
Width
46.9 in (maximum)
Height
52.3 in
Ski Stance
Adjustable from 38.4 to 40.1 in
Track
20 x 154 x 1.25
Weight
613 lbs (claimed)
Fuel Capacity
12.0 US Gal
MSRP
US$11,499
Related Reading
2012 Ski-Doo Grand Touring Sport ACE 600 Review [Video]
2011 Ski-Doo Expedition Sport 600 ACE Review
2011 Ski-Doo Grand Touring Review
2010 Ski-Doo Expedition 1200 4-Tec Review