2012 Ski-Doo Grand Touring Sport ACE 600 Review [Video]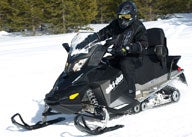 A fuel efficient 600 four-stroke with a nimble handling two-up chassis
Ski-Doo's "basic" two-up touring package comes with amazing features for a sled designed to be a "value" model. When you consider what you get for a suggested retail price of less than US$9000, you have to be pleased.
Fast Facts
Engine Type:Horizontal In-line
Cylinders:2
Engine Stroke:4-Stroke
Valve Configuration:DOHC
Displacement:600 / 36.6
Starter:Electric / Pull
Turbocharged:No
View Full Spec
Let's face it, two-up touring snowmobiles won't lead the sales charts any time soon. In many cases the two-up "value" touring models bypass dealer showrooms on their way to rental fleet operators. Those that do make the dealerships probably sit off to the side of the show floor, away from the flashy sport and stretch track models. Maybe the fully loaded Grand Touring SE with its triple cylinder four-stroke and snappy styling gets a prominent place on the show floor, but you might have to ask the dealer where you can see the value-priced two-up Grand Touring Sport.
Granted the GT Sport presents a more conservative appearance in its more raw black coloration, but it offers true value derived from its REV-XP chassis and quite sophisticated Rotax four-stroke twin. Test riding the GT Sport ACE 600 in West Yellowstone presents a drawback as performance is mitigated by elevation that starts about 6700-feet and goes up as you ride the popular mountainside trails. Struggling with thinner air is a reality for the basic 60 horsepower engine. In the flatland areas of the Midwest, performance will be quite adequate. While not speedy, the ACE 600 twin will be consistent for all day touring. The second-year four-stroke twin works well with Ski-Doo's ATV-based primary eDrive clutch. The four-stroke power curve and the eDrive driven provide smooth drive-off performance beginning at 2200 RPM. Maximum revs run to 7250. These numbers are about a thousand revs low when compared to the more powerful carbureted Rotax 600 two-stroke, which is available as an option in the GT Sport series.
At flatland elevations the Grand Touring Sport with the ACE 600 will offer good on-trail speed and acceleration, but should deliver extremely impressive fuel economy. Ski-Doo claims its fuel-injected Advanced Combustion Efficiency 600cc four-stroke can get upwards of 29 miles per gallon. Okay, we'll give them the claim, but in most cases we doubt you'll see that with the Grand Touring Sport ACE 600. High teens or low 20s would be our guess based on how most snowmobilers ride. Add in the weight of two riders, the friction of the 137-inch track and the incredible variables of snow and trail conditions will detract from the "perfect" mileage estimate. All in all, mileage in the low to mid 20s would be exceptional for a day's ride.
We believe the Grand Touring Sport with ACE 600 can satisfy a vast majority of snowmobilers. Well, the majority that don't have to have triple digit speed on tap at the crack of the throttle. Our test rides of ACE 600–equipped sleds proved that this engine is extremely competent whether powering a sport version like the MXZ or a "stretch" track model like the Grand Touring. Indeed, the ACE 600 sleds can be a great deal of fun to ride as you have to rely on your driving skills more than your throttle thumb if you want to maintain a quick pace, especially through tight turns.
The Grand Touring Sport may be value-priced, but it offers features that used to be considered premium value. The sled comes with a very comfortable two-up seat with backrest and covered passenger handgrips. Rearview mirrors and such things as electric start and reverse satisfy the "luxury" specifications of a grand style touring model.
The Grand Touring Sport derives its sporty character from its REV-XP chassis. This is the foundation for Ski-Doo's stretch track Renegade on/off trail sport model. The chassis is well balanced and proven durable for all terrain. The Sport's SC-5M rear suspension has been carefully balanced for touring riders and features a Motion Control shock on the front suspension arm with a high pressure gas shock at the rear. This is a durable package that has proven popular with rental operators who have to keep their fleet sleds on the snow to generate profits.
Ski-Doo brings its SilenTrack technology to the budget-oriented Sport ACE 600. Measuring 15-inches wide by 137-inches in overall length, the GT Sport ACE 600 benefits from this freer rotating track design that also reduces track noise by up to three decibels.
The double A-arm front suspension uses Motion Control shocks to work through its nine inches of travel. The rear suspension offers upwards of 13.4-inches of travel.
It was a cloudy not so nice day when we test rode the 2012 Grand Touring Sport with the ACE 600 in West Yellowstone. We immediately found ourselves grateful for the full touring windshield with its tall and wide wind coverage. The handgrip and thumb warmer controls proved well positioned and workable with a quick touch to get a higher or lower heat setting. The sled rode well over the okay groomed trails and proved quite adept at bridging the rutted sections. Steering was light and the skis gripped well. We didn't feel any abnormal reluctance for the sled to turn into the corners despite the longer 137-inch track length. The handling proved better than anticipated. We figure the tucked back of the skis drivetrain positioning adds to that balanced feel.
When you blend in the economy of the new four-stroke engine with its very adept drive system and the overall on-trail handling prowess, you realize that Ski-Doo's budget two-up is quite a bargain. It's quiet. It's easy on fuel. It's smooth on the trail. And it will be more reliable than a winter snow forecast.
For 2012 Ski-Doo manages to combine many of its best technological pieces in a budget touring sled that offers great value for many seasons of two-up adventure.
2011 Ski-Doo Grand Touring Sport 600 ACE Specs
Engine
Liquid-cooled Rotax 600cc double overhead cam, four-stroke twin with 2-into-one exhaust; uses 87 octane unleaded
Horsepower
60-hp (engagement 2200 rpm with maximum engine speed of 7250 rpm)
Drive
Ski-Doo eDrive primary drive with QRS secondary
Front Suspension
Ski-Doo dual A-arms with Motion Control shocks controlling 9-inches of travel
Rear Suspension
Ski-Doo SC-5M parallel slide rail with Motion Control shock on front arm and HPG-R shock on rear arm; 13.4-inches of travel
Length
122.4 in
Width
47.9 in
Height
50.2 in
Ski Stance
42.4 in
Track
15 x 137 x 1.0 SilenTrack technology design
Weight
515 lbs (claimed)
Fuel Capacity
10.6 US Gal
MSRP
US$8,799.00
Related Reading
2011 Ski-Doo Expedition Sport 600 ACE Review
2011 Ski-Doo Grand Touring Sport 600 ACE Review
2011 Ski-Doo MXZ TNT 600 ACE Review
2011 Ski-Doo Grand Touring Review