2021 Ski-Doo Snowmobile Lineup Preview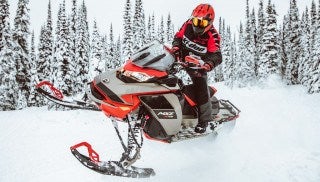 Updated suspensions and new Rotax 600 EFI 2-stroke engine among highlights
The 2020 Ski-Doo snowmobile lineup got off to an early start when the 2021 Ski-Doo Summit 850 E-TEC Turbo was released in January. That sled featured the industry's first ever turbocharged two-stroke engine, which should be a boon to mountain riders as they can retain full horsepower even at altitude. How big is that? How about a 40-horsepower advantage over naturally aspirated engines at 8000 feet and higher. Read all about that sled and engine here.
But the 2021 Ski-Doo lineup has a lot more to offer, including some innovative new suspension designs and a brand new 600cc mill that spells the end of carbureted engines from Ski-Doo.
rMotion X Rear Suspension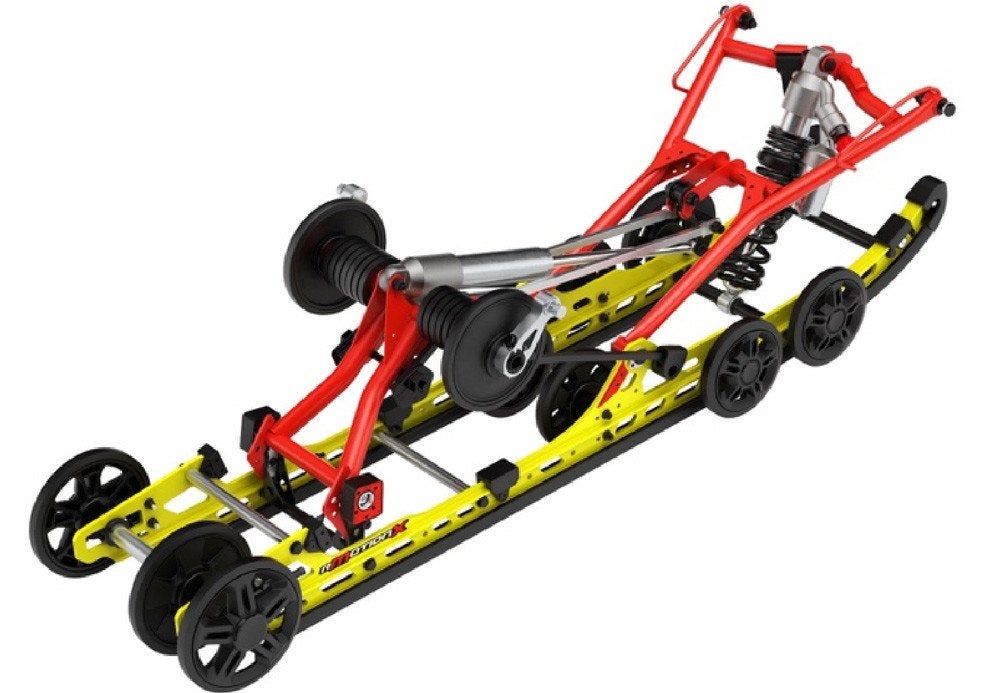 Ski-Doo's rMotion rear suspension has long been an industry benchmark for performance. New for 2021 is the rMotion X rear suspension, which bump absorption to a new level.
The big news is the rMotion X features a whopping five-pound weight reduction, which results in less unsprung mass for a more compliant ride. Another feature is a revised geometry that has the benefit of a longer rear shock with an extra inch of suspension travel.
Here is how Ski-Doo describes the geometry changes:
"The front arm of the rMotion X rear suspension is what mates the back and front together, and creates perfect harmony over the chassis dynamics of the entire sled. By extending the length of the front arm, engineers reduced the angle that forces are transferred into the chassis, creating the ideal weight transfer back and forth."
RAS X Front Suspension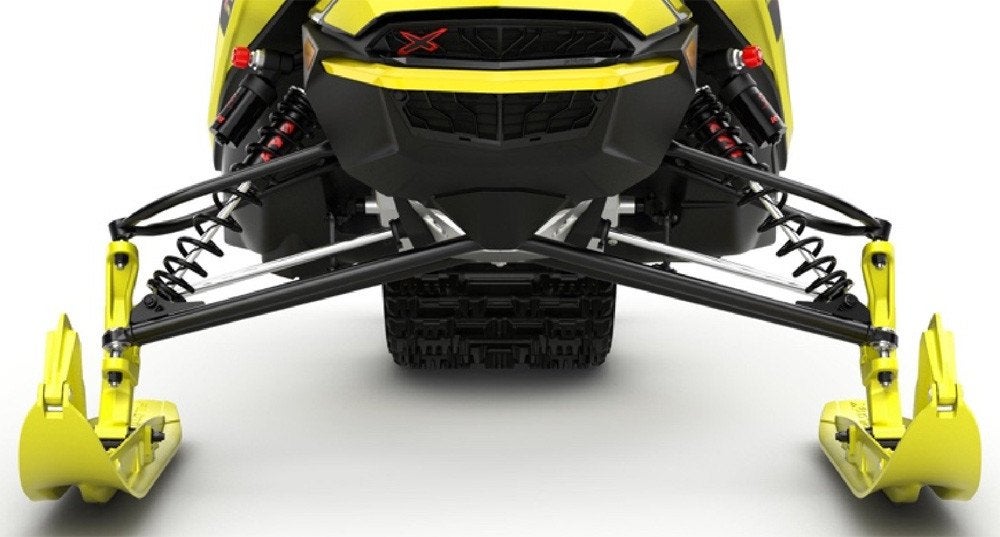 Ski-Doo also offers a new RAS X front suspension, which was developed in conjunction with the rMotion X. It features new A-arms that bring the ski stance out to 43 inches. The suspension travel has also been increased by almost half an inch. According to Ski-Doo, the RAS X "tracks true through the harshest terrain and holds a line in the tightest corners with laser-like precision."
Pilot X and Pilot TX Skis

Also new in the 2021 Ski-Doo snowmobile lineup are Pilot X and Pilot TX skis. These skis, along with the rMotion X and RAS X suspensions, have been optimized for the REV Gen4 platform for improved tracking and consistent cornering bite.
"Performance riders can charge harder knowing the ideal weight transfer will have the skis biting at exactly the right time to attack trail corners and they'll notice the improved bite and flatter, more stable feel immediately," Ski-Doo says in a release. "Upon exiting the apex and getting back on the gas, the optimized transfer moves rearward to take over for superior exit velocity giving riders pure corner-to-corner perfection."
Rotax 600 EFI Engine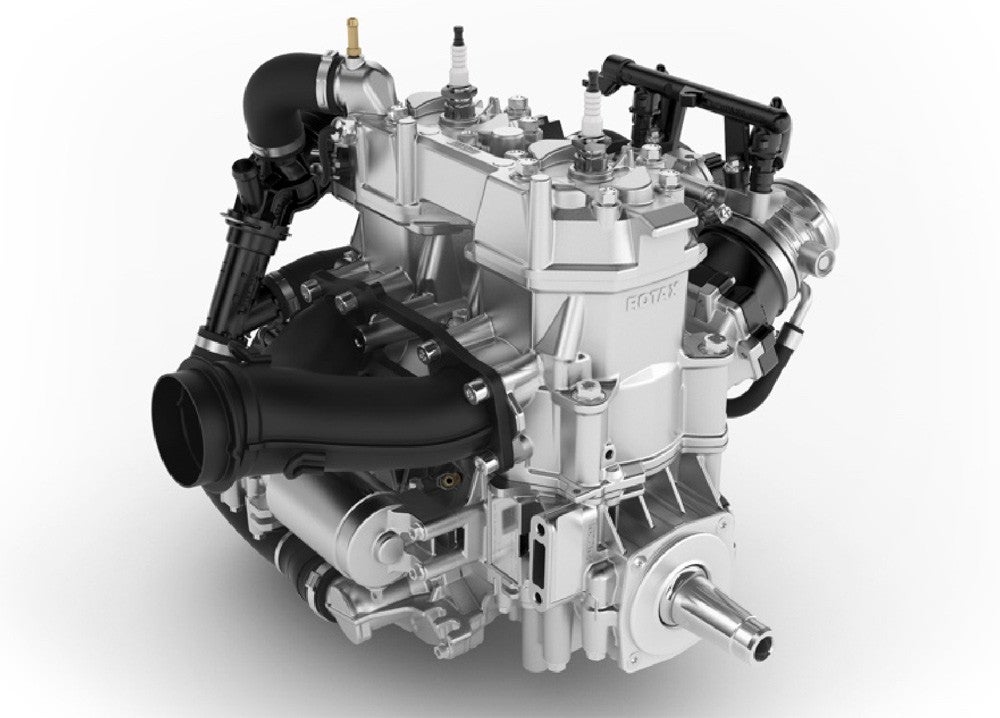 The 2021 Ski-Doo lineup also features a new engine option – the Rotax 600 EFI two-stroke engine. This engine was designed to give entry level riders a new option to go along with the REV Gen4 platform and it is based on the Rotax 600R E-TEC engine.
This new mill delivers a claimed 85 horsepower and its mated to an electronic fuel delivery system. This new engine marks the end of carbureted sleds from Ski-Doo. Other features include plasma-coated cylinders and a sophisticated engine control module that Ski-Doo says "delivers thrilling performance and smart efficiency."
Panoramic 7.8-inch Digital Display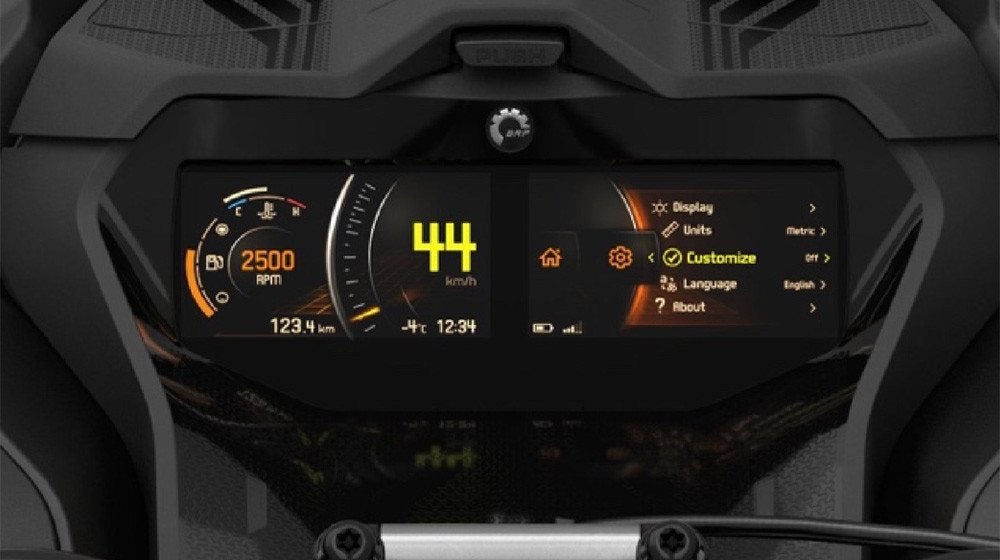 Some 2021 Ski-Doo snowmobiles will benefit from a brand new panoramic 7.8-inch digital display. This is a full-color Bluetooth-enabled gauge with GPS, music, and helmet communication app compatibility. It pairs perfectly with the new BRP Go! app.
BRP Go!
Also new for 2021 is the BRP Go! App that is designed to work as a stand-alone navigation and social riding map. This app comes loaded with features:
Stand-alone app
Navigation – turn by turn, re-routing
Map position
Itineraries with Points of Interest
Stores past rides
Off line capability
Find my friends (only available where network coverage is present)
Free
Android and iOS compatible
English and French
Integrates with new Panoramic 7.8-inch digital display
2021 Ski-Doo MXZ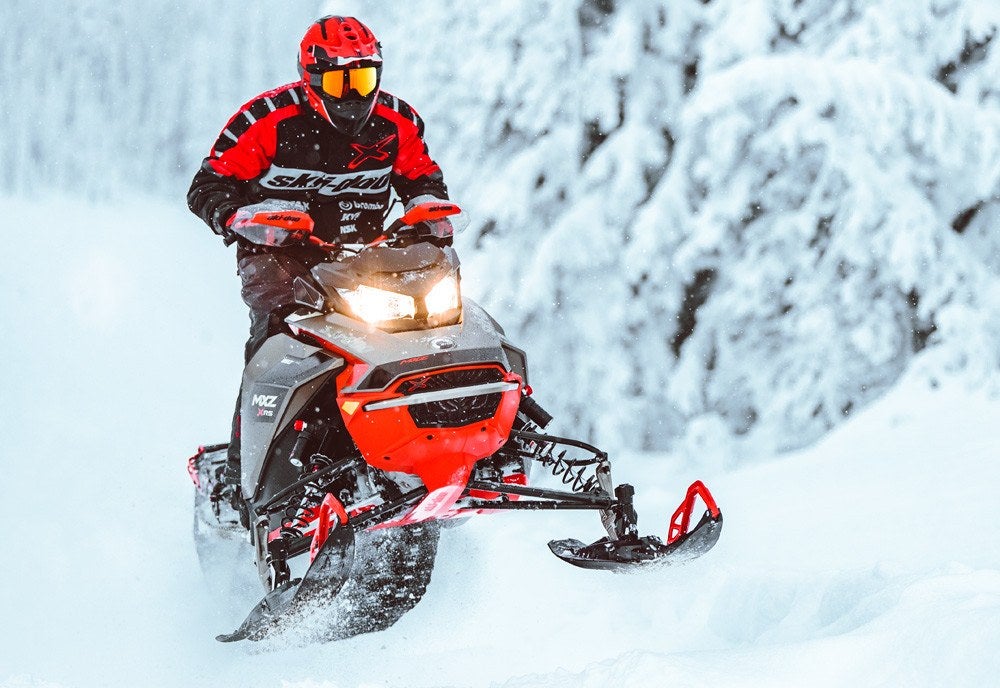 The MXZ line of Ski-Doo trail-sport snowmobiles benefits from some significant changes in 2021. Ski-Doo is offering four different MXZ variants for 2021: MXR X-RS (Spring only), MXZ X (Spring only), MXZ TNT, and MXZ Sport. The MXZ Sport also gets the new REV Gen4 platform, joining the rest of the MXZ family.
Both the MXZ X-RS and MXZ X receive the new rMotion X rear suspension and RAS X front suspension and Pilot X and TS X skis. Those Spring only models also come with the large panoramic 7.8-inch LCD color display.
2021 Ski-Doo Renegade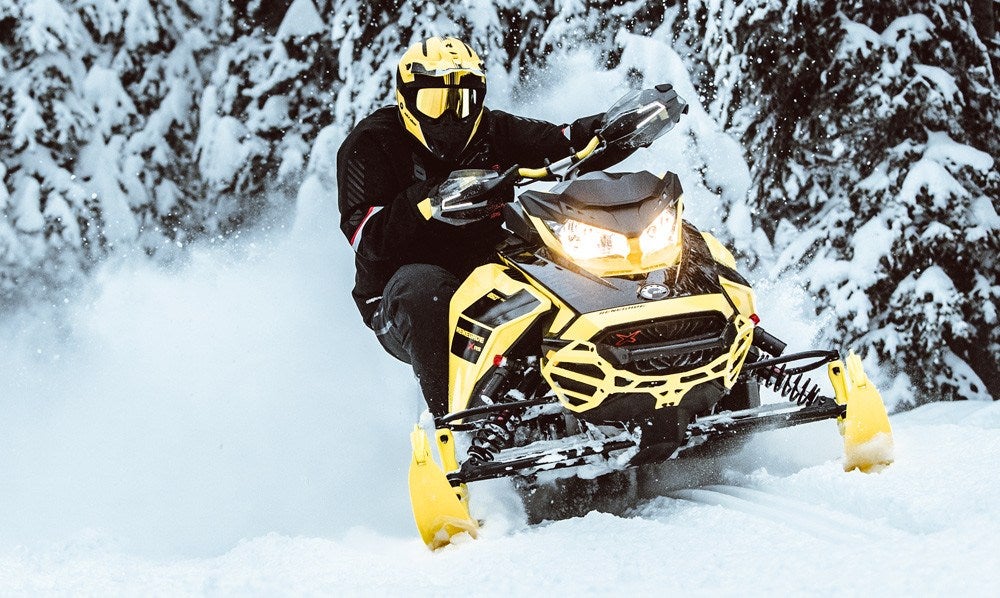 Ski-Doo brings back the Renegade family with five different models for 2021: Renegade X-RS (Spring only), Renegade X (Spring only), Renegade Enduro, Renegade Adrenaline, and Renegade Sport.
Like the MXZ, both the Renegade X-RS and Renegade X are outfitted with the brand new rMotion X rear suspension, RAS X front suspension, Pilot X skis, and 7.8-inch LCD display. Other changes for 2021 include the Renegade Sport moving to the REV Gen4 platform and getting the either the new Rotax 600 EFI 2-stroke or 600 ACE 4-stroke engines.
2021 Ski-Doo Backcountry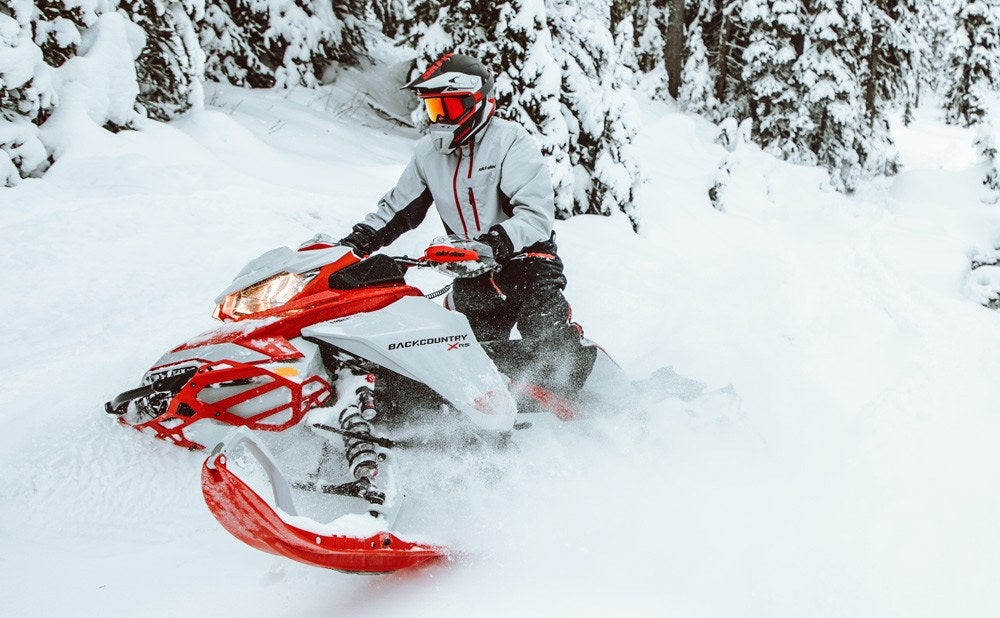 Crossover fans will have four different Ski-Doo Backcountry models to choose from for the 2021 model year: Backcountry X-RS (Spring only), Backcountry X (Spring only), Backcountry, and Backcountry Sport.
Changes for 2021 include the addition of the 7.8-inch LCD display on both the Backcountr X-RS and Backcountry X, QRS Vent Plus driven clutch on 850 E-TEC-equipped models, Drive belt temperature sensor on 850 E-TEC-equipped models, and the new Rotax 600 EFI 2-stroke engine available in the Backcountry Sport.
2021 Ski-Doo Summit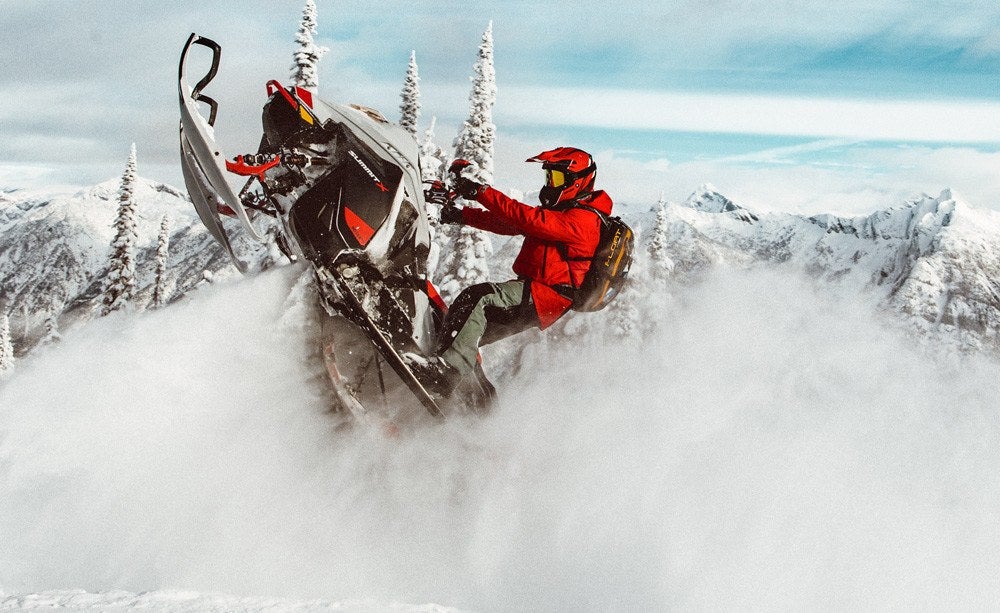 We've already looked at the new Summit with the two-stroke turbocharged engine, but there is more to discuss here. The Summit X Expert package returns and in 2021 that includes a new lightweight one-piece hood, an available 175-inch track option, and a new ultra-low seat that is designed to make side-to-side movement easier than ever.
The 2021 Ski-Doo Summit X benefits from the new abbreviated tunnel design for better deep-snow mobility, updated ski spindle and stopper, smaller handlebars, and weather-resistant seat.
If turbos aren't your thing, the naturally aspirated Rotax 850 E-TEC is available in all three Summit model trims. You can also get the 600R E-TEC engine in the Summit SP. SP owners will also get a new gauge, smaller handlebars, and revised ski spindle and ski stopper.
Summit Expert and Summit X models are available as Spring orders only.
2021 Ski-Doo Freeride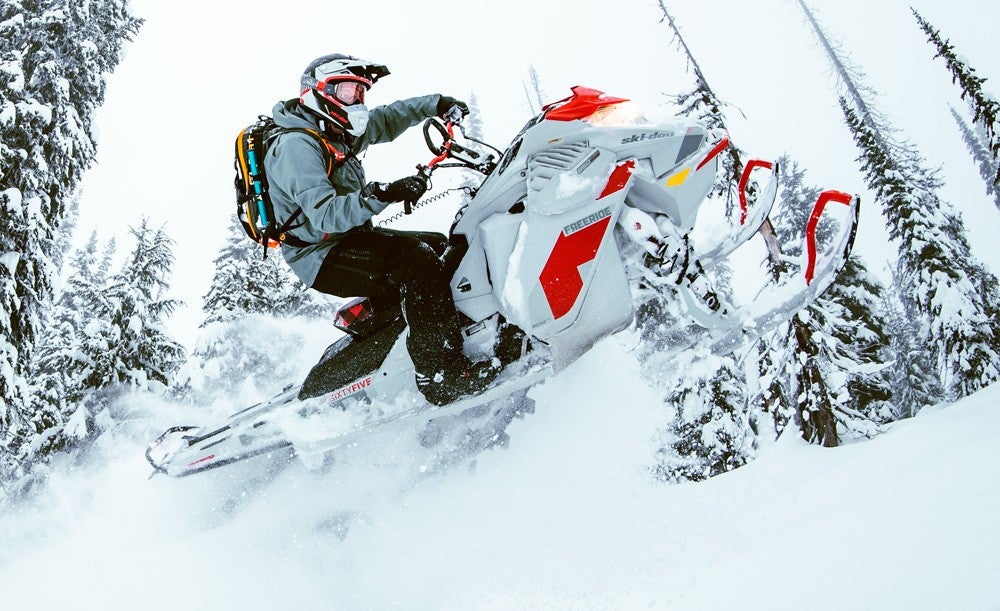 Ski-Doo's ultimate off-trail fun machine, the Freeride, is back for 2021 and it is now available with the new Rotax 850 E-TEC Turbo engine.
Other Freeride changes include the new abbreviated tunnel, QRS Vent Plus driven clutch, drive-belt monitoring system, one-piece lightweight hood, low mountain strap, small diameter handlebars, lightweight shock springs, and a new catalyst grey color scheme.
The 146-inch model also benefits from some changes, including: lightweight ski spindle, 6.5-inch fixed riser, Pilot DS3 skis, 35.7-37.4-inch adjustable ski stance, profile running boards, and rail-mounted ice scratchers.
Spring Buy options include SHOT engine starting technology, 3.0-inch track lug height, and sea level calibration for riding below 4000 feet.
2021 Ski-Doo Expedition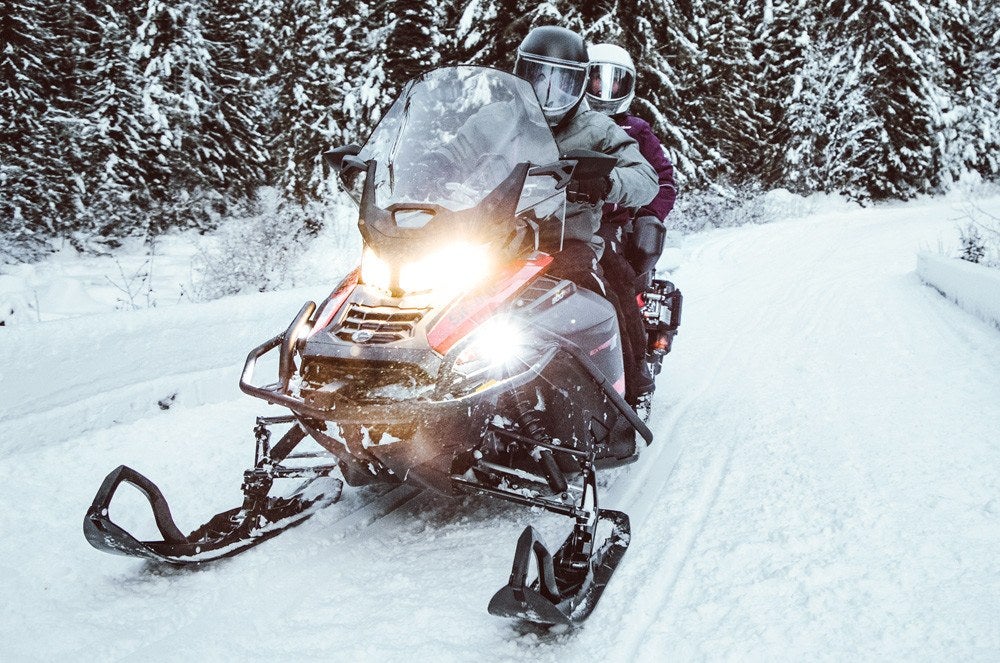 The Ski-Doo Expedition line of sport-utility snowmobiles returns for 2021 with five different models: Xtreme, SE, LE, Sport and the new SWT. It is the SWT that we need to dig into here, as comes loaded with updates.
The biggest change of all is the move to the REV Gen4 platform. Boasting a 24 x 154 x 1.5-inch track, the Expedition SWT offers the industry's largest footprint for next level flotation.
Moving to the REV Gen4 platform comes with a long list of changes, including the RAS 3 front suspension, Pilot 7.4 skis, high-capacity battery, easy shift transmission with push button reverse, 4.5-inch digital display, low handlebar strap, and multi-LinQ Plate for adaptable storage.
Three engine options are available: Rotax 600R E-TEC, Rotax 900 ACE, and Rotax 900 ACE Turbo.
2021 Ski-Doo Tundra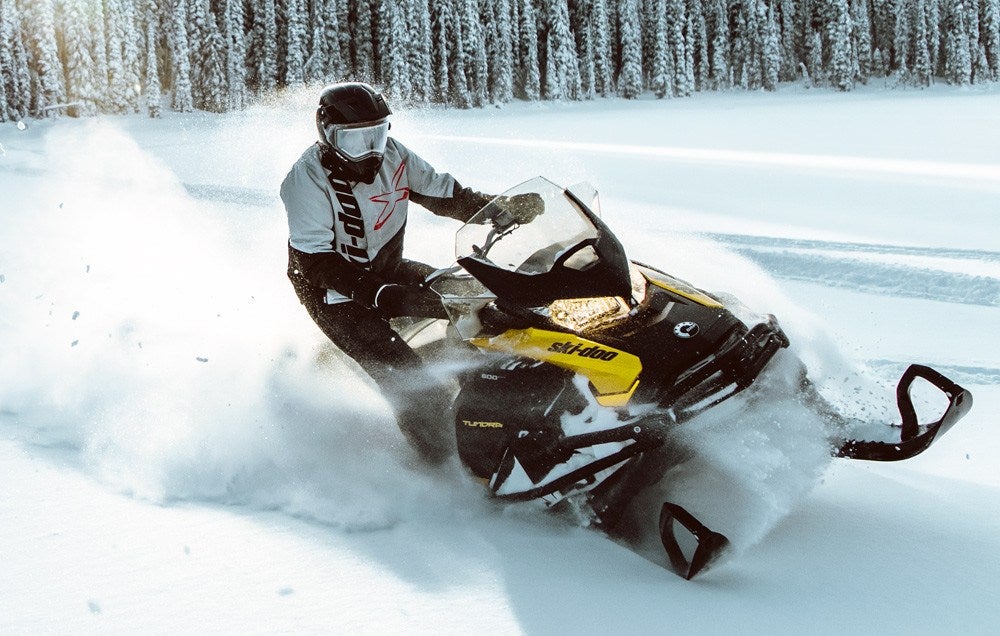 Ski-Doo's Tundra returns for 2021, but things get even better as the Tundra moves to the REV Gen4 platform.
A pair of Tundra models are available – the Tundra LT and Tundra Sport – along with two different engine options – the Rotax 600 ACE 4-stroke and the brand new Rotax 600 EFI 2-stroke.
2021 Ski-Doo Skandic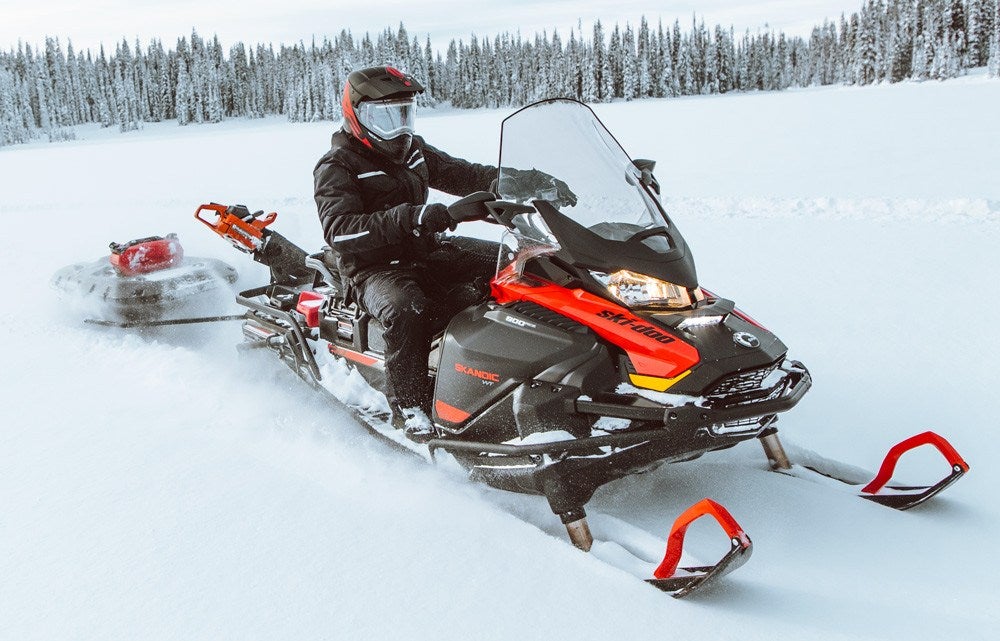 The Ski-Doo Skandic family benefits from an upgrade to the REV Gen4 platform for 2021. Three models are available: Skandic SWT, Skandic WT, and the all new Skandic Sport.
With the move to the REV Gen4 platform comes the ability to handle four different engines: Rotax 600R E-TEC, Rotax 600 EFI 2-stroke, 900 ACE and 600 ACE.
All three Skandic models feature a revised telescopic front suspension that is designed to improve shock bottoming resistance and benefits from improved heat management within the shock bodies. New deep keel Pilot 7.4 skis are mated to the front end, which offer better reverse performance.
The Skandic SWT featuers the wide-set 24 x 154 x 1.5 Cobra track and all of the Skandic models also come standard with new deep snow running boards, easy shift transmission (H-L-N) with push button reverse, new Multi-LinQ plate for adaptable storage, and new 4.5-inch display.
The brand new Skandic Sport is the best value in the family and comes standard with the Rotax 600 EFI 2-stroke engine and a new Utility seat.
2021 Ski-Doo Grand Touring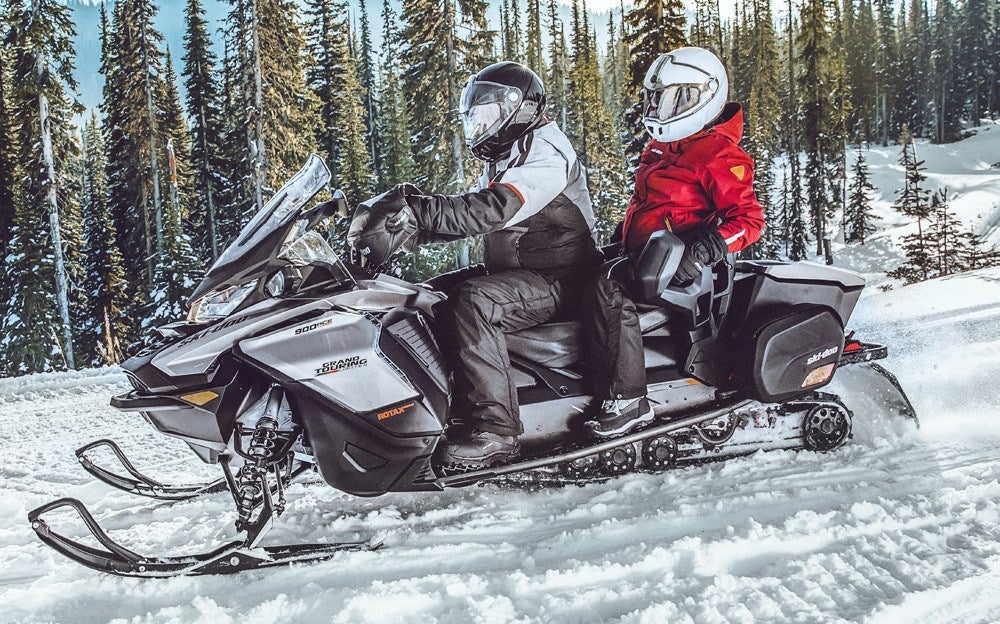 Ski-Doo does touring snowmobiles as well as anybody and the Grand Touring line returns for 2021. Unlike the rest of the Ski-Doo lineup, the Grand Touring models are basically unchanged from the 2020 model year.
Two models are available (Grand Touring Limited and Grand Touring Sport) and both are equipped with the REV Gen4 platform. The Limited can be purchased with one of three engines: Rotax 600R E-TEC, Rotax 900 ACE Turbo or Rotax 900 ACE. It also features rMotion air-controlled suspension in the rear, heated seat, heavy duty bumpers and the Grand Touring LinQ storage box. The entry level Grand Touring Sport is powered by either the Rotax 900 ACE or 600 ACE engines.