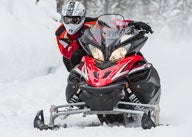 How long will the world's only four-cylinder snowmobile howl?
If you read the promotional materials for the 2014 Yamaha Apex, you'll think more of side-by-side bathtubs and male enhancement products than snowmobiles. After all, is there an intended double entendre with the phrasing: "You'll ride harder, faster and longer on the Apex… and feel great!"? Knowing the sensitivities of the Yamaha corporate marketing types, we doubt that it's anything more than coincidental wording.
Fast Facts
Engine Type:Horizontal In-line
Cylinders:4
Engine Stroke:4-Stroke
Valve Configuration:DOHC
Displacement:998 / 60.9
Starter:Electric
Turbocharged:No
View Full Spec
Please, please all you Yamaha aficionados, face reality. Yamaha has. The past few years of the industry-wide sales slump, which has seen sales outside of North America boom, suggest that we North Americans haven't been buying new sleds at the same pace as we once did. Certainly not Yamahas! Why do you think that Yamaha struck up a deal with Arctic Cat? It was to bring an exciting, lighter weight product to its dealer showrooms. Plus, we suspect that it saved some money and time while the corporate folks decided exactly what they want to do with the snowmobile side of the powersports business. The Yamaha-powered Arctic Cat chassis Viper models have brought new excitement and have gotten consumers to walk into Yamaha dealerships where they can be exposed to the other models in the 2014 snowmobile line. That's good and bad.
The good is that consumers go to the Yamaha dealers. The bad is that the consumer goes to a Yamaha dealership to check out the Vipers and sees a fleet of older, marginally updated Yamaha sleds. The good news is that the dealer can chat with the customer and show him what Yamaha offers, which is still a great deal. Let's take the 2014 Yamaha Apex as an example.
COMPARISON: 2014 Yamaha Apex XTX Review
The 2014 model includes the major upgrades made for the 2012 season and left pretty much alone since then. Its price of US$14,099 is up a hundred bucks in two years and makes this top-line snowmobile one of Yamaha's pricier offerings. But, look at what you get: the only snowmobile in the world with a standard 150-plus horsepower four-cylinder, four-stroke snowmobile engine; electronic power steering assist; special EXUP exhaust system; and Yamaha's own diecast engineered substructures for strength and durability.
We are pro-Yamaha engineering, especially the incredibly smooth and free-revving four-stroke inline-four. At 998cc this potent package revs way beyond what a standard snowmobile clutch system can handle. That's why it features a power takeoff split that reduces revs from five digits to a more manageable four at the clutches. It's a system Yamaha has used on both its road bike derived Apex quad and its dirt bike derived 500cc Phazer Twin. All this is in keeping with Yamaha's engine philosophy of developing power via rpm versus increased displacement.
Having experience with the universal Japanese motorcycle (UJM) and the ubiquitous Harley-Davidson, any veteran biker who has switched from a Japanese sportbike to a Harley cruiser recognizes that difference right away. The sportbikes usually featured high revving twins, triples or fours that accelerated in a cacophony of gear changes while the Harley's big bore V-Twin hunkered into its "potato -potato" rhyme and the clank of its gears. The Apex quad emits a delicious and unique exhaust note when compared to all other sleds. The only thing that would make the Apex getaway any better would be quick-shifting through a six-speed manual gearbox. As it is, the Apex's electronically controlled intake and exhaust valve technology provides its own signature.
Yamaha engineering derived the Genesis top performance engine from its R1 sportbikes, hence the use of the RX-1 designation for the Apex' 2003 model year predecessor. The latest four-cylinder features advanced computerization to meld the latest air box designs, which includes 11mm long intake tubes designed to boost airflow, with the computer controlled EXUP exhaust valving. The end result is a power map that gives you nice drive off, aggressive boost to midrange and extremely strong revs to top end, wherever you're bold enough to let it take you. Acceleration with the Apex is quick and steady.
Yet Yamaha engineers give this sled quite the dual personality, because as ferocious as it can be under an enthusiastic throttle thumb, it can be wonderfully docile on a granny-ride safari. Just as the drivetrain is tuned for both extremes of performance, so is the handling, particularly the steering.
COMPARISON: 2014 Arctic Cat ZR 9000 Limited Review
To overcome consumer objections about the Apex' heft and its heavy-feel at the handlebars, Yamaha brought Electronic Power Steering to snowmobiling. While this feature is now a staple on many ATVs, the Apex was the first snowmobile to offer it. It does make a difference, but the irony is that Yamaha needed to add weight in the form of EPS to make the sled easier and lighter feeling on the trail. At low trail speeds the EPS gives you the most assist, with the assistance virtually gone at top end.
The 2014 Yamaha Apex retains the new "look" from the 2012 and 2013 model years, which is to say that it remains nearly indistinguishable from the pre-upgraded "look." Believe it or not, Yamaha engineers and stylists made changes that make few of the pre-2012 pieces interchangeable with the newer versions. We especially like the redone seating, which is both positionally more in tune with ride-forward comfort while providing a taller in the saddle reality.
Suspensions remain unchanged for 2014, as you'd expect. There's the latest double A-arm front suspension with 40mm high performance gas shocks. The addition of Yamaha's touted "Tuner" dual keel ski allows you to fine tune the handling characteristics to your riding style whether its hard charger speed ride or high mile cruiser. Yamaha's Mono Shock II RA 128 rear suspension features remote adjustment tuning for its 11.6 inches of travel via a left side of the tunnel rotating dial as well as coil spring tune-ability and adjustable control rods. We've found the Yamaha suspensions work well overall, but there are other top performance sleds that offer newer designs with greater travel.
Yamaha Unveils Electronic Power Steering
The 2014 Yamaha Apex remains a premium model and is the go-fastest Yamaha for this season. But we really wonder with the advent of the Yamaha/Arctic Cat partnership, just what future does this model have? It is unique. But, is a four-cylinder screamer that requires power steering to make it light handling on switchback trails too limited? Yamaha offers the EPS in both the Apex and Vector, but the new Viper with the same Vector-type one-liter motor gets along very well without power-assisted steering. So, we ask, is the Apex due to be retired or reignited into a lighter, premium handling speed machine — one that truly can be ridden harder, longer and faster?
2013 Yamaha Apex SE Specs
Engine
Yamaha Genesis 150FI; 998cc, 4-cylinder, 4stroke, liquid-cooled; electronically controlled fuel injection; EXUP exhaust
Horsepower
150+
Drive
Yamaha YVXC drive clutch with Yamaha driven
Front Suspension
Yamaha A-arm with 40mm HPG aluminum shocks; up to 8.5-in of travel
Rear Suspension
Yamaha MonoShock II RA 128 parallel slide rail with 46mm aluminum shock; up to 11.6-inches of travel
Length
111.6 in
Height
47.6 in
Ski Stance
42.8 in
Track
15 x 128 x 1.25 Camoplast Rip Saw
Brake
4-piston hydraulic disc brake with ventilated lightweight rotor
Weight
N/A
Fuel Capacity
9.2 US Gal
Features
Electric power steering, Electric start, reverse, LCD speedometer/odometer, DC Outlet, one-year limited factory warranty
MSRP
$14,099