2014 Arctic Cat ZR 9000 Limited Review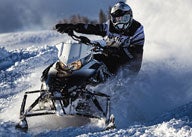 Meet the most powerful luxury sled in the snow world
Arctic Cat's 2014 ZR 9000 Limited gives you the most power of any production snowmobile on the market. Its turbocharged 1056cc Suzuki four-stroker delivers a claimed 177 horsepower along with 121 ft-lbs of torque for eye-watering top speeds and arm-stretching hole shots. That's standard!
Fast Facts
Engine Type:Horizontal In-line
Cylinders:2
Engine Stroke:4-Stroke
Valve Configuration:OHV
Displacement:1056 / 64.4
Starter:Electric
Turbocharged:Yes
View Full Spec
If you are the snowmobiler who wants it all, the ZR 9000 Limited pretty much lets you have it. This sled's basic make up is not subtle. It's about muscle, and how you flex it is your choice.
In addition to this sled's baseline performance, there are nice to have amenities that let you pound the trails in relative comfort, which may not be what you'd expect from such a high horsepower sled. For example, the 2014 Limited rider enjoys a new saddle with evolved foam construction for butt-comfort and a redesigned shape. You get a rise in height, which offers a better view of the trail ahead, improved room for your knees to react over bumps and greatly improved "move-about" ergonomics to better handle cornering and front to back or side-to-side moves. As the 2014 Arctic Cat ZR series and the Cat-built and inspired Yamaha Vipers share the same riding platform, both seats share the evolved foam and redesign, but not exactly so as to offer some separation between brands. The bottom line remains that the seating position on the ZR is excellent as it's very comfortable, stable and allows you full command.
The seating position feeds you to the well-thought out curvature of the Arctic Cat handlebar and sled controls. The brake lever is curved to slip back to the handlebar like the control on a full race superbike. It welcomes a fingertip dab to the racing quality hydraulic brake that controls the driveshaft-mounted disc. It's all good as the whoa system has the strength to haul in this powerful machine.
Arctic Cat got many things right with this ProCross chassis series. The Arctic Race Suspension may have started out on race sleds, but it has evolved to be one of the best and most distinguishing features of these models. The tall spindles immediately identify the ZR as an Arctic Cat built snowmobile. For model year 2014, Cat's engineers found a way to pull a pound off the spindles, making them lighter overall but still strong for the pounding you'll give them.
The ARS front end's double A-arm design, which delivers up to 10-inches of overall mogul-soaking suspension travel, is controlled via Fox FLOAT 3 shocks. These shocks are infinitely adjustable depending on how you set the air spring. The Fox Load Optimized Air Technology (FLOAT) design uses pressurized air inside a thin air sleeve allowing you to make adjustments from 50 pounds per square inch to as much as 300 PSI. These shocks are claimed to be the most progressive and adjustable air shocks in snowmobiling. Since they don't need external coil-over springs, the Fox shocks keep the Cat's front end light and responsive.
The slide-action coupled skid frame features 13.5 inches of travel and a new front-arm mounting geometry designed to decrease track tension when the rear suspension compresses. This aids overall ride comfort, which settles in thanks to the use of Arctic Cat's rebuildable internal floating piston shocks on the front and rear suspension control arms. For added adjustability, there are torsion springs that can be fine tuned as well.
We have found the Arctic Cat Slide-Action suspension the equal of any competitor, including the gimmick-laden designs. The Cat rear suspension works well in all conditions, responding and resetting itself quickly in stutter bumps, which some early examples of outside the skid frame thinking didn't always do.
We won't pretend that the ZR 9000 Limited is a winner for all riders. Although it has negligible turbo lag, this sled is not very subtle on the trail. It can be docile when necessary, but it really isn't intended to be ridden by the meek-thumbed. No, this sled is meant to be ridden hard and put away icy and snow covered. It will make short work of a long lake and pass just about anything you are brave enough to blow by in a straight line.
2014 Arctic Cat ZR 7000 Sno Pro Review – Video
We do offer some caution about being too trigger happy on winding sections as you need to remember that its 121 ft-lbs of torque snapping through Cat's drive system gets to the 129-inch Ripsaw track quickly – and unforgivingly! You can spin the track almost at will from low speeds, such as those you might get down to off a tight turn. That's one reason we actually prefer Cat's XF 9000 with its longer 137-inch Ripsaw II footprint. It gives you a titch more forgiveness and a bit less spin action when you slam the throttle trigger to the bar. But, then, you probably have the reflexes of a teenager, so it's not a problem.
Cat engineers packaged the 9000 C-TEC4 powerplant neatly, but tightly, inside a triangulated spar that directs front to rear and side-to-side forces to a central point to assure chassis rigidity as well as designating central mass. The rider mass gets positioned forward due to the use of a tapered tunnel design that provides excellent leg positioning to react to bumps or corners. Arctic Cat's chassis design is far removed from the old days of a stamped out tunnel and attached bulkhead. This new ProCross design is both clever and sophisticated. And probably underappreciated!
This 2014 Arctic Cat ZR 9000 Limited would be quite a prize even without its 177 hp powerplant. But that's what you pay your US$14,499 for isn't it? You can get Limiteds with an 800cc two-stroke or Yamaha-engined four-stroke for less, but they can't compare in throttle action. Virtually all the ZR Limited models include storage, push button reverse and such. If you've got the wherewithal to pony up the bucks for the highest horsepower production snowmobile, it won't let you down. Despite the big cylinder twin with its attendant turbo plumbing, the sled doesn't feel heavy in steering. Certainly not heavy feeling enough to make you want an electric power steering system. Arctic Cat designers give this sled a light feel on the trail, but make no mistake; this sled has to weigh in at plus 500 pounds. Cat, of course, doesn't publish weight numbers for its trail rides. So we're guessing.
2014 Ski-Doo GSX LE ACE 900 Review – Video
Considering the performance of this sled, everything else standard on the Limited package is a bonus. The rear seat storage will hold spare gloves or hydrating fluids like water. Fitted to the tunnel at the rear of the seat, the bag is a semi-rigid type that keeps its shape for easy access. Did we mention that the seat is heated? And that you can stuff your goggles in an onboard pouch that uses engine compartment heat to dry a spare pair?
The new turbo luxury Cat comes with the tricked out easy-to-read deluxe digital and analog combination gauge that lets you switch between readouts of speed or the tach. Plus, it gives you two trip meter settings, an engine hour meter and other warning lights.
Overall this high-powered turbocharged Arctic Cat will satisfy your need for speed, the opportunity to own the most potent production sled in the snow world and your desire to enjoy nice-to-have amenities without giving up any semblance of performance.
2014 Arctic Cat ZR 9000 Limited Specs
Engine
Arctic/Suzuki 9000 series C-TEC4; 1056cc, four-stroke, liquid-cooled, twin; intercooled turbocharged with single 46mm throttle body; electronic fuel injection
Horsepower/Torque
177 hp/121 ft-lbs torque
Drive
Arctic 6 post rpm-sensing drive with 10.75-in Arctic roller cam driven
Front Suspension
Arctic Race Suspension (ARS) twin A-arm suspension; Fox Float 3 shocks; stabilizer bar; up to 10.0-inches of travel
Rear Suspension
Arctic FasTrack Slide-Action parallel slide rail with Tri-Hub rear axle assembly; Arctic slide-action with coupling blocks, torque-sensing link; adjustable torsion springs; internal floating piston Arctic gas shock; 2-in diameter rear shock; up to 13.5-inches of travel
Length
118.0 in
Width
48.0 in
Ski Stance
Adjustable 42 to 43 in. (Arctic Trail ski with dual skegs)
Track
15 x 129 x 1.25 Ripsaw
Weight
NA
Brake
Radial master cylinder hydraulic with lightweight race disc on driveshaft
Fuel Capacity
10.6 US Gal (91 octane)
MSRP
US$14,499