2015 Yamaha SR Viper RTX LE Review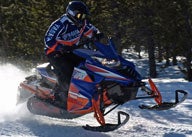 Yamaha's Viper gets race-ready
Yamaha must be liking its partnership with Arctic Cat, whereby Yamaha sells the Thief River Falls, Minn. company its 1049cc three-cylinder four-strokes in return for a variety of short, long and in-between platforms. In the 2014 model year, Yamaha introduced the Viper series of trail and crossover models – all powered by its 135 horsepower triple cylinder engine but available with track lengths from 129 to 141 inches. That was the start.
Model year 2015 brings ever more Vipers, including a series of Viper mountain models, the MTX. Although you'll find more trail and crossover Vipers for 2015, the basic ingredients remain the same. The packaging becomes more clever with new model designations implying new and specific upgrades. In this genre of new distinctions, Yamaha offers up a top-level package, the limited edition (LE), available only during the company's Spring Power Surge, which runs to April 15, 2014.
The 2015 Yamaha RTX LE is one of these "Spring Only" buys and is the only LE version offered in more than one color combination. In addition to the bright blue and tangerine color, the RTX LE is available in Yamaha blue and white. The reason is simple. This color will be the racer's choice for terrain competition as race rules prohibit orange as a primary sled color. But if you just want to tear up the trails, go with any color combination.
COMPARISON: Read our review of the 2014 Yamaha Phazer XTX with Video
Since this Viper fills the void of racer replica model in Yamaha's 2015 lineup, expect it to bring trail heat with top of the line front and rear suspension shock packages. Up front on the tall spindle SRV suspension you get the latest high performance Fox FLOAT EVOL 3 RC shocks standard.
These Fox shocks are used by nearly every world-class snocross racer and have appeared on competition sleds in the top snocross cross country terrain races in North America. The EVOL 3 features dual speed compression adjustment, a wide range of rebound, plus dual air springing.
Operating independently of each other, the EVOL air chamber handles bottom-out and roll control while the main air chamber affects ride height. The Fox air shock claims to offer distinct advantages over coil spring units as they have progressive spring rate, are infinitely adjustable, and provide a significant weight savings. The EVOL 3 offered with the LE package weighs in at 4.4 pounds.
The race-type rear Dual Shock 129 suspension features a Fox Zero Pro shock to control its 13.5 inches of travel. Fitted with an internal floating piston, the shock is nitrogen-charged, re-valveable and rebuildable. The aluminum-bodied Fox design includes Fox' patented ice scraper technology that keeps moisture from entering the chamber and ensures longer shock life.
The 2015 Viper RTX LE rear suspension spins an aggressive snocross track. Designed for serious and aggressive riding styles, the 15-inch wide by 129-inch long Camoplast track selected for the Yamaha Blue and White LE version features 1.7-inch lugs and an extra hard compound for improved holeshot grip. The orange and blue LE model comes with a Rip Saw II track with shorter 1.25-inch lugs.
Available in the RTX LE package, these pieces provide an upgrade that is easily worth the $1,000 upcharge over the in-season available Viper RTX SE.
Underneath the color options, track choice and shock packaging lies a solid design based on Arctic Cat's ProCross two-piece tapered tunnel chassis. Yamaha's durable Genesis triple fits inside a pyramid support structure that combines lightweight pieces in a shape to add strength and support to the centralized drivetrain position. Indeed, upwards of 60 percent of the sled's overall weight is centered on this area, making it balanced for quick steering and handling response.
COMPARISON: Read our review of the 2014 Arctic Cat ZR 8000 RR
The drivetrain itself reflects Yamaha engineering as the engine brings the fuel-efficient nature of a fuel-injected four-stroke to this sport chassis design. Lighter by 10 pounds than the one-liter Suzuki four-stroke it replaced, the Yamaha triple adds almost 10 more horsepower, which are delivered via Yamaha's drive and driven clutches. Our experience with a long-term 2014 Viper test unit indicated a stronger amount of engine braking, but the pre-production 2015 units we rode in West Yellowstone in early March provided less belt bite. We're not quite sure what that means, but Yamaha may be attempting to prolong belt life with less aggressive engine braking. Or, it simply could have been a necessity of tuning the sleds for the higher elevations around Yellowstone. We'll have to see.
There are some things that we do and don't care for with the Vipers. Admittedly Yamaha spoiled us with the "sound of performance" emanating from its various snowmobile-specific engines. While we didn't care for the Nytro much, we did like the throaty growl coming from its exhaust. That's gone, even if the Viper retains the exact engine. Fitting the three-cylinder Genesis motor into the ProCross chassis required dumping the exhaust to the right side – and dumping that Nytro growl as well.
Beyond the chassis and suspensions, Arctic Cat's contributions to the Viper include fitting intake and exhaust systems. While Cat uses its own clutches, Yamaha kept its drive system. For now, at least, there doesn't seem to be much advantage one way or the other. Cat likes a freewheeling "feel" once you back off the throttle while Yamaha prefers more engine feedback. We're with Yamaha on this one.
As for overall design, the Yamaha offers up its own personality. The RTX LE sports a distinctive and low sporty windscreen. We use the term "sporty" advisedly. If you had this nice-to-look-at styling in the parts of North America where the temperature barely creeped above zero for weeks at a time, you probably cursed its cutesy design. Those of us with the basic Viper tall clear windshield and dual-level heated seat just chuckled at the RTX SE riders. That low, virtually useless windscreen had to be cold. Even when test riding the RTX LE, we noted a great deal of trail debris hurled back at us and collected about chest high. The LE style looks great, but if it gets as cold next winter, we'd advise ordering a wider, taller Viper DX-style windshield.
For overall on-trail performance, we found ourselves extremely happy with the RTX LE. That came as a huge surprise since so-called "racer replica" models usually leave us butt-sore from hard riding and stiff handling. The RTX LE was different. Its upgraded Fox shock package proved incredibly tunable. Based on our one-to-one experience with the RTX LE and its Fox "air" shocks, we recognized that this sled could be set up to satisfy big bump bubbas or re-tuned for hardcore handling on the trails. We enjoyed the more compliant aspects of the Fox set-ups and left the bruiser bump rides to the more youthful in our crew. The point is, simply, the RTX LE offers an incredible amount of ride tuning in its basic make up.
On-trail handling expertise also comes from Yamaha's addition of its own Tuner skis for model year 2015. These skis cut darting or offer serious cornering power totally dependent on how you set up the ski's dual runners. You can opt for serious amounts of carbide or mix moderate carbide with no carbide runners – or, any combination in between.
Truthfully, we were not prepared to like the Viper RTX LE as much as we did. We figured it would be just another hard-riding race-ready sled suited for bruiser bumps and ditch pounding. But, as we gave the sled some time, we noticed that while it was all of that, it could also be tuned to giving us serious on-trail cornering with grip to hold the rutted insides of turns. That all matches up well with the Yamaha engine and clutching, which can be counted on to power out of corners with generous amounts of consistent torque, something not always found on a 130-horsepower two-stroke.
COMPARISON: Read our review of the 2014 Polaris 800 RUSH Pro-R
Let's be brutally honest here. We like our base 2014 Viper and enjoy the tuning simplicity of its coil-over-shocks. But, after experiencing this RTX LE we could grow to like it as well. It actually provides more versatility with its highly tunable air shock system. We'd have to dedicate more time to setup to maximize our ride, but the results would be well worth it. Our test ride proved that sticking with a coil-over shock ride leaves a lot of performance on the trailer when compared to the potential available with the 2015 Viper RTX LE. But, if you want one of these, you must decide by April 15th!
2015 Yamaha Viper RTX LE
Engine
Yamaha Genesis four-stroke high-performance 1049cc; bore/stroke of 82.0mm/66.2mm; three-cylinder, liquid-cooled; 41mm electronic fuel injection system; dry sump lubrication
Horsepower
130+
Drive
Yamaha YVXC drive clutch with Yamaha driven
Front Suspension
Yamaha SRV tall A-arm with Fox FLOAT EVOL3 RC aluminum shocks; up to 10.0-in of travel
Rear Suspension
Yamaha Dual Shock SR 129 Race parallel slide rail; Fox Zero Pro aluminum high-pressure gas shocks; up to 13.5-inches of travel
Brake
Radial master cylinder hydraulic brake system with disc mounted on drive shaft
Length
118.0 in
Height
46.5 in
Width
48.0 in
Ski Stance
Adjustable from 42-43 inches
Track
15 x 129 x 1.7 Camoplast Snocross or 15 x 129 x1.25 Rip Saw II
Weight
N/A
Fuel Capacity
10.6 US Gal (Regular fuel)
Features
Optional heated seat, rear storage bag, digital gauge, push button reverse, electric start
MSRP
US$13,999