Latest Mini-Cams Save Your Sledding Memories
Documenting your trips has never been easier
Story by Jerry Bassett, Photography by Jerry Bassett & various manufacturers, Created Jan 08, 2009
In my early days as a snowmobile photojournalist, balancing a bulky box of Nikon cameras, lenses, film and tape recorders in my lap as I traveled the bumpy trails of snowmobile-dom was simply what you did. You tried to package the cameras and lenses so they wouldn't bang themselves into total disrepair. But, no matter how much care you used, the magazine budget always carried a line item for new equipment. Even with a good Nikon and its lenses, the service life was never more than a couple of seasons.
You could hone some fine riding skills as you essentially learned to ride right-handed. Your left hand gripped and balanced the camera box while your right hand worked the throttle and attempted to keep the sled on course.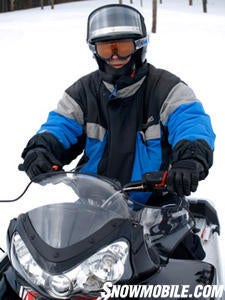 We knew a couple professional photographers who sort of beat the system. One had his own sled and outfitted it with custom carriers. He used that 'beater' Ski-Doo Olympique for nearly a decade, even having it carted to photo shoots along with the trailer-loads of new sleds he would shoot for a manufacturers' brochure.
That worked well if you could count on photo work near home. But if you traveled all over snow country and had to ride borrowed sleds on assignment, well… you get the point. Your photo gear would stay the same, but the sled would change. That's why, when decades later, photo equipment became digital, smaller and lighter, you embraced it.
Today I carry cameras weighing a quarter of what those old Nikons did. I even carry a mini-camera that is smaller than a pack of Marlboro cigarettes. It is faster, lighter and offers more features than those old behemoths of the past. You won't find this veteran snowmobile picture taker bemoaning the passing of the good old days!
Recently we did a little research of what's new in the world of packable cameras that we think would be suitable for a day or weekend trip of snowmobiling. We looked at it from the purely selfish standpoint of how we thought the gear would work for us in our line of work.
For us, we want gear that is simple to operate. Obviously it needs to be lightweight.
Because now we work with an Internet site, we look for features that could be used to download video and images to a web site or emailing. It should have features that allow us to manipulate images for downloading. But, as those of you who send video to friends and other user sites, you realize that quality is not yet a huge issue. We mean simply, despite manufacturers' claims for huge amounts of mega pixels, unless you are creating a cinematic epic or looking to blow up an image to poster size, your 'capture' device can be quite basic. That's one reason we looked at two seemingly simple video cameras that represent a popular and growing user niche and a 'winter proof' point-and-shoot camera. We won't pretend that these are the only products available in their niches. But after researching products that piqued our interest enough to consider purchasing them, these are the three products we'd buy. Yes, there were some others we'd like to have — but they were more expensive and didn't do much more than the gear we already own and use!
These products would be nice to have because they offer snowmobilers some versatility; they pack light; and they preserve memories that you can share.
The Flip MinoHD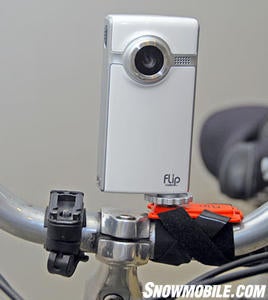 The Flip MinoHD comes from the minds of San Francisco-based Pure Digital Technologies. The company's Flip product line essentially created a new category of video cameras that puts the power to shoot and share video into the pockets of everyday consumers. With its initial success, Pure Digital Technologies has developed the Flip series into one of the best-selling families of affordable and simple-to-use digital camcorders.
The latest in the mini-video camcorder line is the Flip MinoHD. Weighing just over three ounces, it is an incredibly small high definition camcorder that can fit into a snowmobiler's inside jacket pocket as readily as a cell phone. Priced at about US$230 this remarkably slim camcorder makes capturing and sharing HD video easy and affordable.
You can record up to 60 minutes of HD video for post-ride playback. Using Flip Video's FlipShare advanced on-board software platform, you plug the camcorder's signature flip-out USB arm into any computer for easy drag-and-drop video organizing, editing and sharing on YouTube, MySpace, AOL Video or via email. This latest innovation from Pure Digital Technologies builds on the success of its wildly popular Flip Video camcorder line.
Using Flip Video's next-generation personalization platform, launched last month on TheFlip.com, you can choose from thousands of professional designs or custom-design your own Flip Mino or MinoHD at no extra cost.
Since its launch last year, Flip Video has sold over 1.5 million camcorders. The company states that Flip Video camcorders are the world's first with on-board software to enable editing, organizing, and seamless video uploading to YouTube and other video sharing sites. Flip Video is available in over 10,000 retail locations including Amazon, Wal-Mart and TheFlip.com.
You'll appreciate the unit's one-touch recording with 2x digital zoom. There are 'touch-sensitive' buttons for recording, playback, fast-forward, rewind, pause and delete. You can use custom movie editing and your own music or add titles and credits to make each recorded ride uniquely yours.
Weighing a mere 3.3 oz., this latest design has a resolution of 720 pixels with 4 GB of internal memory allowing it to record up to 60 minutes of HD video. You can view playback on its 1.5-inch anti-glare LCD display.
The unit draws power from an internal, lithium ion battery that recharges when its USB arm is connected to your computer.
The unit's FlipShare Software comes with features like: an on-board application that installs directly when connected to any PC or Mac; a simple drag-and-drop interface for easy browsing, playback, organization and video archiving; and, integrated online video publishing to YouTube, MySpace and AOL Video.
You'll like how it's incredibly portable and easy to carry in your jacket pocket. It's easy to use and comes with equally easy to use software.
Kodak's Zi6 Pocket Video Camera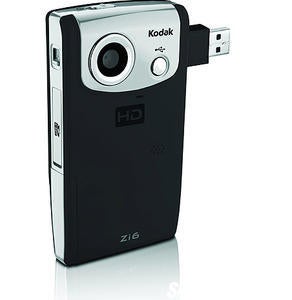 One of the oldest names in photography remains relevant by utilizing the latest technologies in products like its Zi6 pocket video camera. This Kodak product is a direct competitor to Pure Digital Technologies Flip models.
We will admit to a little 'snob' bias against Kodak. When your camera bag holds equipment with brand names like Nikon, Canon, Olympus and Pentax, the Kodak brand can seem a little like Chevrolet amongst Mercedes, BMW and Lexus. But, like Chevrolet, the Kodak brand offers unappreciated quality.
While Kodak successfully caters to a mass audience of digital camera users, just as it did with film-users back in its 'Brownie' days, the company's technology keeps pace with the latest innovations.
We see similarities as we compare the Flip video camera and Kodak's Zi6 unit. They both offer 720p HD video. Like the Flip, Kodak's Zi6 offers easy uploading to YouTube via a built in USB. You can edit and share videos, but be aware that Kodak's included Arcsoft software only works with PCs, not Apple's Mac. That shouldn't be a total showstopper, as Mac's proprietary software should offer some solution.
However, Christopher Breen writing for MACWORLD called the Arcsoft software "… completely useless to Mac users as it's Windows-only." He did note that Mac's iPhoto or iMovie software will import the image and video files.
Interestingly, the MACWORLD writer felt that the Kodak held an edge on the Flip Mino due to greater storage, the Kodak's removable batteries, and larger viewing display among other things. Of course, this is a momentary edge in a segment where change and product one-upmanship is constant.
Still, we found the assessment interesting from a snowmobiler's viewpoint. Because we operate in a cold climate, battery life is a concern. We liked the idea that the Kodak uses rechargeable batteries. If the batteries lose power, you could grab readily available 'throwaway' replacement batteries when you stop at a convenience store to gas up your sled. Then you simply use the included charger later to recharge the batteries that came with the camera. We like that.
We have purchased some camera gear specifically because we could use common AA batteries when the rechargeables ran out of power. To have the Kodak's ability to use standard AA batteries is a plus. Of course, it boosts the unit's claimed 3.8 ounces of weight.
Another plus to us is the Kodak's acceptance of optional storage cards — up to 32 GB. More memory for the camera means more memories for you.
Like the Flip products, the Kodak design is built with simplicity in kind. It's pocketable and designed for video. There are no dials to turn, no settings to set and no lens cap to lose. Simply turn it on and hit record to capture your adventure. Once you've recorded your trip, you just pop the USB in the nearest PC to edit your video or add music.
Like the Flip, you can even get on-trail video by attaching the Zi6 to your helmet with an optional accessory. The Kodak Zi6 comes with everything you need to make your own action snowmobile video suitable for sharing on YouTube or emailing to friends. For approximately US$180, the Kodak Zi6 comes with: two AA pre-charged Ni-MH rechargeable batteries; the charger; HD and AV cables; a wrist strap; camera pouch; user Guide; and the Arcsoft Software for Kodak (for PC only, remember!).
The camera has a 2x digital zoom feature, card expansion slot, 2.4-inch LCD display, and a one-year warranty.
Pentax Optio W60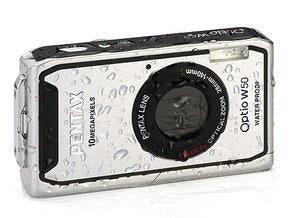 Be well aware that we are pro-Pentax Optio. One of our first ever single lens reflex cameras was a Pentax. We count an earlier version of the Pentax Optio as one of our 'must take along' cameras. So, read carefully here and don't be overly influenced.
What we don't like about our early version Optio is the fact that the battery never seems to last as long as we think it should. It is a camera-specific rechargeable battery and it just doesn't like extremely cold weather, even when placed inside our jacket. That and the fact it doesn't have enough speed to shoot action are its only shortcomings. It is an excellent 'grab shot' camera to get those candid on-trail and in the restaurant moments.
We have selected the Pentax Optio W60 because this version is said to be waterproof, dustproof and cold proof. If that is the case, yippee!
Pentax claims that the W60 has waterproofing to protect the camera to a depth of 13 feet as well as from rain and spills. That capability makes the camera suitable for capturing the occasional snorkeling adventure.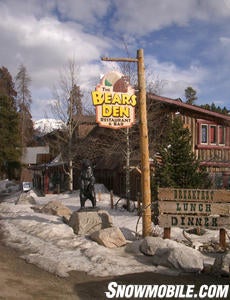 The claim that interests us is how Pentax states the W60 is cold proof to sub-zero temperatures, making it "…ideal for winter activities such as skiing, sledding, and snowmobiling."
This diminutive camera comes with a whopping 10.0-mega pixels that allow large images that permit 8 x 10 inch and larger enlargements with impressive image quality. It also features an internal 5X optical zoom that is the 35mm format equivalent to 28–140mm.
While it is a smallish sized camera, with a very slim one-inch body width,
It features a nicely sized and bright 2.5-inch IPS (In Plane Switching) LCD screen with Anti-Reflective coating to make it viewable even in bright sunlight. That is a definite asset when trying to check your image on the trail.
There are a couple of other features to make this a very versatile consideration. One is the camera's HD movie capture that allows motion in wide-screen 720p at 15 FPS. The other is what Pentax calls Advanced Face Recognition technology. The camera automatically works to get maximum highlights even in backlit areas. And, of course, you want Pentax Digital Shake Reduction that reduces camera shake and blurring of the subject when photographing still images. You'll appreciate this feature when shooting barehanded on a cold day. It helps you take accurate, blur-free photos.
Shopping online, we found some retailers listing the Pentax Optio W60 for about US$270.00.
Our View
As we said in the beginning, these three options are ones we'd consider for use on the trail. They are all lightweight, feature-packed products selling for under US$300. Of the three, we would expect the Pentax Optio W60 would be the one to stay in your kit longest. It has very good technology in a niche that is fairly stable and not undergoing as much rapid change as the min-video camera niche. Both the Flip and Kodak Zi6 are products in a quickly changing niche where each manufacturer and its competition are looking to create a technology and/or price advantage to woo shoppers. But, as we write this, the two mini-cameras we like best for snowmobiling usage are the Flip and the Kodak Zi6. But, don't just take our word for it. We suggest you check out online reviews as this product niche is changing quickly and upgraded products already may be in the pipeline for early 2009.