Snowmobile Trailer Accessories Buyer's Guide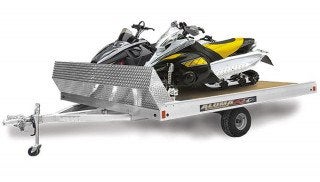 Get the most out of your snowmobile trailer with these add-ons
While a trailer and a tow vehicle can take you and your sled just about anywhere, you can make your life a little easier and your machine a little more secure with the right snowmobile trailer accessories.
Snowmobiles can be rough on things like exposed plywood and grip can also be a concern with a wet track and a smooth trailer floor. The good news is we've done some research and found some snowmobiler trailer accessories that will not only help protect both your trailer and your sled, but will make loading, unloading and safely securing your sled a much simpler job.
Caliber 23060 Trax Grabber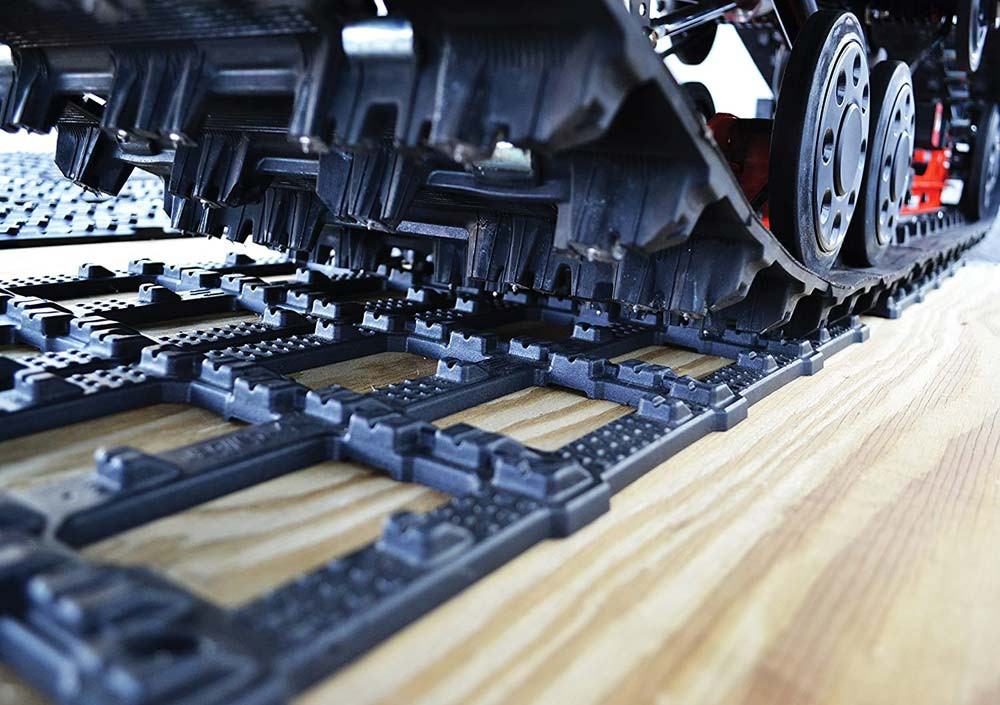 Made from high-impact plastic, Caliber's Trax Grabber is designed for optimal traction and durability. As such, you can look forward to these trailer traction mats standing the test of time by not breaking, chipping, or cracking.
It's just what you need to make loading and unloading your sled easier. Built with an innovative lug system, you can expect the Trax Grabber to install quickly and securely.
A low-profile design makes it safe to walk on, too, so you don't have to worry about accidental trips and falls. Once in place, your sled will benefit from these snowmobile accessories immediately.
You get two in this set, ensuring that you'll have everything you need to start get your snowmobile into our out of your trailer.
Caliber Poly Shield Series III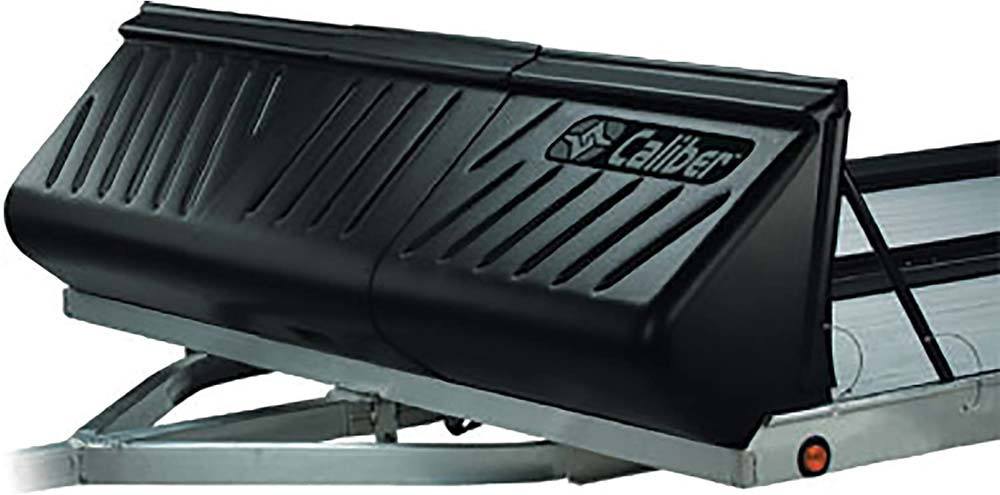 What better way to protect your sled while it's being transported on an open trailer than with Caliber's Poly Shield snowmobile accessories?
Made from molded HDPE plastic, you're getting ultra-rigid strength and durability found in truck bed liners. As such, the Poly Shield is not affected by extreme frigid temperatures.
Measuring 25. 5 inches high and fitting trailers from 95 to 102 inches wide without modification, the Poly Shield is designed to accommodate a wide range of models.
Installation is a breeze, thanks to the Quick-Detach kit. This feature removes in seconds and works on V-Front drive-on, drive-off trailers.
Another big plus is that the Poly Shield won't shatter, split, crack, or dent. What's more, it's impervious to destructive road spray, as well as other foreign fluids and chemicals.
Thanks to the Poly Shield's unique molded spray channels, it benefits from enhanced aerodynamics that helps to direct road spray away from your snowmobile.
We'd still definitely recommend using a proper snowmobile cover, but it's one of the best open snowmobile trailer accessories out there when it comes to adding some protection to your ride.
Caliber Edge Guard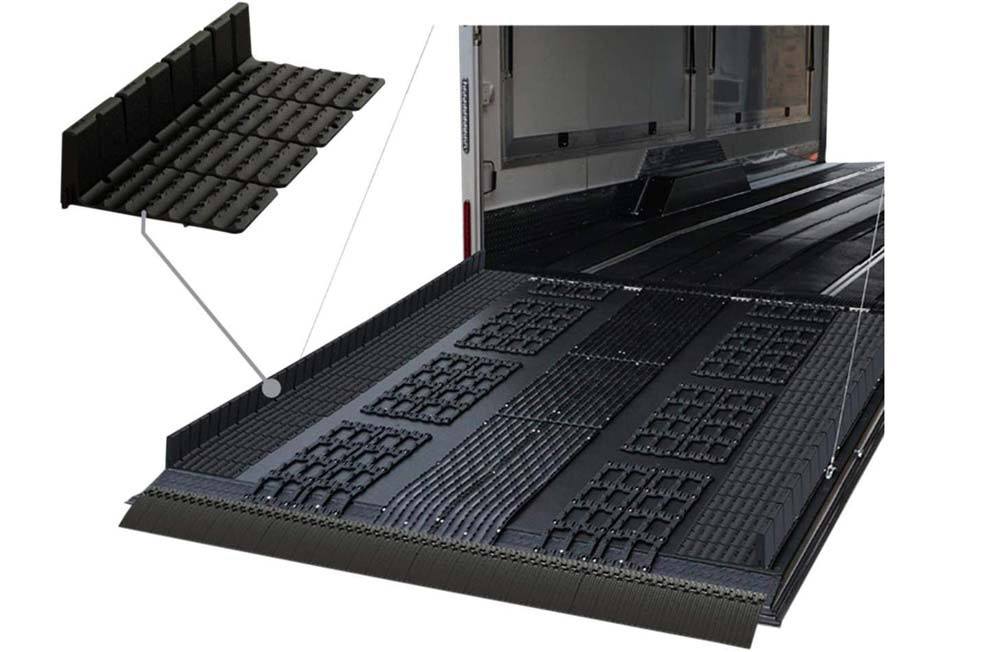 When you are loading and unloading your snowmobile on and off your trailer, you want to make sure that you have protection on the sides to avoid any mishaps that might send you or your sled falling off the sides of the trailer.
That's exactly what Caliber's Edge Guard does for your snowmobile and trailer. You're getting an innovative and effective containment system that provides protection while loading and unloading your snowmobiles.
The Edge Guard is also ideal in protecting your trailer door cables from getting caught by your sled's skis during transport.
Installation is made incredibly easy thanks to the Edge Guard's interlocking design. In this kit, you get 12 pieces, as well as stainless steel hardware.
Ultmately, this is a pretty simple product, but when it comes safety it's one of the smartest snowmobile trailer accessories available.
Triton 02478 Class II Trailer Coupler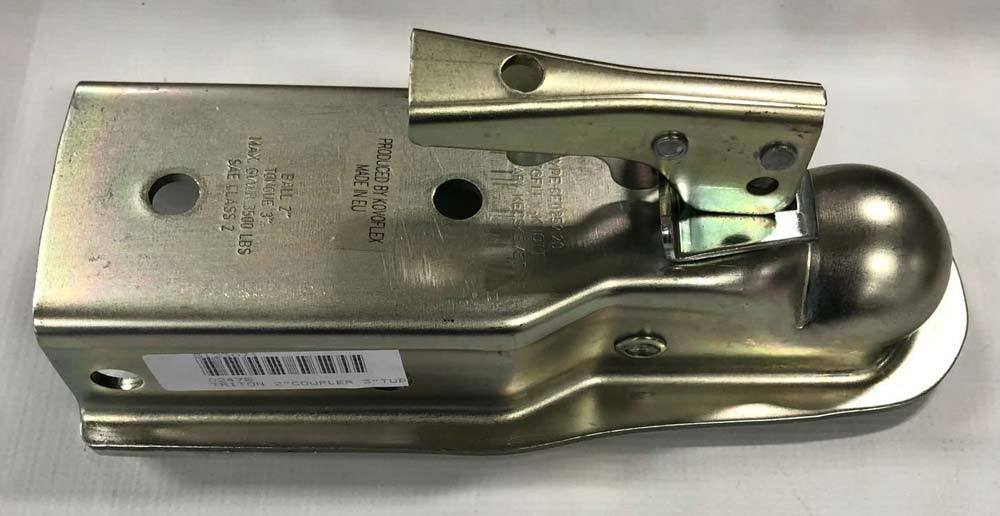 Investing in Triton snowmobile trailer accessories is always a good idea. The company makes high-quality components that are sure to serve you well. Thanks to stellar construction and design choices, you can trust Triton to stand the test of time.
The Triton Class II Trailer Coupler serves as a replacement coupler that can safely be used in class II towing applications.
Inside the coupler is a channel that measures 3 x 2 inches. You'll need to use a 2-inch ball with this coupler. The Class II Trailer Coupler mounts to a 3-inch tube via the tongue of your trailer.
With a maximum towing capacity of 3,500 pounds, you can safely, securely, and confidently tow your snowmobile without fear of losing your load.
It is worth noting that the Triton Class II safety chains do not come with the coupler. If you don't already have them, you should consider grabbing some here.
Black Ice Snowmobile Ski Carbide Glide Protector
If you need enclosed snowmobile trailer accessories, Black Ice has you covered with its Ski Carbide Glide Protectors. This 8-pack of ski protector glides can be used with your enclosed or open trailer. Each protector measure 8 feet in length.
In total, you're getting 64 feet of protection, ensuring that your skis and trailer are well-protected at all times. Thanks to a low-profile design that measures just ¼-inch thick and a grooved surface, you're guaranteed reduced ski carbide friction while loading, unloading, and in transit.
Installation is made easy thanks to recessed 1 x 0.375-inch mounting holes. This design ensures that your sled's skis don't get caught on protruding hardware. Each glide mounts directly to the floor of your trailer.
The durable weather-resistant PVC is made to last for years and shouldn't chip, crack, or break. The only downside here is that you have to provide your own hardware, as none is included.
Black Ice's Snowmobile Ski Carbide Glide Protectors require 0.25 x 1.5-inch mounting screws, so make sure you pick some up beforehand.
Snowmobile Ski Tie Down Bars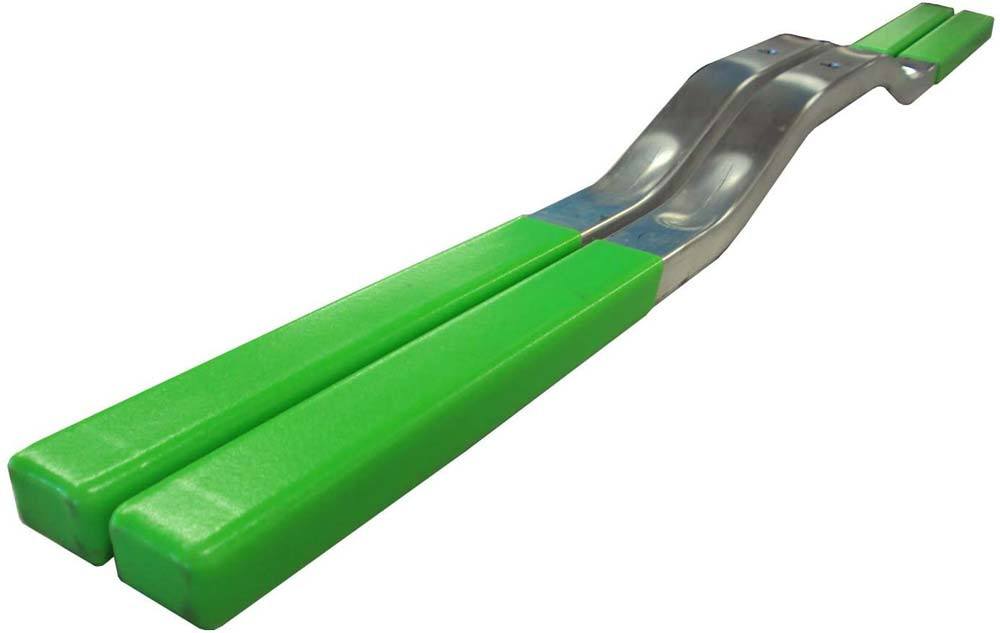 When it comes to snowmobile trailer accessories, one of the simplest and smartest products you can have is a quality ski tie down bar.
There are plenty of options out there, but they all do pretty much the same job of pinning your skis to the floor of your trailer to keep them from moving around in transit.
The ones featured in the image above are made in Michigan and feature Arctic Cat green boots that are designed to not scratch up your snowmobile.
As for dimensions, the bars measure 47 ½" long and are made from heavy duty aluminum.
How do you load a snowmobile on a tilt trailer?
To avoid the need for ramps, a lot of snowmobile trailers are built to tilt down for loading and unloading. While you can safely unload snowmobile by yourself, it's a good idea to have a friend around when you are loading. Ideally, you will have a friend step down on one of the corners of the trailer to get it to tilt down towards the ground and stays there.
From here, a rider needs to start the snowmobile and point the skis directly towards the middle of the trailer. Ideally, you should start well back of the trailer and go forward reasonably slowly but with a steady pace. When the skis get on the trailer, your friend can step off the corner as the rider keeps going forward until the skis reach the back wall.
How much weight can a snowmobile trailer hold?
Realistically, a snowmobiler trailer can comfortably handle the weight of a snowmobile, a rider, and some gear. In other words, it holds exactly what it is designed to hold. If it's a two-snowmobile trailer, you can bet it is designed to handle a second sled.
Of course, a lot of people like to use their snowmobile trailers for other things (like moving lumber or yard waste). While this is certainly possible, you want to pay very close attention to your trailer's specs to make sure you don't overload it and possibly cause damage that will keep you from using it when winter rolls around again.
We are committed to finding, researching, and recommending the best products. We earn commissions from purchases you make using the retail links in our product reviews. Learn more about how this works.