Ideas for Backcountry Snowmobile Gear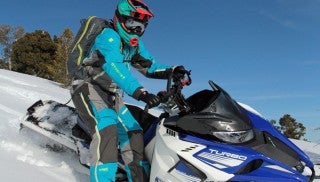 Some nice-to-have and some essential gear for your backcountry rides
With the holiday season just around the corner, we've put together a list of some essential products sure to fit on the wish list of any backcountry rider.
Often times as we've been in the backcountry, we've wished for this or that. Some are meant to help a buddy get unstuck, quicker, some are to warm a cold sandwich, and some are meant to help keep us safe.
We've found some fundamental products you might consider; there are so many. We list a few here to help get us started to Think Snow! More specifically, it's our beginning of a wish list for the season ahead. Check out these items.
Klim  OCULUS Goggle
If you have an odd-shaped long head, called a European head, as I do, then your forehead presses against a helmet's front and with that, much perspiration. For us, in any riding, but critically important for mountain riding, goggles are the most important piece of outerwear we don. Klim has introduced a goggle that is so high-tech it should have its own iTunes playlist.
Late summer, Klim held a media briefing on its OCULUS goggle where they held us in awe with its research and development.  This goggle has 27% more vents than other industry-leading snowmobile goggles, including Klim's previous models, and has an "Intake Capacity" (vent area volume) that is 88% greater than other goggles, oversized face foam. Additionally, the OCULUS has an eye cavity volume that is 23% greater than its competitors.
Here are some other quick OCULUS info hits, it has:
'Sure Fit' triple density foam for optimized comfort and seal around the face; basically, better and moisture management
An injection molded lens, an ANSI Z87.1 standard, which exceeds High Velocity Impact Test Max Protection from Debris/Objects
High Density Polycarbonate Lens with an anti-scratch coating
An inside cellulose lens, which meets EN 16047 standard (a snowmobile specific standard) that is a super anti-fog treatment
A slide-lock lens hinge that expedites changing goggle lens for changing light conditions
Frame and out-riggers;
46mm dual silicone grip strap
Dual Density ABS+PC+TPU (acrylonitrile butadiene styrene+polycarbonate+thermal plastic urethane). These are stout plastic compounds formulated to resisting cracking, shattering, weather-aging and are impact resistant (for its density and thickness). Klim reported to us that, "The outer frame is made of ABS + PC and the inner soft part of the frame is TPU, both these materials are co-molded together. This creates a frame that has rigidity for the changeable lens, but on the inside, gives the plushness to conform to the rider's face."
From sitting in the media briefing we learned that these military grade/spec'd goggles, our terms, retail for US $179.95 and have many frame, strap and lens colors. With your purchase, you will receive a large soft goggle bag that doubles as a wipe cloth, and a separate hard storage case.
Without going all out with tech geek language, Klim keeps evolving its goggle brand, and with its sponsored athletes, Klim gains valuable wear and tear knowledge. From our media tech dump, we feel these goggles will be the last pair you need, as the anti-fogging coating, air vents, breathable face foam, wide view, and the quick interchangeable lens, gives the snowmobile pilot permission to pack one goggle, thus freeing space in their gear backpack. (We generally carry at least three extra goggles and many wipe cloths; we want to get away from that, thus we have high hopes for this goggle.)
For more information, go to klim.com/Oculus-Goggle-3240-000.
Hot Pot Stainless Steel Food Warmers
This is like, "Wha…?" No really, this is a good idea. We like Hot Pockets, corn dogs, Campbell's Chunky Soup and Albertson's chicken – nothing like having a hot meal when the temperatures are cold and your friends are munching on cold elk jerky (like that's bad).
In all seriousness, hot food will stave of hypothermia in dire situations. Furthermore, holding some warm food will warm cold hands.
The Hot Pot from Full Throttle, Inc., Veradale, WA, is a food warmer and a little bit of a life saver. When talking to the owners at the Intermountain Snowmobile Show, Salt Lake City, Utah, they said the best way to contain food within the Hot Pot is to first seal the food in a small- to medium-sized chicken roaster bag, then insert into the Hot Pot, which is mounted to the snowmobile's exhaust pipe per Full Throttle's instructions.
The Hot Pot Jr. will hold a soup can or pork-n-beans or any canned product that is fully sealed. An instruction note on the Jr.'s box reads, "To prevent messy explosions, do not use cans with pull tabs or pop top lids…." We asked about the pork-n-beans can, as an example, building pressure and blowing its top. Full Throttle explained that the way the Jr. holds a can, via a heat shield, the can warms gradually and does not overpressure and boil.
Also, when mounting on the exhaust pipe, ensure it does not touch the hood, as the Hot Pot will act as a heat-transfer mechanism and may cause the hood to – may – discolor, warp or melt at that specific location; check fitment. Hot Pot, USD $39.95, Hot Pot, Jr. USD $29.95.
Crusher Sled Saver
Crusher Emergency Recovery Systems specializes in tow and recovery straps, heavy duty tool bags, emergency battery chargers, jumper cables and more for the aggressive off-roader be it a rock crawler in a Jeep or sport UTV, snowmobiler, ATV rider and general outdoorsman.
Crusher's owners feel that rescuing a stuck snowmobile should not be back breaking and body fatiguing. We agree, saving energy is important, especially in high elevations. Lifting up on the front bumper, is at times, the least efficient – as you lift, your feet sink farther into the snow, thus creating a less-than-adequate lifting situation where only the shoulders do most of the work.
The Sled Saver's unique design allows two to assist the stuck rider and the snowmobile. One rescuer has a hoop to hold on to, where a second hoop allows another rescuer to stand next to, but at an angle to the first. With leverage from front and to the side, maximum pull is applied – with way less effort. A heavily coated hook protects the snowmobile's bumper where the strap is attached.
The Crusher Sled Saver is compact and will fit easily into a gear or tunnel bag, or avalanche gear pack. Some rescue systems, though very good and capable, take up much storage room, which may mean leaving behind other essentials (food, hydration, probe, shovel).
The company's info material states the Sled Saver is an 8,000-pound capacity tow strap, is 15 feet long, has dual pulling handles, a coated locking clip for secure attachments, and a secure storage bag.
We are not down on other rescue products, such as the SNOBUNJIE, which we have used, and stand behind, but in equal applause, we endorse the Crusher Sled Saver for its compact size, its dual handle system, and its load rating. Crusher Sled Saver retails in USD for $19.99.
Liquid Heated Snowbike Handlebar Warmers
Oh how we wish when on the twisty and brake, our palms and digits were warm. Snowbike riding is like, wow, but being it is a winter sport, it is a cold sport, most of the time. Snowmobiles come built with handlebar warmers and a throttle (thumb) warmer. Off-road dirt bikes do not. There is a fix.
Raze Motorsports of Beloit, Wis. has the key, which it states is a thermostat. According to Raze's product information, "Dirt bike engines do not have enough power output to power coil style grip heaters." With a thermostat, Raze Motosport's patented handlebar warmer system, engine coolant is routed through the handlebars.
The Liquid Heated Handlebar kit includes a billet inline thermostat, ProTaper Henry/Reed bars, PTFE black lines and AN fittings, and temperature control valve. This warmer unit is hand guard compatible. The company declares that, "If you can turn a wrench, you can install these yourself."
Raze Motorsports specializes in aftermarket performance enhancing ECU components, custom engine strategies, engine calibrations, turbo systems and performance kits for snowbikes, UTVs, jet-skis, snowmobiles and diesel trucks.
This warmer kit is primarily designed for KTM, Husqvarna and Yamaha. Purchase price for a base unit is US $395.00 USD and US $495.00 for a more advanced kit. Other bike brands are to come.
External Cell Phone Battery
Not much new to tell you if you've ever taken your smart phone into the wilderness and tried to make a call. You know all too well that cold temperatures drain a cell phone battery as fast as playing World of Dragons. Packing an extra cell phone battery is wise indeed. You and I never know if we will be spending a night in the backcountry – lost, stranded or broke down – and too, if working with a search and rescue team, that is not a time for a call to drop due to a down and out battery.
Cost for external or auxiliary cell phone battery packs/chargers, begin at US $29.99 and top out at about US $74.95.
These items are but a few essential mountain rider products we and others use, but are the basics in nice-to-have and essential gear. For this upcoming season of boonie-bashing, research out what you need and talk to other mountain riders for their recommendations. And, if the gear is new to you, play with it, practice with it and get to know it so that using in the backcountry comes as second nature.