1974 Ski-Doo Alpine vs. 2017 Arctic Cat Bearcat 7000 GS XT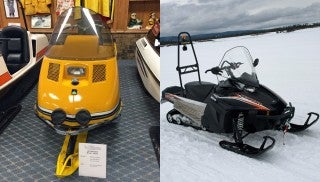 Technologies may change but the purpose of a work sled doesn't
When we literally stumbled across a 1974 Ski-Doo Alpine recently on the display floor of the World Snowmobile Headquarters in Eagle River, Wis., we immediately thought of Arctic Cat's Bearcat 7000 XT GS. By way of comparison these two sleds are generations apart in technologies, manufacturing quality and certainly pricing. But as we righted our self after tripping over the Alpine's signature single ski, we took a long look at this 42-year-old Ski-Doo and saw similarities in purpose and architecture between it and the newest Cat utility sled.
Maybe you need to trip over a sled and be a bit off-balance to see how these two sleds share a similar purpose. These two sleds couldn't be more different in most ways. The Cat is 2017 new. It has a 130hp 1049cc liquid-cooled Yamaha three-cylinder four-stroke engine that powers a single 20-inch wide track through a three-speed gearbox. It's quiet. It's smooth running. It's durable and built to pull a small custom trail groomer.
The Ski-Doo Alpine used modern – for 1974 – technologies that included a fan-cooled 436.6cc two-stroke twin that would be lucky to muster even a quarter of the Cat's horsepower. The Alpine's Rotax-engineered twin saw service in many Ski-Doos of that day, from one-up sport sleds to two-up family sleds. To maximize its potential as a utility work machine, the engine delivered its power to dual 15-inch rubber tracks via a gearbox that included mechanical reverse.
Like the 2017 Bearcat 7000 XT GS, the 1974 Ski-Doo Alpine never suggested that it was anything but a work sled. There was the Alpine-based Valmont to appeal to the SUV crowd. The Alpine was the workhorse. It came with a tow hitch, massive 17-inch tall windshield and those dual 15-inch wide rubber tracks that gave the sled virtually the same the over-snow flotation of the 265-pound Ski-Doo Elan. That's pretty amazing for a twin-tracked sled claimed to weigh in at 550 lbs overall!
What struck us, or should we say what we struck on the display floor, was how this 1974 work sled resembled the set up on the Bearcat GS. The seat positioning seems similar as both sleds have their seats positioned for utility. The Cat features a tall light tower behind the centered seating area. Like the Ski-Doo Alpine there is a commodious rear deck, which in the Cat's case can be fitted with a groomer tow hitch. The Alpine's rear deck is more open and unhindered by a light bar, but it is surrounded with triple rails to securely manage cargo. While you can squeeze two onto either the raised Ski-Doo seat or the Bearcat's forward rider position, it would be uncomfortable for a tour. Of course, with the platform's extra width to accommodate twin 15-inch tracks, the Alpine bests the Cat in usable cargo area.
There are major differences between the two. The Cat uses modern twin A-arm front suspension design with gas-charged shocks to control up to nine inches of travel. And there is only one rubber track, but it is 20-inches in overall width and measures 154 inches in overall length. The Alpine features a single ski. A single hydraulic shock helps a bit with the many leaf springs used to control on- or off-trail action. The twin skis give the Ski-Doo 30 inches of traction, but the track design works like a slick tire with little lug profile. The Cat's track has a 1.375-inch lug height.
Both get through fresh snow surprisingly well. The Cat will be easier to maneuver. The single ski with twin track Alpine will not turn with anywhere near the agility of the Bearcat. Those twin tracks tend to "push" and overrule your intended direction.
If you do get stuck, the Cat comes with a heavy duty bumper and a 3,000-pound capacity winch with receiver mount. Plus, the Cat adds a three-speed gearbox with reverse that gets down to some serious low-speed grunt. While modern Ski-Doo utility sleds are equipped with the Lynx-pioneered synchromesh two-speed plus reverse gearbox, the 1974 Alpine would be fitted with a high-low range plus reverse system.
Admittedly we are biased as the Bearcat 7000 XT GS just happens to be one of our favorite sleds. We can't explain it, but we just really like this quirky utility machine. When these Alpines roamed the trails, we were young enough to appreciate them only in the same way a stalled motorist appreciates a tow truck. They had a niche. It was a niche that predated Ski-Doo's early 1960s light-footed snowmobiles.
The Alpine may have used some Olympique pieces like the track and bogie suspension, but it drew its utility from Bombardier's forest products heritage. When the Alpine first appeared, Bombardier already owned a reputation as "the" tracked vehicle for getting woodsmen through the muskeg and, even now, its B-12 snow bus hauls West Yellowstone tourists from the Stagecoach Inn to Old Faithful. The Alpine proved popular with utility companies that used them to check and repair power lines. Ski areas used them. Hunters and backwoodsmen trusted them.
Today the Alpine has been replaced by Ski-Doo's Tundra, Skandic and Expedition models. Like the Arctic Cat Bearcat, those models have two skis and a single track of varying width and length. While they are all Ski-Doo brand models, we see the Bearcat 7000 XT GS as this era's Alpine.
There's really only one logical purpose for either the Bearcat or that long ago Alpine – work. They both have been designed to conquer on snow tasks. They are both of a singular design. They are endowed with flotation capabilities to cruise through deep snow and given geared power to carry, tow and manage the many needs of a serious outdoorsman. They are not fast. They are not the best handling of sleds. But if you need to get to a remote location with gear, these sleds will (would) get you there. The Alpine is a raucous ride with its fan-cooled twin and bogie suspensions, but back in the 1970s it was the sled you counted on. The Bearcat is quieter, more fuel efficient and more responsive on or off trail. But we should expect that four decades of engineering and knowledge would make a difference.
Forty years later we can appreciate the lessons learned between the restored 1974 Ski-Doo Alpine and the 2017 Arctic Cat Bearcat 7000 XT GS. In technology we've come a long way. In the spirit of the sport, the similarities stand and just go to show that you never quite know what you might stumble over in this sport.
| | | |
| --- | --- | --- |
| | 2017 Arctic Cat Bearcat 7000 XT GS | 1974 Ski-Doo Alpine 440 |
| Engine | Yamaha 1049cc, liquid-cooled, 4-stroke triple; electronic fuel injection; 3-into-1 exhaust | Rotax Engine Type 434 fan-cooled 436.6cc two-stroke twin; 67.5mm bore x 61mm stroke; Tillotson HD 108A carburetor |
| Horsepower | 135 (claimed) | 30 (guestimate) |
| Drive | Team Rapid Response Drive with Team Rapid Reaction BOSS driven WR3 Wide Range 3-speed gearbox | Ski-Doo drive and driven with reverse |
| Front Suspension | Arctic Race Suspension (ARS) with stabilizer bar, Arctic Cat IFP 1.5 shocks; 9.0-in maximum travel | Hydraulic-shock assisted leaf spring on single ski |
| Rear Suspension | Arctic Cat parallel rail Xtra-Action suspension; adjustable torsion springs; Arctic Cat IFP 1.5 shocks; fiberglass overload springs; 13.0-inches of travel | Ski-Doo twin bogie suspension with coil springs |
| Length | 133.0 in | 113.5 in (Note: measurements for 1973 Alpine) |
| Width | 50.0 in | 35.5 in |
| Height | 58.0 in | 40.0 in (without windshield) |
| Ski Stance | Adjustable 37.5 to 43.5 inches with dual split runner ProUte 10 skis | Single ski width |
| Track | 20 x 154 x 1.375 | Dual 15-inch wide rubber tracks |
| Weight | N/A | 548 lbs |
| Brake | Race radial master cylinder with disc on driveshaft | Mechanical disc brake |
| Features | Standard: electric start; heavy duty bumper; 3,000 winch with receiver mount; deluxe multi-function digital/analog gauge; accessory outlet; under seat storage; "mountain" strap; hitch; mirrors; beacon and floodlight on "light" tower; backup light Optional: cargo rack; additional seating options for up to three persons; gear and storage bags | Standard: 17-inch tall windshield; two-up seat with backrest; console; underseat storage; large rear rack with rail sides; tow hitch; chrome handlebar |
| Fuel Capacity | 14.7 US Gal | 6.25 US Gal (pre-mix 40:1 oil and regular grade gasoline) |
| MSRP | $15,799 | N/A |