2016 Arctic Cat Bearcat 3000 LT Review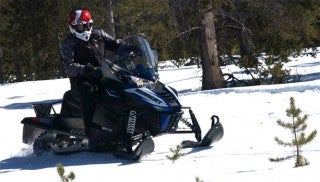 Cat's budget "ute" gets new chassis and 4-stroke twin with strong low-end torque
At the turn of the century, for model year 2001, Arctic Cat introduced its "Yellowstone Special" snowmobile that stomped on the US National Park Service's effort to totally ban snowmobiles in Yellowstone National Park. An underpowered and overall anemic performing sled, the "Special" held the line for snowmobilers and the right (privilege?) to ride in the park. Powered by a Suzuki-sourced 660cc four-stroke that emitted fewer emissions and provided improved mileage over the then state-of-the-art two-strokes, this Cat earned a line in the list of significant and historic snowmobiles.
Fast Facts
Engine Type:In-Line
Cylinders:2
Engine Stroke:4-Stroke
Valve Configuration:OHV
Displacement:700 / 42.7
Starter:Electric
Turbocharged:No
View Full Spec
While the sled industry bemoaned the Park Service's move to disinherit sleds from areas like Yellowstone, Arctic Cat created an alternative that placated the lords of the Park Service until the other sled manufacturers could respond with similar low-emission sleds that could meet the Park Service's Best Available Technology (BAT) demands for lowered emissions and such. By 2004 Polaris countered with its Indy Frontier, which utilized an ATV-sourced four-stroke that made Cat's Yellowstone Special look like a Firecat by comparison. Ironically, today all sled manufacturers except Polaris offer some BAT-type four-stroke powered sled that allows snowmobilers to roam winter parks.
Now Arctic Cat, which created that first skirmish line in the decade-old battle to retain snowmobiling in National Parks, has borrowed an idea from Polaris' Frontier model and designed a new four-stroke engine series that powers both Bearcat and Pantera 3000 snowmobiles as well as its 50-inch wide Wildcat Trail side-by-side. Of course, Cat engineers will go ballistic if we insist on saying that the engine is ATV-sourced, but note that you will most likely see this 700cc double overhead cam, fuel injected twin in many more Cat tracked and wheeled models in the future. While Kymco builds the engine, Arctic Cat engineers specified what they wanted and how it needed low-end torque to meet the purpose of the 3000 Series sleds and trail-ready Wildcat side by side.
COMPARISON: Read our review of the 2015 Arctic Cat Bearcat 5000 XT GS
Unlike the Polaris Frontier that first set the concept of converting an ATV-type four-stroke for usage in a sled, the Arctic Cat/Kymco collaboration feels like a snowmobile should as it delivers the engine's 65 horsepower to the 146-inch long track via Cat drive and driven clutches. We have to respect Arctic Cat for its strategic product thinking. Partnering with Kymco is similar to partnering with Yamaha, but because Taiwanese-based Kymco doesn't compete in snowmobiling, much less is made of the arrangement. This is a wise move as designing, test engineering and manufacturing a new from the crankcase up four-stroke can be very expensive in dollars and man hours. Cat has chosen to forgo that expense for limited production models in favor of partnering with Kymco and Yamaha.
From our test riding experience we'd say this engine combination has a good future. Cat already features the new 3000 C-TEC4 in the Bearcat 3000 LT as well the new-for-2016 Pantera 3000. While certainly not a speed demon, the strength of the Bearcat 3000 LT is right where Cat engineers want it – low end through midrange. The upright twin provides better than average low-end torque that will power the Bearcat well under load and the Pantera with a passenger.
The Bearcat 3000 LT differs from its sibling the Bearcat 2000 series, which is powered by a fan-cooled Suzuki-built 565cc two-stroke. The base platforms are totally different as well. The 2016 Bearcat 3000 LT features the new ProUte design that is engineered around the 2015 Pantera frame. The Bearcat 2000 features the Twin Spar chassis. Sharing chassis construction similarities to the new Pantera means that you can fit the Bearcat 3000 LT with the auxiliary 4.3-gallon fuel tank that was available on the 2015 Pantera. Imagine the mileage you'll get with that option!
COMPARISON: Read our review of the 2016 Polaris 550 Indy Voyageur 144
The ProUte platform is a very nice trail and utility platform built to make the Bearcat 3000 LT both rugged and more nimble than the Twin Spar utility models. You'll find the seating and overall ergonomics work well for bushwhacking through the boonies and satisfyingly trail-friendly. The short but tall seat sourced from select mountain models allows excellent rider movement for traversing hillsides and fresh powder accumulations. This seat blends into overall Bearcat rider ergonomics that include mountain-style handlebar with a grab strap.
Although fitted for backcountry adventure, the Bearcat 3000 LT will be more at home covering a hunter's trap line or getting fishermen to their favorite winter time fishing hole. Deep powder adventure is best left to Cat's M-series of powder sleds. Still, though, this utility model makes good use of a 146-inch long by 15-inch wide Cobra track that dips into powder with 1.35-inch lugs. The front end stays on top of the snow with ProUte 10/8 tapered skis. These skis measure 10 inches at the widest point to ensure good flotation, but taper in to 8 inches at the center point for relaxed maneuvering. In addition the skis allow you to set ski stance from a narrow 35.5 inches to a wider more stable 41.5 inches.
Mounted to the sled's tall spindle Arctic Race Suspension, the skis work through 9.5 inches of travel handled by coil-over spring assist on Cat internal floating piston (IFP) gas shocks. Cat's proven Slide-Action rear suspension provides 13.5 inches of travel. This is a versatile design that utilizes Arctic Cat IFP shocks on the front and rear track arms as well as tunable torsion springs. Should the load get heavy, simply engage the fiberglass overload springs.
Not the most exciting sled in the Cat line, the Bearcat 3000 LT makes a statement for a niche of snowmobilers looking for a solid value, versatile utility model. We would expect the Bearcat 3000 LT to provide that value for a long time. Its 65-horsepower four-stroke twin combines with Cat's latest ProUte chassis design at a suggested retail price of less than US$10,000, making it a good choice for light utility work.
COMPARISON: Read our review of the 2015 Ski-Doo Expedition SE ACE 900
With its ample torque, high flotation skis and 146-inch Cobra footprint, this sled will be at home covering a trap line, working a lake for ice fishing, running up a ski hill, and carrying tools for trail maintenance. It can do all of that thanks to Cat engineers adding a standard pivot-style tow hitch, a steel rear rack and, if necessary to ensure back country miles, an auxiliary fuel tank. Outfitted with a hydraulic brake, new PowerSport gauge with digital tach and speed readout, and wide wind-deflecting 17-inch tall windshield, the Bearcat 3000 LT comes equipped for the long haul in miles traveled and years owned.
Then, of course, this Arctic Cat is also environment-friendly, continuing a tradition Cat started with the Arctic Cat Yellowstone Special.
2016 Arctic Cat Bearcat 3000 LT Specs
Engine
Arctic Cat/Kymco 3000-Series C-TEC4 700cc, liquid-cooled, 4-stroke twin; 76.9×75.3mm bore/stroke; electronic fuel injection
Horsepower
65 (claimed)
Drive
Arctic 6-post rpm sensing drive with Arctic roller cam driven
Front Suspension
Arctic Race Suspension (ARS) with Arctic Cat internal floating piston coil-over-shocks; sway bar; 9.5-in maximum travel
Rear Suspension
Arctic Cat parallel rail Slide-Action suspension; coupling blocks; adjustable torsion springs; torque-sensing link rear arm; Arctic Cat IFP shocks; fiberglass overload springs; 13.5-inches of travel
Length
130.0 in
Width
49.0 in
Ski Stance
Adjustable 35.5 to 41.5 inches with ProUte wide ski
Track
15 x 146 x 1.35 Cobra Track
Brake
Hydraulic disc brake
Fuel Capacity
10.7 US Gal (87 Octane)
Features
Standard: ProUte platform; electric start; Power Sport gauge with digital tach & speed readout; 12-volt accessory outlet; sport front bumper; mountain strap; mountain seat; pivot-type tow hitch; 17-inch windshield; adjustable "mountain" handlebar; rearview mirrors; ProTour heated seat Optional: auxiliary 4.3-gal fuel tank;; passenger seat; skid plate; gear and storage bags
MSRP
US$9,999